A Tale of Two Sentiments: Uninvestable and Unstoppable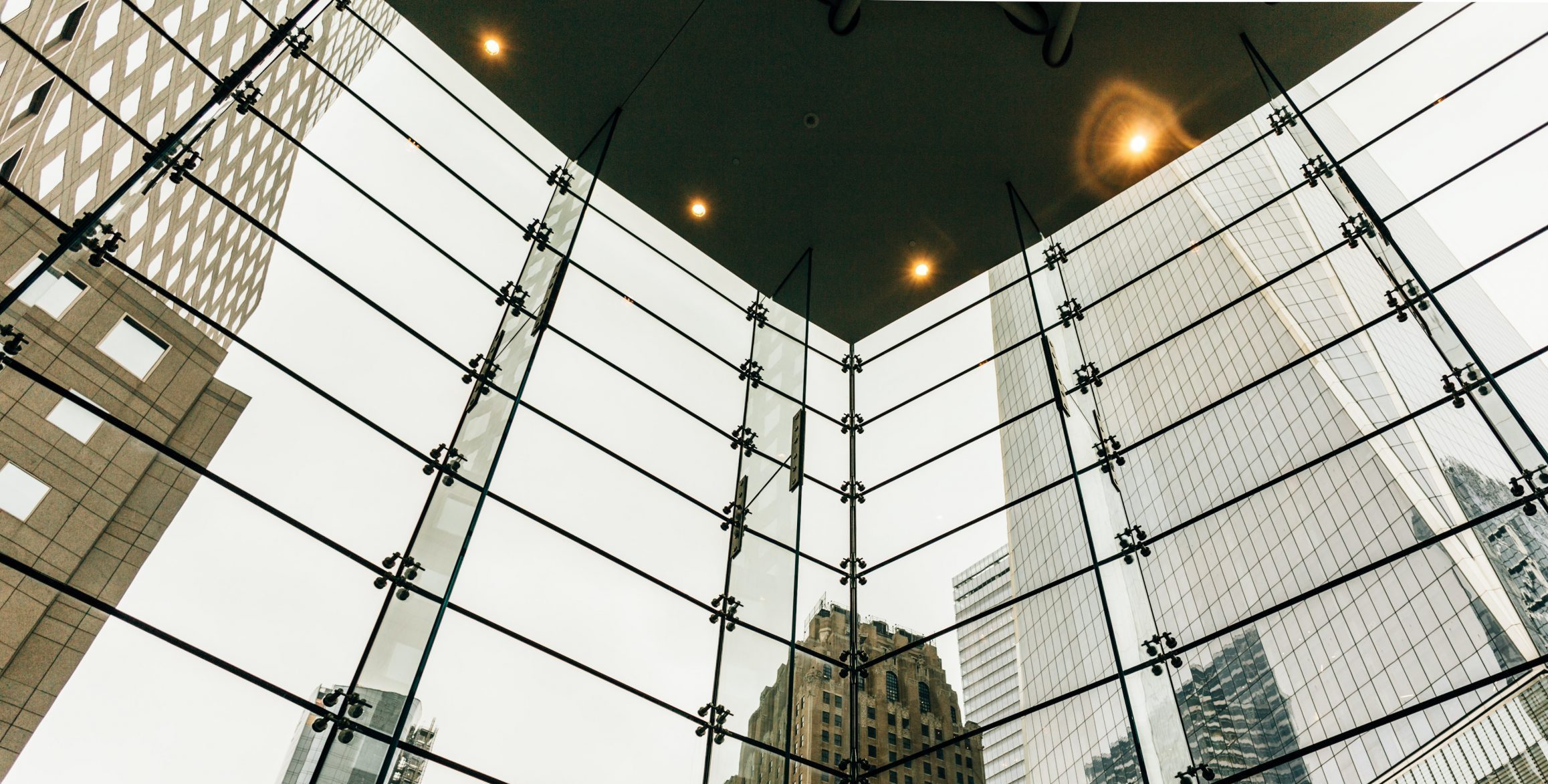 First, a Video and a Podcast 
The future path of the labor market is critical for Fed policy, and thus markets through the rest of 2021. To dive deeper into this topic, we released a video last week looking at trends in the labor market, consumer spending, and implications that this data has on markets. 
Last Friday we released a new episode of our podcast, Fieldpoints of View. Thanks to our guest, Andy Rothman, an investment strategist at Matthews Asia, the episode contains helpful insight into how investors can think about Chinese markets and geopolitical issues. 
If this podcast piqued your interest and you would like to dive deeper into these topics about China's economy and markets, we've included a collection of helpful articles and podcasts at the end of this piece. 
A Tale of Two Sentiments: Uninvestable and  Unstoppable 
At first glance, it is striking just how different investor and commentator sentiment is towards the U.S. and China.  
After the recent regulatory crackdowns (see the Further Reading section below if you would like an overview of what has happened), China has been called "uninvestable,"  with reports of well-known funds significantly reducing their China exposure.  
According to data by Copley Fund Research and featured in this FT article, global funds have slashed their China exposure to only ~3.75% from well over 5% at the end of  2020 (see Chart 1). This small exposure is notable when you consider that China was over 18% of world GDP in 2020.
Chart 1: Global equity funds reducing China exposure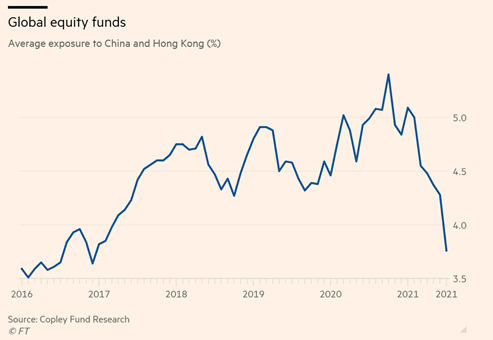 Source: The Financial Times, Copley Fund Research 
Now contrast this to the U.S.
The American Association for Institutional Investors released its August Asset Allocation update recently, showing equity allocations are near the 2018 pre-correction high and getting near highs not seen since the tech bubble (see Chart 2). Cash balances are near similar extremes, but at lows (see Chart 3). Bond allocations have declined in  2021, but are not at lows (Chart 4).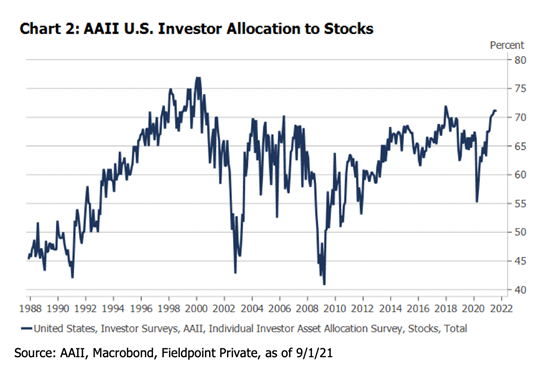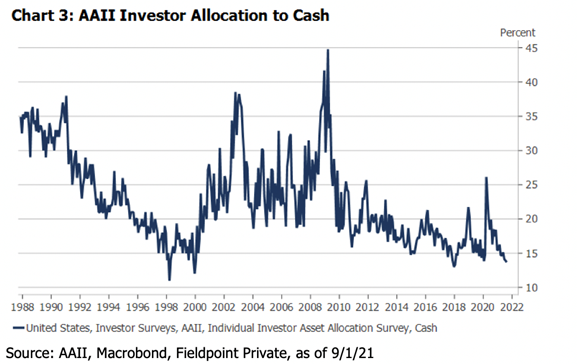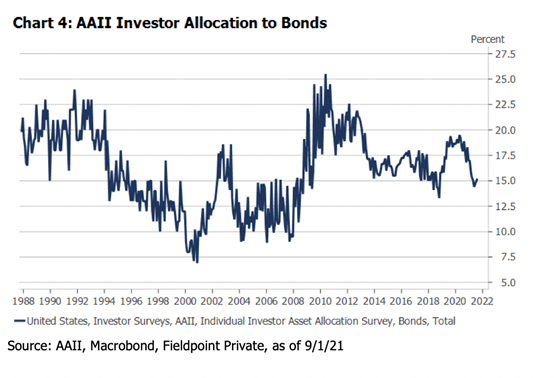 Further, U.S. households' exposure to equities as a percentage of their financial assets is at a record 36.5%, higher than even the 32.5% reached in 2000 (Chart 5).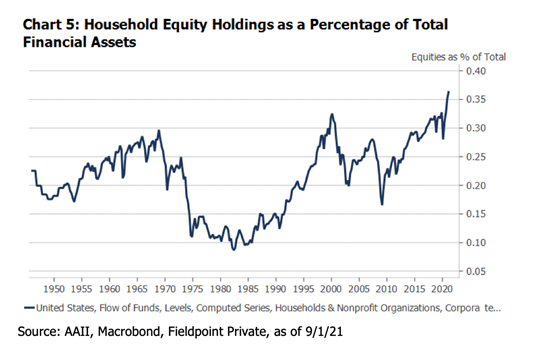 Based on these metrics, there doesn't seem to be a whiff of worry in U.S. equity markets.  
We have also see U.S. tech stocks shake off fears of regulation much more resolutely than in China. 
Last week a "massive blow" was dealt to a large consumer tech company in a court ruling, only to have analysts quickly note that a shortfall in this business would quickly be made up by substantial growth in other areas. The stock was down on the day but by a mere ~4%.  
Reflecting this impervious sentiment, there was a Barron's article from a few weeks ago calling big tech "unstoppable". That should make anyone who is aware of the curse of the cover (that Barron's cover proclamations are typically contrarian indicators) at least a little nervous. 
Of course, being unflinchingly bullish in the face of U.S. regulatory threats has been the  "right trade" and served U.S. tech investors very well over the past decade.
A Trillion Reasons Why
Comparing sentiment in U.S. vs. Chinese markets seems to be an effort in the obvious,  but let's still articulate the broad sources of differences. 
The U.S. has a fairly stable regulator environment (at least with a bark worse than its bite); has stimulated aggressively since the pandemic (trillions of USD, including backstopping debt markets); and has a market dominated by companies with a strong ability to grow earnings at a rate many multiples of GDP growth (even during an economic lockdown). 
Conversely, China has had an anything but the stable regulatory environment in recent months; has been much lighter on its stimulus (including allowing overstretched borrowers to risk failure and allowing the bond market to shudder), and has the future earnings potential of some of its largest constituents being challenged by these harsher regulations. 
These contrasting traits between the two markets help to explain the U.S.  outperformance over China YTD (Figure 1).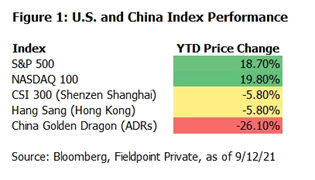 Self-Reflection 
This analysis is not about calling a turn in China's markets (we'll leave that to the local experts, or at least some screaming technical signals), but instead about holding a  mirror up to our own markets. 
The sharp downdraft in former China tech-darling shares reveals two sensitives: 1) how high valuations, such as in tech, are quickly deflated if there are real risks to business models, and thus stellar earnings growth, through regulation, 2) how retail investors can turn on a dime and flee for the exits when spooked.
The first sensitivity is assumed by many to be a long shot in the U.S. for now. This is because harsher regulations are difficult to move through the U.S. political process, and even when and if they do, they have barely dented the profitability of the total businesses.  It is unlikely that the U.S. follows in the swift footsteps of China's one-party regulatory roll-out, and is even unclear if they will imitate Europe in its relatively more stringent regulations. But we should not write off any regulatory risks in the U.S. completely. 
The second point is an important one given the rising role of retail traders in the U.S. Retail traders are ~30% of the U.S. equity market, which is up substantially vs. pre-pandemic, but is far smaller than the 60-70% that is retail in China (see the Casino  Capitalism podcast below). 
When asked what could make the S&P 500 not bounce off of its 50-day moving average and thus have a correction greater than 5%, our frequent answer has been "spook the wall of retail money into not buying the next dip" (which is a non-answer answer without a catalyst). 
Let's see this time around. As of this writing, we are sitting right at that 50-day moving average. 
One last thought to tie all of this together is to remember just how important large U.S.  consumer/tech companies have been to returns in 2021.  
Despite being only 2% off of its all-time high, over half of the S&P 500's constituents have already experienced drawdowns of more than 10%. This indicates a small cohort holding the broader index aloft. This can also be seen by a falling number of stocks trading above their longer-term trend line 200-day moving averages (only 73% vs. 97%  in April).  
None of this is to say that the end is nigh for dominant U.S. tech. The earnings train continues to chug along sans-regulation, and as this Bloomberg article points out, U.S.  tech has shown a powerful ability to quickly grow into its elevated multiples, justifying soaring stock prices. 
The message is to be aware of these market sensitives that are revealed by the Chinese experience over the last few months. And probably to take any maximalist classification  ("unstoppable", "uninvestable", etc.) with a big ol' grain of salt.
Further China Reading and Listening 
These are complicated and fast-moving topics. To continue to try to get a better  understanding of these topics, here is a collection of some helpful articles, podcasts,  etc. about China and its recent market activity: 
What are China's markets: China has multiple different indices, each with every different exposure. This is a quick summary of these different markets. 
Navigating China's "Casino Capitalism": a Bloomberg podcast detailing how a  quantitative investor trades China's markets, where valuations are often divorced from  fundamental 
Sup China's China Tech Crackdown Timeline: This is a collection of articles from around the financial press brought together by Sup China. 
Sup China's Guide to China's Big Tech Crackdown: This is a well-organized article about the different areas where the Chinese government has focused its regulatory crackdown. 
The FT's Robert Armstrong on if China is Uninvestable: This opinion piece gathers together a collection of other helpful articles and perspectives on China, as well as displays some interesting data on China fund flows (spoiler: there have been big outflows out of China). 
The FT looks at both sides of the China investability debate: this article provides examples on both sides of the debate regarding whether or not the recent moves should deter investors from having exposure to China. 
An Economist podcast on China's goals in the tech crackdown: a quick discussion about what China's ultimate goals could be in pursuing these tech crackdowns. 
Adam Tooze's historical perspective on U.S.-China Relations: It's good to zoom out and gain historical perspective, and Adam Tooze is particularly well suited to offer this. A  key point here is that he disagrees with the wildly popular Graham Alison thesis of  China and the U.S. being locked in a Thucydides Trap ("destined for war"). If you prefer a podcast, this is a discussion with Adam Tooze on Sinica. 
Chapter 11 "Casino Capitalism" of Quinn & Turner's Boom and Bust: This is a great,  short history of China's capital markets and their penchant for volatility (the rest of the book is a very worthwhile read as well).
Disclosures
IMPORTANT LEGAL INFORMATION
This material is for informational purposes only and is not intended to be an offer or solicitation to purchase or sell any security or to employ a specific investment strategy. It is intended solely for the information of those to whom it is distributed by Fieldpoint Private. No part of this material may be reproduced or retransmitted in any manner without prior written permission of Fieldpoint Private. Fieldpoint Private does not represent, warrant or guarantee that this material is accurate, complete or suitable for any purpose and it should not be used as the sole basis for investment decisions. The information used in preparing these materials may have been obtained from public sources. Fieldpoint Private assumes no responsibility for independent verification of such information and has relied on such information being complete and accurate in all material respects. Fieldpoint Private assumes no obligation to update or otherwise revise these materials. This material does not contain all of the information that a prospective investor may wish to consider and is not to be relied upon or used in substitution for the exercise of independent judgment. To the extent such information includes estimates and forecasts of future financial performance it may have been obtained from public or third-party sources. We have assumed that such estimates and forecasts have been reasonably prepared on bases reflecting the best currently available estimates and judgments of such sources or represent reasonable estimates. Any pricing or valuation of securities or other assets contained in this material is as of the date provided, as prices fluctuate on a daily basis. Past performance is not a guarantee of future results. Fieldpoint Private does not provide legal or tax advice. Nothing contained herein should be construed as tax, accounting or legal advice. Prior to investing you should consult your accounting, tax, and legal advisors to understand the implications of such an investment.
Fieldpoint Private Securities, LLC is a wholly-owned subsidiary of Fieldpoint Private Bank & Trust (the "Bank"). Wealth management, securities brokerage and investment advisory services offered by Fieldpoint Private Securities, LLC and/or any non-deposit investment products that ultimately may be acquired as a result of the Bank's investment advisory services:
Such services are not deposits or other obligations of the Bank:

− Are not insured or guaranteed by the FDIC, any agency of the US or the Bank
− Are not a condition to the provision or term of any banking service or activity
− May be purchased from any agent or company and the member's choice will not affect current or future credit decisions, and
− Involve investment risk, including possible loss of principal or loss of value.
© 2021 Fieldpoint Private
Banking Services: Fieldpoint Private Bank & Trust. Member FDIC.
Registered Investment Advisor: Fieldpoint Private Securities, LLC is an SEC Registered Investment Advisor and Broker Dealer. Member FINRA, MSRB and SIPC.