And The Wind Cries Mary: The Perfect Storm for Commodities?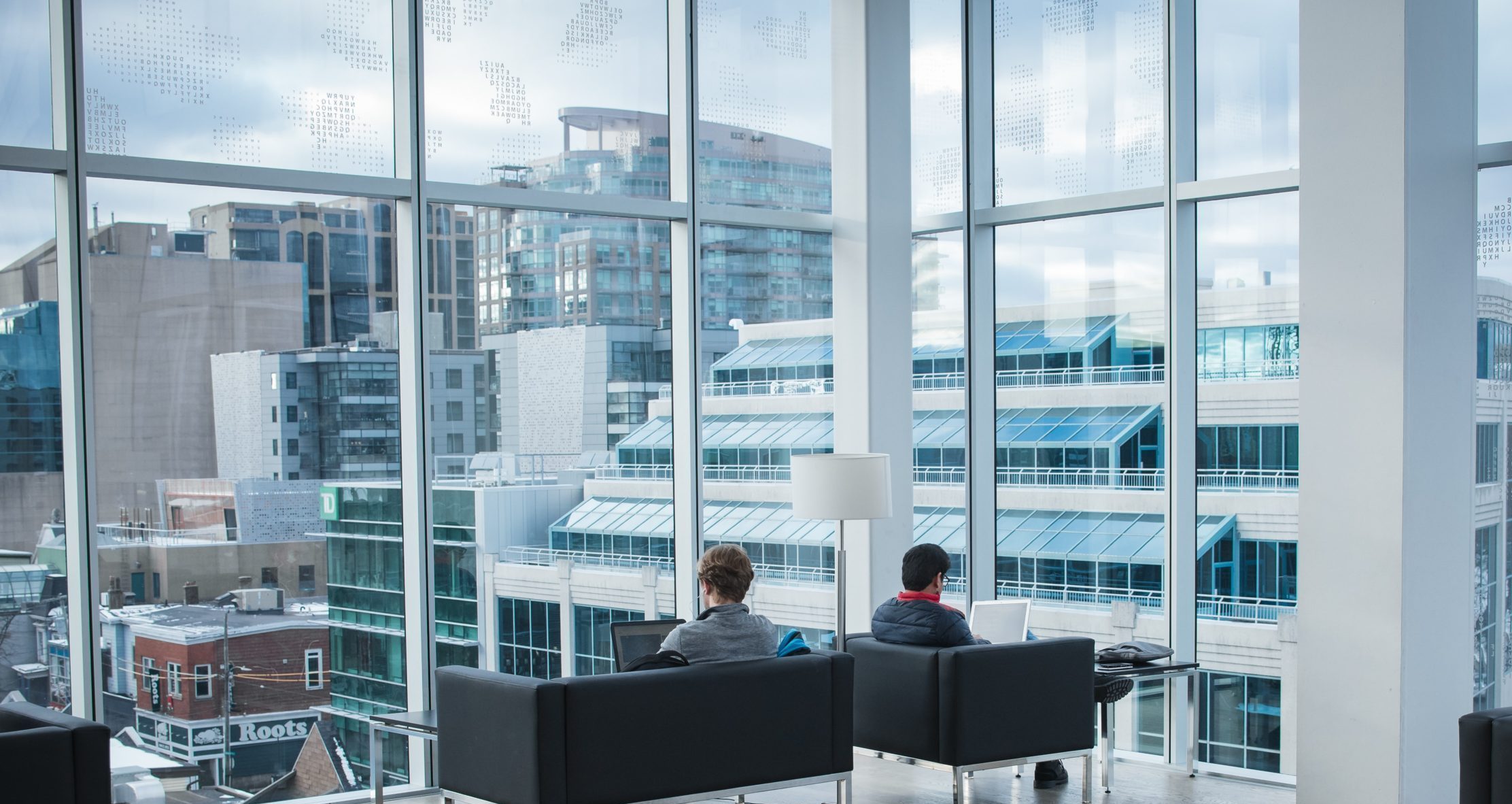 Today we released a new episode of our podcast, Fieldpoints of View, where I discuss the commodity landscape with Brad Klein and Bob Hyman of CoreCommodity Management. Brad and Bob are experts in the world of commodities, each with well over 30 years of experience in the asset class.
Click here for Spotify Podcasts
They present a very bullish case for commodities, which Mr. Klein describes as the "perfect storm" for higher prices. 
They argue that a confluence factor is leading and will continue to lead to higher commodity prices akin to the 1970s and 2000s: 
Rapid money supply growth from ultra-loose monetary policy

 

Large fiscal policy support

 

Strong rebounds in demand as economies reopen and supply chain frictions combining to deplete inventory levels
Supply being slow to come back online from COVID shutdowns and new ESG mandates, keeping supply growth less than demand growth for some time

 

A prolonged period of underinvestment in production since the end of the last big commodity cycle in the early 2010s (they don't like the term "supercycle")

 

Under-ownership of commodities as an asset class that will bid

 

up prices as investors bring commodity allocations back to historical levels
Energy Crisis
These arguments certainly feel right (we have some counterarguments below) given the current influx of commodity-related headlines, dominated by signs of an energy shortage ricocheting around the world. 
Gas prices in Europe are soaring to all-time highs (Chart 1) as the wind stopped blowing and supply from Russia dropped. This has led to fears that supply is dangerously low going into what could be a cold winter (expecting a winter as cold as last year's has led to more stockpiling, exacerbating the supply issues).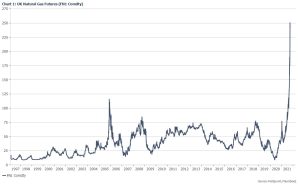 Petrol stations in the UK are running out of fuel to sell as worried citizens sit in long lines and the army is called in to relieve a driver shortage. 
China is instructing its energy companies to secure fuel supplies "at all costs" going into winter, given the current energy shortage is already leading to blackouts. 
The jump in gas prices is also leading to a spike in coal prices and oil prices. As of Monday morning, oil prices hit a 3-year high as investors expect more gas-to-oil switching and reopening stokes demand for transportation fuels, like jet fuel. At the same time, damage from Hurricane Ida is still keeping U.S. supply offline, leading to a cumulative 30 million barrels of lost production. 
These energy headlines make this week's OPEC+ meeting a "must watch". Though there is apparently pressure from the U.S. for OPEC+ to increase output more than the planned 400k barrels per day (bpd), investors are not expecting OPEC+ to oblige.
A Double-Edged Green Sword
As we discuss in the podcast, some of these shortages and price spikes emanate from the push for sustainability and ESG goals. 
Fossil fuel producers are getting pushed by shareholders to reduce investments in non-green fuels, while public investors are divesting from fossil fuel-related equities. Further, banks are restricting lending to fossil fuel-related businesses to meet their own ESG targets. 
All the while, oil producers are getting pressured to "live within their cash flows" and return excess capital to shareholders, instead of reinvesting profits right back into more drilling. 
This is one reason why the drilling rig count in the U.S. has not risen in line with the rise in oil prices (Chart 2), as it historically has. As this FT article shows, this pressure from public shareholders is keeping the large oil company rig count constrained and well below pre-pandemic levels. And thus U.S. oil output remains below pre-pandemic levels, despite prices being above pre-pandemic levels (see Chart 3).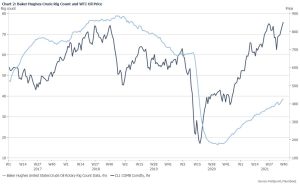 Shuttering coal plants, either due to environmental targets in Europe or safety regulations in China, has also led to a greater reliance on simply less reliable green energy sources (like that wind only whispering in Europe). Further eating into stable energy production, environmental goals have also led to uncertainty about the future of nuclear energy in Europe. 
This recent price surge has led some to argue for an even more rapid transition to green energy (embracing today's higher prices as an effective punishment for our reliance on these fuels), while others argue that we need to be realistic in accepting that the economy is and will remain inextricably reliant on fossil fuels in the near future, making a "demonization" of the energy sources a short-sighted and dangerous path.
The Missing Piece
As you will hear in the podcast, I see one missing piece in the argument for prolonged and pronounced commodity upcycle a weak U.S. dollar. 
As you can see in Chart 4, the two periods most associated with commodity price booms, the 1970s and 2000s, had one key thing in common. During these decades, the USD dropped in value significantly.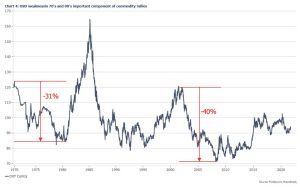 Most commodities are priced in USD, meaning that as the USD drops, or depreciates versus other currencies, the price of the commodity priced in dollars goes higher (holding all else equal).
It is interesting to see such commodity strength in 2021 despite the stronger USD YTD, which shows just how acute the supply/demand imbalances are. 
There is also the reality that the U.S. has not been alone in flooding its economy and financial markets with liquidity, likely keeping the USD from depreciating against other countries' currencies. This means that the USD does not have to depreciate versus other currencies to get to the reality that there is simply more money around the world chasing a limited supply of "real" goods. 
As you can imagine, if we did have a weaker USD in 2021, it would likely be like throwing lighter fluid on this fire of higher prices. 
But currently, we have a dollar that is in a near-term uptrend. Eventually, a strong USD could ruin the party for commodities. 
This is why we think that in order to make a multi-year call for a powerful upcycle in commodities, we think we also need to be able to make a call for a weaker USD. 
What could cause a weaker dollar? As we discussed in last week's update on cyclicals (and in an interview on CNBC on cyclicals), comparative monetary policy between the U.S. and other major central banks could be a key determinant of the path of the USD. 
From a longer-term perspective, if the Fed is deemed tighter than the ECB and BoJ, expect a stronger USD (the current set up). But if the Fed backs off on tightening and is thus even more accommodative/tolerant of inflation than the ECB and BoJ, expect a weaker dollar (such as in 2020 when the Fed was the leader in liquidity).
From a shorter-term perspective, watch positioning in the USD. Chart 5 shows that USD positioning has been a key driver of near-term turning points in the USD. Very short positioning (traders betting on further weakness) coincided with near-term lows in the USD (traders were too bearish) in 2021. Right now, positioning has swung to be very long the USD, which doesn't have to signal an end to the recent rally, but should be watched closely.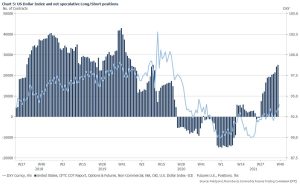 We see potential for the USD to stall in the very near term, noting that the USD does appear to be stalling out at important resistance at its 200-week moving average (Chart 6). This weakness could fan the flames of the commodity rally in the very near term.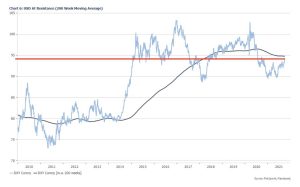 So is it a Perfect Storm?
Looking back at the last 18 months, apparently yes, there has been a perfect storm of factors that have led commodities to be a better performing asset class in 2021 than flashy tech stocks (NASDAQ 100 +15% vs. Bloomberg Commodity Index +30%). 
Looking forward, we have to ask a few questions in order to determine if this outperformance continues with meaningful duration and magnitude: 
Will the USD weaken significantly?

 

Will COVID frictions remain, keeping latent production capacity offline and not allowing supply chain bottlenecks to clear?

 

Will weather move to exacerbate supply/demand imbalances (not just for energy but for agriculture as well)?

 

Will goods demand remain elevated?

 

Will countries continue to provide extraordinary liquidity support?

 
Assuming we are capable, if we answer yes to too many of these questions, then these drivers could combine with the underlying setup of underinvestment and tight inventories and result in further strength in commodity prices.
But if these questions are answered with "no's", such as seeing further dollar strength or supply coming back faster than expected, then we could expect more downward pressure on prices. 
Regardless of this uncertainty, we continue to maintain a strategic weighting, all be it small, to commodities in our asset allocation models. 
Disclosures
IMPORTANT LEGAL INFORMATION 
This material is for informational purposes only and is not intended to be an offer or solicitation to purchase or sell any security or to employ a specific investment strategy. It is intended solely for the information of those to whom it is distributed by Fieldpoint Private. No part of this material may be reproduced or retransmitted in any manner without prior written permission of Fieldpoint Private. Fieldpoint Private does not represent, warrant or guarantee that this material is accurate, complete or suitable for any purpose and it should not be used as the sole basis for investment decisions. The information used in preparing these materials may have been obtained from public sources. Fieldpoint Private assumes no responsibility for independent verification of such information and has relied on such information being complete and accurate in all material respects. Fieldpoint Private assumes no obligation to update or otherwise revise these materials. This material does not contain all of the information that a prospective investor may wish to consider and is not to be relied upon or used in substitution for the exercise of independent judgment. To the extent such information includes estimates and forecasts of future financial performance it may have been obtained from public or third-party sources. We have assumed that such estimates and forecasts have been reasonably prepared on bases reflecting the best currently available estimates and judgments of such sources or represent reasonable estimates. Any pricing or valuation of securities or other assets contained in this material is as of the date provided, as prices fluctuate on a daily basis. Past performance is not a guarantee of future results. Fieldpoint Private does not provide legal or tax advice. Nothing contained herein should be construed as tax, accounting or legal advice. Prior to investing you should consult your accounting, tax, and legal advisors to understand the implications of such an investment.
Fieldpoint Private Securities, LLC is a wholly-owned subsidiary of Fieldpoint Private Bank & Trust (the "Bank"). Wealth management, securities brokerage and investment advisory services offered by Fieldpoint Private Securities, LLC and/or any non-deposit investment products that ultimately may be acquired as a result of the Bank's investment advisory services:
Such services are not deposits or other obligations of the Bank:

− Are not insured or guaranteed by the FDIC, any agency of the US or the Bank 
− Are not a condition to the provision or term of any banking service or activity 
− May be purchased from any agent or company and the member's choice will not affect current or future credit decisions, and 
− Involve investment risk, including possible loss of principal or loss of value. 
© 2021 Fieldpoint Private
Banking Services: Fieldpoint Private Bank & Trust. Member FDIC. 
Registered Investment Advisor: Fieldpoint Private Securities, LLC is an SEC Registered Investment Advisor and Broker Dealer. Member FINRA, MSRB and SIPC.