Lessons on Labor and Consumption from the City Beautiful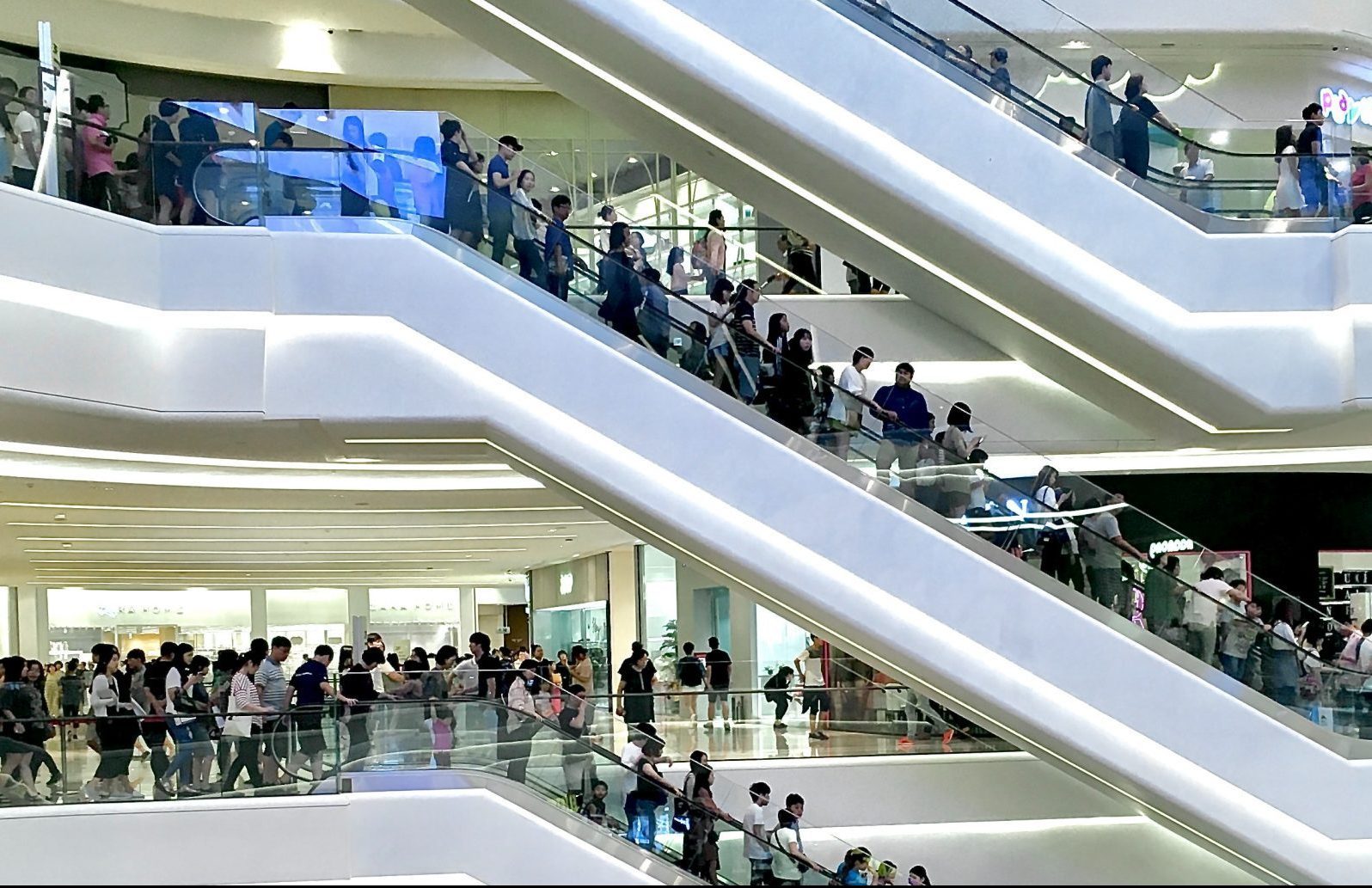 Cameron Dawson, CFA
Chief Market Strategist
Today's post-Labor Day piece is about the labor market and consumption, but let's start by indulging in some small sample-size anecdotes.
I've learned many lessons about the global economy over the years by watching the dynamics at play at the outlet malls in Orlando.
First, Orlando itself is essentially beta on the global economy. Though it is becoming more diversified, tourism and leisure still make up 41% of the economy, or about $75B. This means the town is at the mercy of highly discretionary consumer and corporate demand. This spending typically experiences greater swings through cycles and creates boom and bust conditions in the local economy.
Tourists from all over the world come to spend their money in Orlando, whether it is to brush shoulders with the mouse or to take advantage of the area's substantial discount shopping offerings.
For years I've been getting a feel for global cycles by asking the salespeople at the outlets: "Who's shopping?" Fifteen years ago the big shoppers were tourists from the UK, riding high on a GBP trading near two-to-one versus the USD. Ten years ago it was tourists from South America, still flush from the emerging markets boom and enjoying strong currencies. Then came the tourists from the Middle East, but their spending started to recede along with oil prices in 2015. This was then replaced by an influx of spending by tourists from China. Maybe I should coin this as the GPI, or Global Purse Index…
One of the most startling outlet observations came from a visit in late May of 2020 when Florida was starting to reopen non-essential businesses. I was expecting the mall to be a ghost town, as it typically would be during a deep recession.
The scene was the exact opposite. The outlet was not just packed, people seemed near desperate to spend money. For the first time that I had ever seen, there were people lined up for over four hours to get into the ultra-luxury stores.
Whether this was due to a boost from stimulus checks, a redirecting of spending from services to goods, or that the pandemic did not hit higher income groups as hard (four hours was about the wait time for food banks as well at the time), what was very clear is that this was not your typical recession.
Interestingly, fast forward to this past weekend, a should-be-busy holiday weekend, and that four-hour wait for fancy belts is gone. You can just stroll right in (store capacities have not been raised meaningfully enough to account for the shortening of wait times).
So, what is the point of these highly localized anecdotes?
We need to watch consumer spending closely through the remainder of this year as we enter into a more "normal" labor market environment.
As of Labor Day, over 7 million people in the U.S. lost unemployment benefits, with an additional 3 million losing access to the supplemental $300 of benefits (Washington Post).
There are divergent views on what impact this expiration of benefits will have on the economy. Some argue that the lack of benefits will draw people back into the labor force, while others argue that the hesitance to work may not be just because of higher unemployment benefits but other concerns like lack of access to childcare, COVID fears, and skills mismatch (the disappointing 235k vs. 733k est jobs number from last Friday showed evidence of the Delta variant weighing on leisure hiring). Some also note that these benefits may have put upward pressure on wages, essentially raising the "clearing price" for labor.
The empirical evidence answering this question on the impacts of supplemental benefits on the labor market is mixed. Much analysis has been done comparing the labor market changes in those states that have kept supplemental unemployment benefits and those states that ended the benefits early starting in June.
First, it could be too early to draw conclusions, but this WSJ analysis shows that states that cut benefits actually had smaller increases in nonfarm payrolls than states that kept benefits, meaning cutting benefits did not have a statistically significant impact on bringing people back to work. This could be partially explained by the fact that states that kept benefits tended to reopen later than those that cut benefits, meaning there was more room for improvement during this April-July 2021 period. Other analyses that controlled for demographics, marital status, and education found slightly more evidence of a boost to employment from the end of benefits.
Where there seems to be a clearer and more significant impact is on consumer finances and consumption. This academic paper from August shows that while employment increased by about 4 percentage points after states cut benefits, the wages from employment did not make up for the shortfall in benefits, resulting in a loss of income and a drop in consumption. Chart 1 from this paper shows the drop in unemployment benefits, the much smaller increase in wage income, and the resulting drop in consumption.
Chart 1: The loss in unemployment benefits is not offset by higher earnings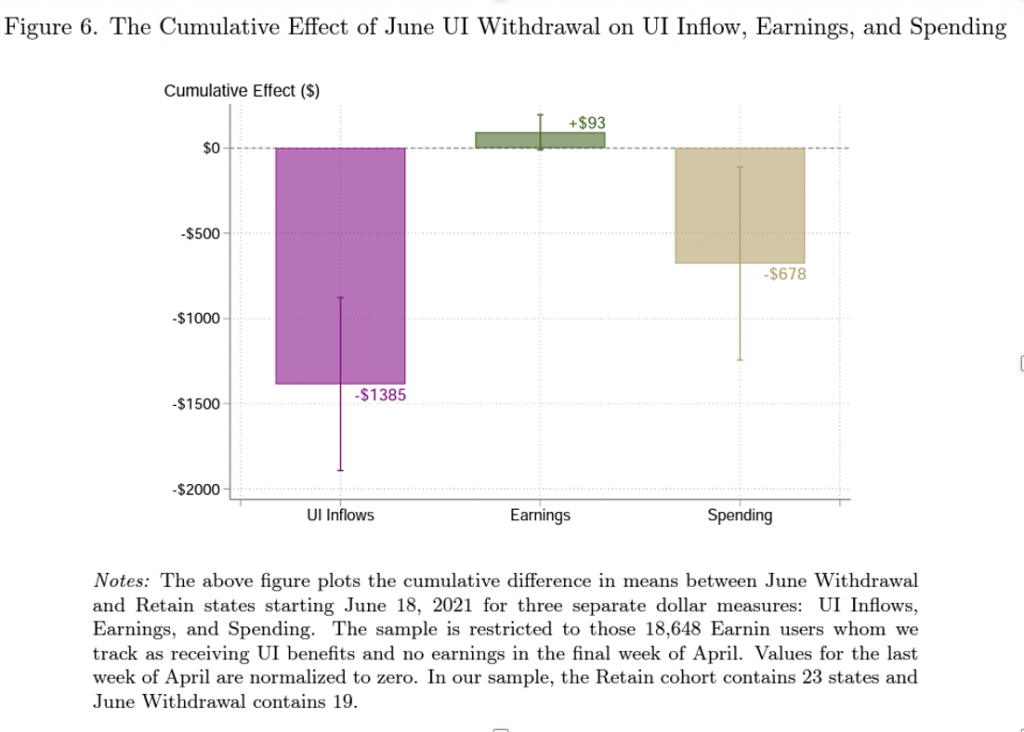 Source: Coombs et al
Taking this a step further, we note that the elevated savings rates experienced in 2020 have now returned to be much closer to historical levels (Chart 2), meaning we cannot count on the spending down of savings as much to buoy spending.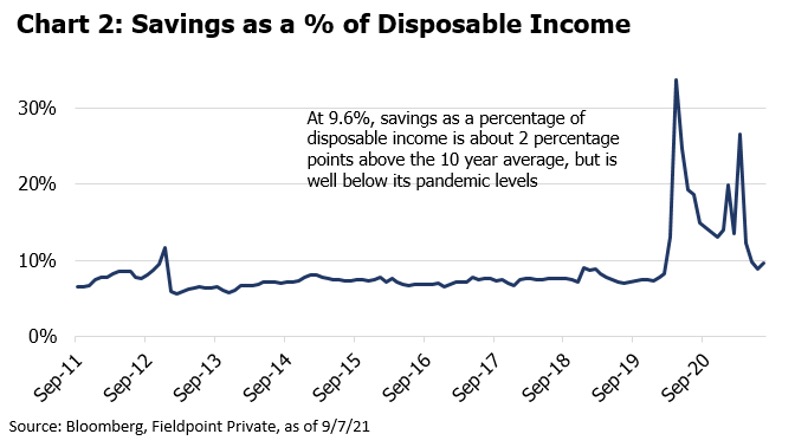 So no matter what camp to which you belong in the unemployment benefits debate, the potential hit to spending in the near term, which is 70% of the U.S. economy, cannot be ignored by forecasters and investors.
Economic surprises have turned negative (Chart 3), while the real-time GDP forecast from the Atlanta Fed has now fallen well below Wall Street estimates (Chart 4). All the while, corporate earnings estimates have continued to march higher. This divergence cannot persist as, eventually, the real economy catches up with earnings estimates.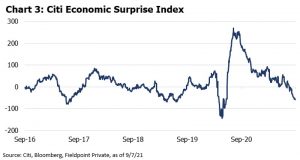 Chart 4: Atlanta Fed GDPNow Forecast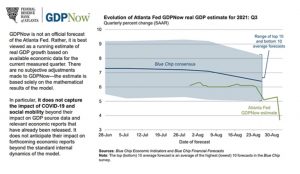 Source: Federal Reserve Bank of Atlanta
We also note that substantial incremental fiscal spending is already baked into many Wall Street GDP forecasts, so if further spending was to run into roadblocks, these estimates would need to be walked down.
The "good" news here is that weaker jobs and consumption data can allow the Fed to delay the reduction of policy support (tapering). This could be why we saw long yields jump on Friday's weak data, as this could mean that the Fed will be inclined to delay tapering and let inflation "run hot". This is a double-edged sword, as we have pointed out the past few weeks HERE and HERE, because while markets like the continued stimulus, the loss of purchasing power from inflation are having a meaningful impact on consumer confidence and spending plans.
So when we consider the potential hit to spending from the combined impact of the reduction in unemployment benefits and the pinch from higher prices, the lack of a wait time for fancy belts in Orlando starts to make more sense.
Of course, we do not say any of this as a "bet against" the U.S. consumer (which has been the wrong bet time and time again). Further, we note that the underlying economy remains relatively healthy with continued room for improvement (there are still 5.3 million fewer people employed today compared to prior to the pandemic). Also, wages are rising, which can help to offset some of these headwinds over time.
However, given the labor and spending dynamics, we outlined above, we do see potential that growth expectations could need to be level set lower. From a market perspective, these recalibrations can become even more potent when considering that U.S. markets continue to trade at elevated forward valuations, becoming a source for volatility for equity markets.
But then again, maybe all of those belt buyers have become dip buyers, allowing the U.S. equity market to continue to shrug off weaker data. Time will tell.
Disclosures
IMPORTANT LEGAL INFORMATION
This material is for informational purposes only and is not intended to be an offer or solicitation to purchase or sell any security or to employ a specific investment strategy. It is intended solely for the information of those to whom it is distributed by Fieldpoint Private. No part of this material may be reproduced or retransmitted in any manner without prior written permission of Fieldpoint Private. Fieldpoint Private does not represent, warrant or guarantee that this material is accurate, complete or suitable for any purpose and it should not be used as the sole basis for investment decisions. The information used in preparing these materials may have been obtained from public sources. Fieldpoint Private assumes no responsibility for independent verification of such information and has relied on such information being complete and accurate in all material respects. Fieldpoint Private assumes no obligation to update or otherwise revise these materials. This material does not contain all of the information that a prospective investor may wish to consider and is not to be relied upon or used in substitution for the exercise of independent judgment. To the extent such information includes estimates and forecasts of future financial performance it may have been obtained from public or third-party sources. We have assumed that such estimates and forecasts have been reasonably prepared on bases reflecting the best currently available estimates and judgments of such sources or represent reasonable estimates. Any pricing or valuation of securities or other assets contained in this material is as of the date provided, as prices fluctuate on a daily basis. Past performance is not a guarantee of future results. Fieldpoint Private does not provide legal or tax advice. Nothing contained herein should be construed as tax, accounting or legal advice. Prior to investing you should consult your accounting, tax, and legal advisors to understand the implications of such an investment.
Fieldpoint Private Securities, LLC is a wholly-owned subsidiary of Fieldpoint Private Bank & Trust (the "Bank"). Wealth management, securities brokerage and investment advisory services offered by Fieldpoint Private Securities, LLC and/or any non-deposit investment products that ultimately may be acquired as a result of the Bank's investment advisory services:
Such services are not deposits or other obligations of the Bank:

− Are not insured or guaranteed by the FDIC, any agency of the US or the Bank
− Are not a condition to the provision or term of any banking service or activity
− May be purchased from any agent or company and the member's choice will not affect current or future credit decisions, and
− Involve investment risk, including possible loss of principal or loss of value.
© 2021 Fieldpoint Private
Banking Services: Fieldpoint Private Bank & Trust. Member FDIC.
Registered Investment Advisor: Fieldpoint Private Securities, LLC is an SEC Registered Investment Advisor and Broker Dealer. Member FINRA, MSRB and SIPC.