Not That 70's Show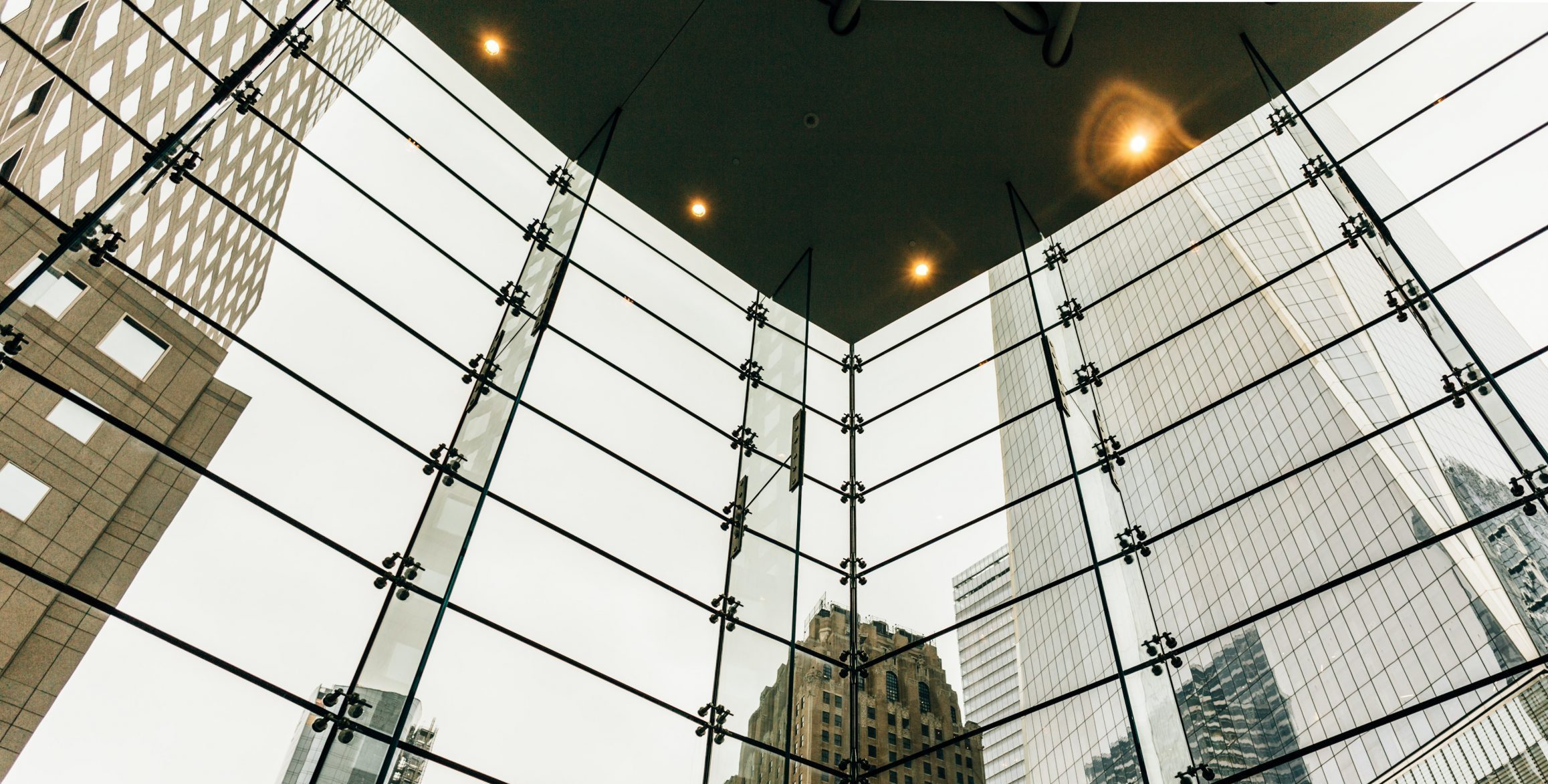 Stagflation is the market obsession du jour, with commentators and analysts fretting over the combination of high inflation and weak growth, making frequent comparisons to the 1970s.
Just look at the surge in Bloomberg story counts mentioning "stagflation" in Chart 1.
But is today's environment really stagflation?
This discussion needs nuance, as we have argued about inflation, however, we do not think this is stagflation or a repeat of the 1970s inflationary experience. At the same time, we do expect inflation to run above the Fed's expectations going into 2022, so there are important implications for markets as the Fed looks to address these inflationary concerns.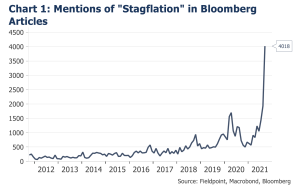 What is Stagflation and Do We Have It?
Stagflation comes from the mashup (or portmanteau for you fancy folk) of stagnation and inflation. It describes a period where economic growth stagnates/declines, while inflation runs high. It occurs when you have a paradoxical high inflation rate at the same time as you have a high unemployment rate.
Until the economic experience of the late 1960's in the U.K. (when the term was coined) and 1970's in the U.S., high inflation and high unemployment were believed to be mutually exclusive. Inflation was believed to be the result of economic overheating.
Inflation would occur when growth used up the excess capacity in the economy, including having fewer unemployed people looking for work. With less supply (people, capital, capacity) available to meet demand, prices (including wages) would rise.
So to get inflation, it was assumed that unemployment would be low. This was further supported by the findings of William Phillips in 1958, with his eponymous Phillips Curve, plotting the inverse relationship between unemployment and wage growth (low unemployment equals high wage growth).
But then came the 1970's and all of the curves and models had to be thrown out the window (it really is a dismal science).
In 1973 the U.S. began to experience both soaring inflation and soaring unemployment, and thus stagflation. High prices, led by the energy supply shock, quickly weighed on growth, grinding activity to a halt and throwing the U.S. economy into a tough decade of repeat recessions and rolling bear markets.
To see this stagflation effect, look at Chart 2 showing the U.S. quarterly real GDP growth rate YoY and the quarterly Consumer Price Index. The red circled periods show this stagflationary paradox of high inflation and negative GDP growth.
Compare this to the green circled period from today, showing a jump in inflation, but not a collapse in real GDP growth. We include the Bloomberg estimates for GDP growth through the second quarter of 2023 to show that economists still have positive and above-trend growth forecasted through this period.
So, if these growth forecasts are even close to being right, meaning that definitional stagflation is not occurring, can we just write off all of this stagflation chatter as being pure noise?
Not necessarily. The combination of higher inflation and slowing growth rates still has important implications on the market, even if we don't think this is a 70's redux.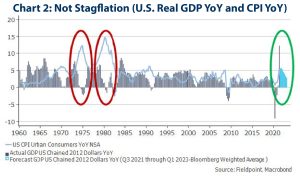 The Inflation Framing
It would be helpful to quickly revisit our framing of inflation from the past year of writing:
We think inflation will continue to run higher than the Fed's expectations, as it has all year.
We see stickier factors, like housing and rent prices, pushing up inflation readings and taking over from the short-term reopening pops in prices seen earlier this year. Higher energy prices also can keep inflation readings elevated through the end of the year.
We expect inflation measures to moderate materially in 2Q22 when YoY comparisons get very tough and supply chain frictions begin to ease. But remember, this slowing of YoY changes to prices does not mean that prices will fall (the rate of change will be transitory, but the price level change will remain higher than pre-pandemic in many areas).
The labor market and wages will be key watch items in 2022 to determine if inflation does have more staying power. We look to see evidence to answer key questions:
How much slack is there really in the labor market? The labor market appears tight today, but once we get back to full-time school and are well past supplemental unemployment benefits, will we see a rebound of the labor force participation rate back up to pre-pandemic levels?
If we continue to see workers staying out of the labor force, we can expect more wage pressure. But if the 5m workers who remain out of the labor force vs. pre-pandemic are drawn back in, expect a moderation in wage growth. Our view is that not all of these workers will return given elevated retirements and lifestyle choices, like stay-at-home parents.
We think this scenario of higher near-term inflation will continue to result in the Fed pulling forward its expectations for tightening in upcoming meetings. This could lead to increased market volatility around talk of tightening monetary support for markets. Recall that tightening cycles often result in P/E multiple compression (like in 2018), so with multiples remaining elevated near record highs, this is a key watch item for equity markets.
We also see inflation eventually weighing on earnings growth, as some companies are likely to experience downward pressure on margins, which are at an all-time high, even if they are able to fully pass through costs.
Does the faster tightening actually happen, mostly as we near those tough 2Q22 comparisons where YoY inflation should slow? It depends on the wage dynamics described above and could be influenced by exogenous factors like energy prices.
We see inflation and higher prices weighing on consumer confidence, with the risk that consumers begin to moderate spending due to loss of purchasing power. This is somewhat reminiscent of the stagflation discussion above and puts the Fed in-between a rock and a hard place: keep policy loose and risk being blamed for high inflation, or tighten policy to address inflation that is partially out of their control and risk causing a further hit to growth (described in detail here).
Break out the Bellbottoms?
Even though wide-leg pants are firmly back in fashion, we do not see today as a repeat of the 1970s with its runaway inflation and bond yields.
There are plenty of reminders of the '70s that we see today, like the energy supply shocks (and my own personal collection of bellbottoms), but there are key differences.
First, the Fed has an explicit 2% inflation target (now average) that helps keep market-based long-term inflation expectations in check. This explicit target did not exist in the 1970s. As long as the market believes the Fed will move to tighten policy, the market-based inflation expectations can remain moored.
Second, we don't have a significant weakening of the dollar today. As we described in last week's piece on commodities, the 1970s experienced a significant decline in the value of the dollar (following the end of Bretton Woods and U.S. gold convertibility), magnifying the moves in commodities and making imports more expensive. If we were to see signs of significant dollar weakness, our views on commodities and inflation would be revised to the upside. We continue to think the comparative monetary policy between the U.S. and Europe/Japan will be an important determinant of the dollar, supporting dollar strength in the near term (much more so than the "twin deficits" thesis for a weaker dollar).
Last, many of the factors that have kept inflation moderate over the last 40 years remain globalization, technology, and demographics. There are, of course, questions if some of these factors, like globalization, have reached their peak downward impact on inflation (such as if China can continue to be a source of deflation), or if technology adoption could actually exacerbate inflation in the near term (such as green energy transition). These are long-term factors and can be easily overwhelmed by short-term drivers, like a pandemic, as we see today.
Conclusion
Overall, we encourage investors not to get swept into overly fearful narratives about runaway inflation and a repeat of the 1970's economic and market hardships. This doesn't negate the real, lived experience of inflation that we as consumers are experiencing today, but this must be separated from the forward-looking market.
Through the rest of the year, inflation could continue to surprise the Fed to the upside and weigh on consumer activity, thus being a source of market volatility.
To help insulate portfolios, this backdrop supports near-term allocating to more cyclical areas of the equity market. Similarly, it supports lowering the duration of equity positioning by trimming the most high flying, high multiple, speculative growth names, which have the most multiple to compress.
Lastly, it supports a strategic allocation to commodities. Though we see the strong dollar and an eventual easing of supply chain issues as key impediments to a multi-year upcycle, in the very near term a diversified commodity exposure continues to have merit.
Disclosures 
IMPORTANT LEGAL INFORMATION 
This material is for informational purposes only and is not intended to be an offer or solicitation to purchase or sell any security or to employ a specific investment strategy. It is intended solely for the information of those to whom it is distributed by Fieldpoint Private. No part of this material may be reproduced or retransmitted in any manner without prior written permission of Fieldpoint Private. Fieldpoint Private does not represent, warrant or guarantee that this material is accurate, complete or suitable for any purpose and it should not be used as the sole basis for investment decisions. The information used in preparing these materials may have been obtained from public sources. Fieldpoint Private assumes no responsibility for independent verification of such information and has relied on such information being complete and accurate in all material respects. Fieldpoint Private assumes no obligation to update or otherwise revise these materials. This material does not contain all of the information that a prospective investor may wish to consider and is not to be relied upon or used in substitution for the exercise of independent judgment. To the extent, such information includes estimates and forecasts of future financial performance it may have been obtained from public or third-party sources. We have assumed that such estimates and forecasts have been reasonably prepared on bases reflecting the best currently available estimates and judgments of such sources or represent reasonable estimates. Any pricing or valuation of securities or other assets contained in this material is as of the date provided, as prices fluctuate on a daily basis. Past performance is not a guarantee of future results. Fieldpoint Private does not provide legal or tax advice. Nothing contained herein should be construed as tax, accounting or legal advice. Prior to investing you should consult your accounting, tax, and legal advisors to understand the implications of such an investment. 
Fieldpoint Private Securities, LLC is a wholly-owned subsidiary of Fieldpoint Private Bank & Trust (the "Bank"). Wealth management, securities brokerage and investment advisory services offered by Fieldpoint Private Securities, LLC and/or any non-deposit investment products that ultimately may be acquired as a result of the Bank's investment advisory services: 

Such services are not deposits or other obligations of the Bank:
− Are not insured or guaranteed by the FDIC, any agency of the US or the Bank
− Are not a condition to the provision or term of any banking service or activity 
− May be purchased from any agent or company and the member's choice will not affect current or future credit decisions, and 
− Involve investment risk, including possible loss of principal or loss of value.
© 2021 Fieldpoint Private 
Banking Services: Fieldpoint Private Bank & Trust. Member FDIC. 
Registered Investment Advisor: Fieldpoint Private Securities, LLC is an SEC Registered Investment Advisor and Broker Dealer. Member FINRA, MSRB and SIPC.