Weekly Perspective: A Farm Grows in Brooklyn: The Interplay of Consumer Confidence and Inflation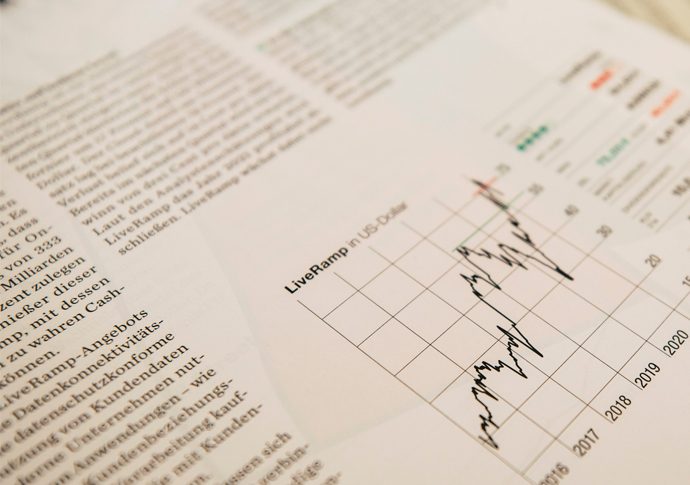 Living in a city like New York tends to force feed you certain life lessons. Some are narrow, like 600 square feet is exceedingly spacious, while others are broad, like change is the only constant.
The City is never static. Just as you establish a routine at your favorite cozy café, it closes and is replaced by a Panda Express (this actually happened in my old neighborhood, with the protests of the people captured in the words of a Sharpie wielding graffiti artist: "we don't want you, mall food").
This lesson of constant change was most potent with the departure of one of the City's precious gems: North Brooklyn Farms. This community farm was a rare slice of nature in the bustling City, offering a bucolic pause to visitors.
But just like the steady march of Orange Chicken that couldn't be stopped, North Brooklyn Farms fell prey to the constant change of the City. Much to the sadness of the community, the Farms announced its closure, with the land slated to be consumed by the next big apartment development.
During the final weeks of its existence, the Farms kept a sign posted at its entrance, reminding its sad patrons that: "EVERYTHING IS TEMPORARY".
This was an apt and necessary reminder, but it did little to soften the blow that the fertile land would soon be pavement.
This illustrates how the times when we are in the midst of change can be very challenging, as we remember and then have to depart from what used to be. Change is hard, even though we can try to expect this change and remind ourselves that everything is temporary…or transitory in today's zeitgeist.
And now you see where we are going with this.
Last week the University of Michigan released its preliminary Consumer Sentiment Index for August and it was not so great. The index came in at 70.2, well below the 81.2 consensus, the largest miss versus expectations on record. Shockingly this 70.2 reading came in below the April 2020 reading at the depths of the pandemic lockdowns, and was the lowest reading in a decade (Chart 1). It was the third largest month-overmonth decline in 50 years.
Why so glum?
Of course the rapid spread of the Delta variant is playing a role. The survey's Chief Economist, Richard Curtin, posits that the sharp drop is a mix of reason (consumers are correctly identifying that the virus spread can weigh on future growth) and emotion (from "dashed hopes that the pandemic would soon end").
But that may not tell the whole story.
One of the key contributors to the decline in consumer confidence was the worst deterioration in buying conditions for large purchases like houses, household durables, and vehicles in decades (see Chart 2 and Chart 3). The survey asks respondents whether now is a good time or a bad time to make a purchase. More consumers this month said that now is not a good time to buy.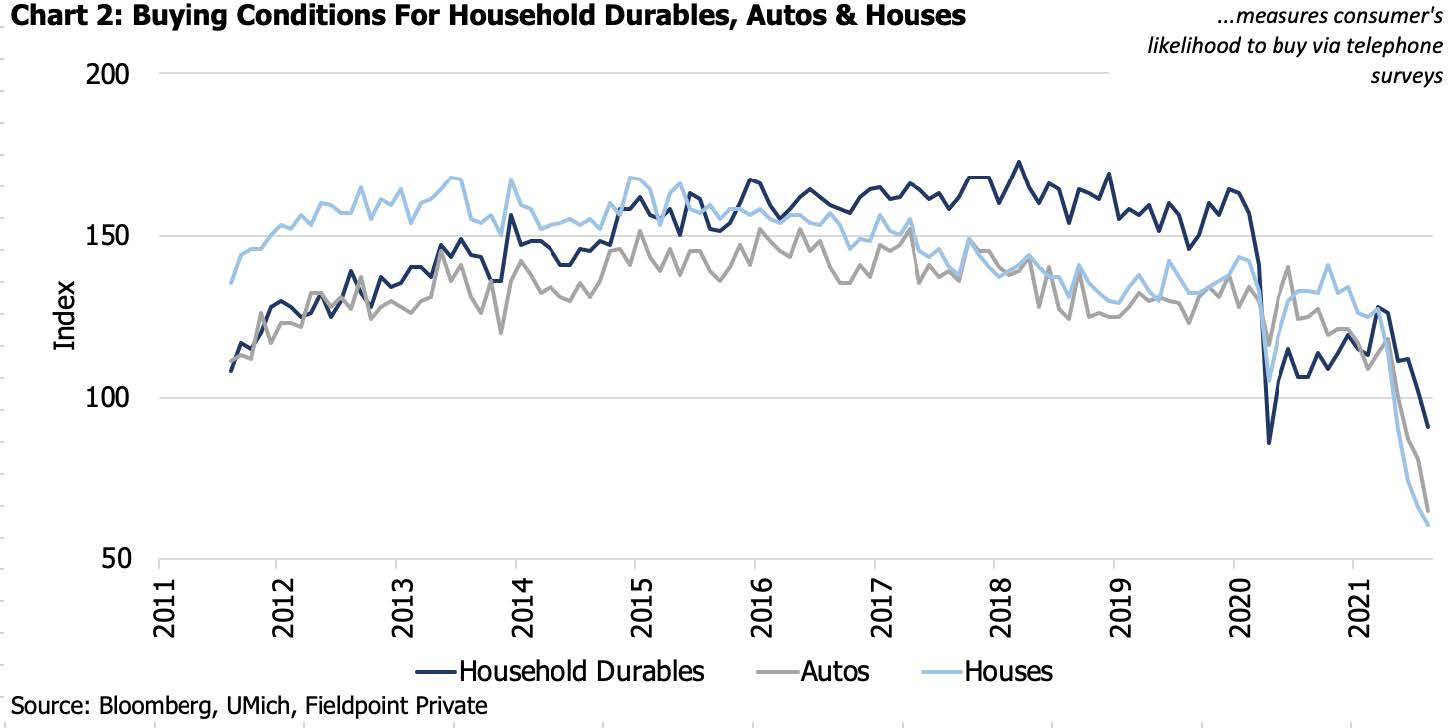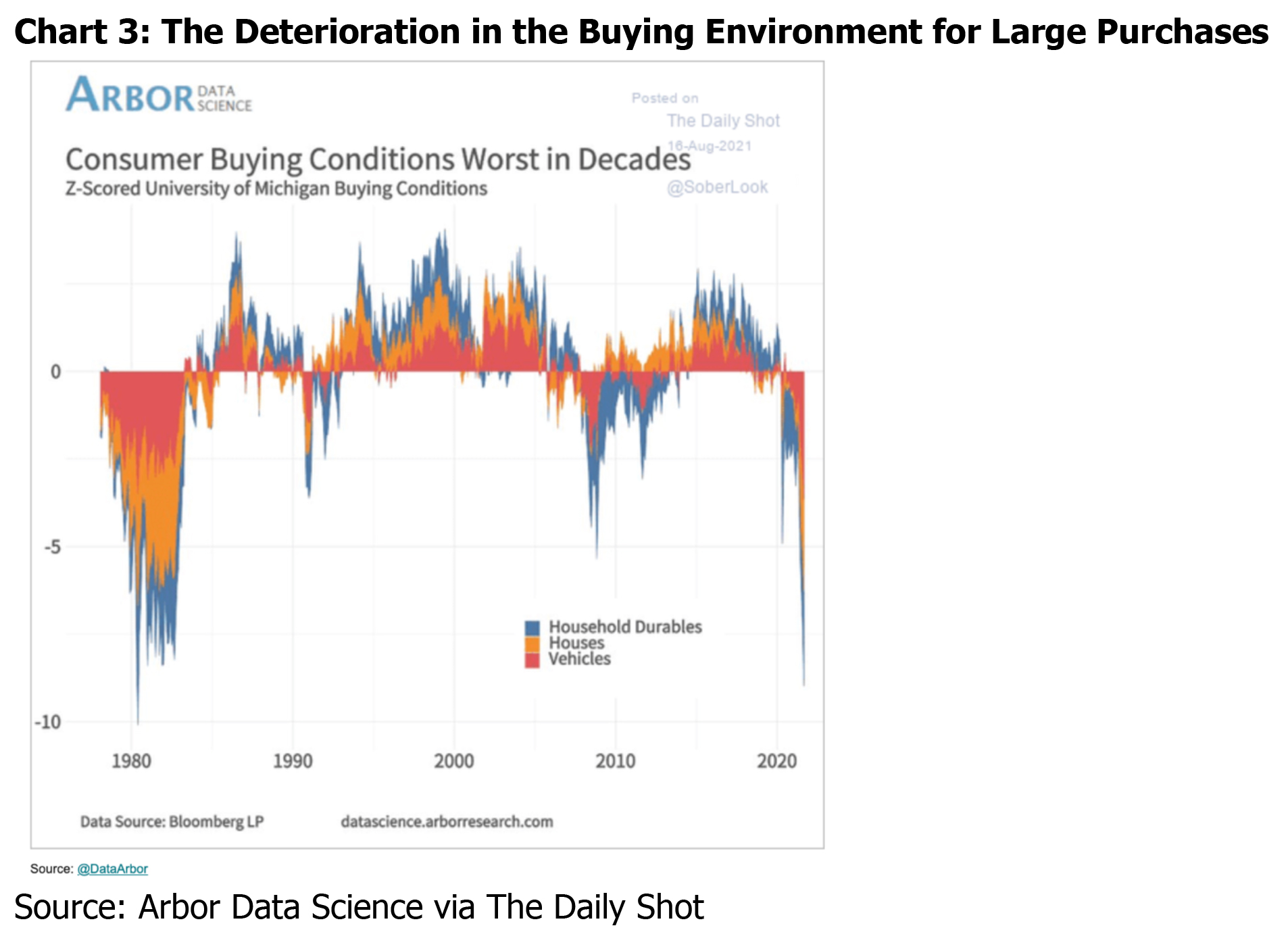 Some of this deterioration in the assessment of buying conditions can be tied back to the virus fears and consumers' broader assessment of worsening personal finances and employment. However, August's survey showed that price worries have been a substantial impediment to buying.
Essentially consumers are saying that it is not a good time to make a big purchase because things have gotten too expensive.
Chart 4 shows the breakdown of the Consumer Durables Buying Conditions between Economic Uncertainty related and Price related. You can see just how much the higher prices experienced in 2021 are weighing on consumers' outlook for purchases of these goods. Consumers continue to report economic uncertainty, but the deterioration in price related conditions has been much more severe. A similar picture can be painted for Vehicles and Houses.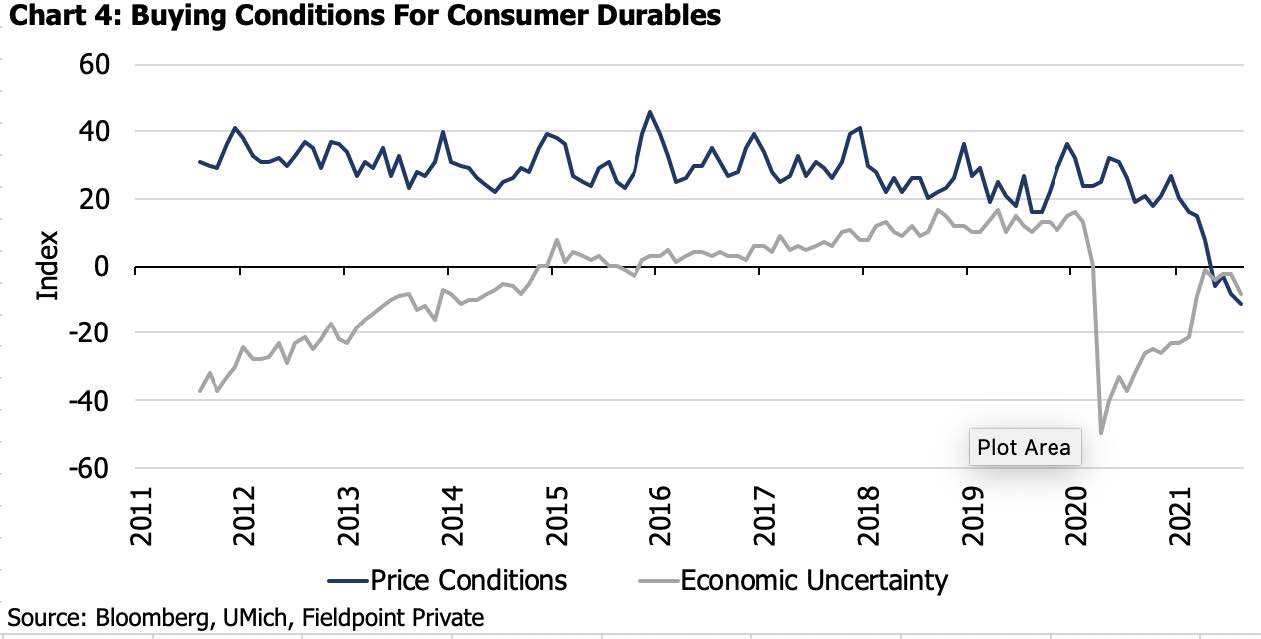 This means that even as the Fed has been flashing its own "EVERYTHING IS TEMPORARY" sign in calling recent inflation "transitory", consumers are still feeling real discomfort from these price changes.
The July 2021 Consumer Price Inflation report released last week showed year-overyear inflation remaining near a 13-year high (Chart 5), but that the month over month expansion has fallen by about two-thirds since its April peak (Chart 6). The July report showed that things like new car inflation remains elevated, but used car inflation has slowed from above 10% in June to near zero. Some things really are transitory.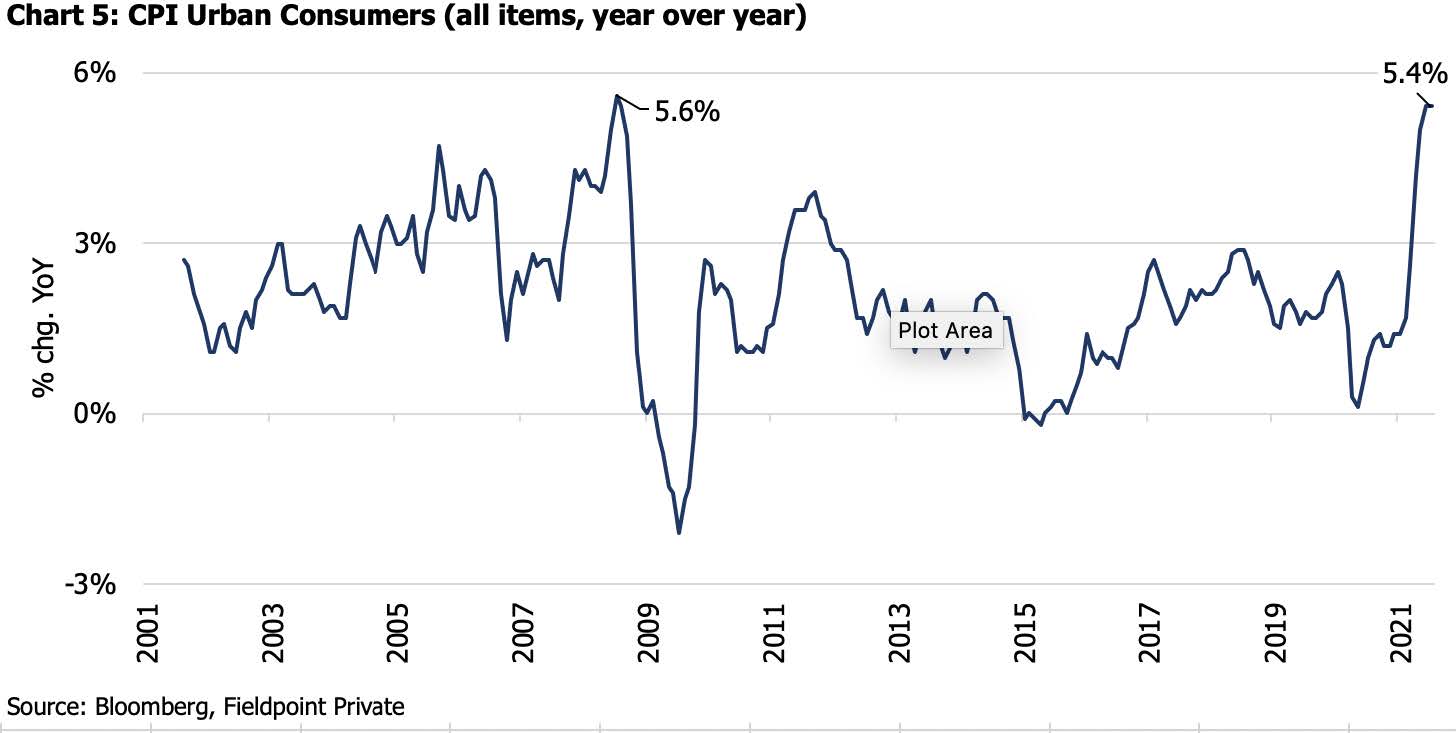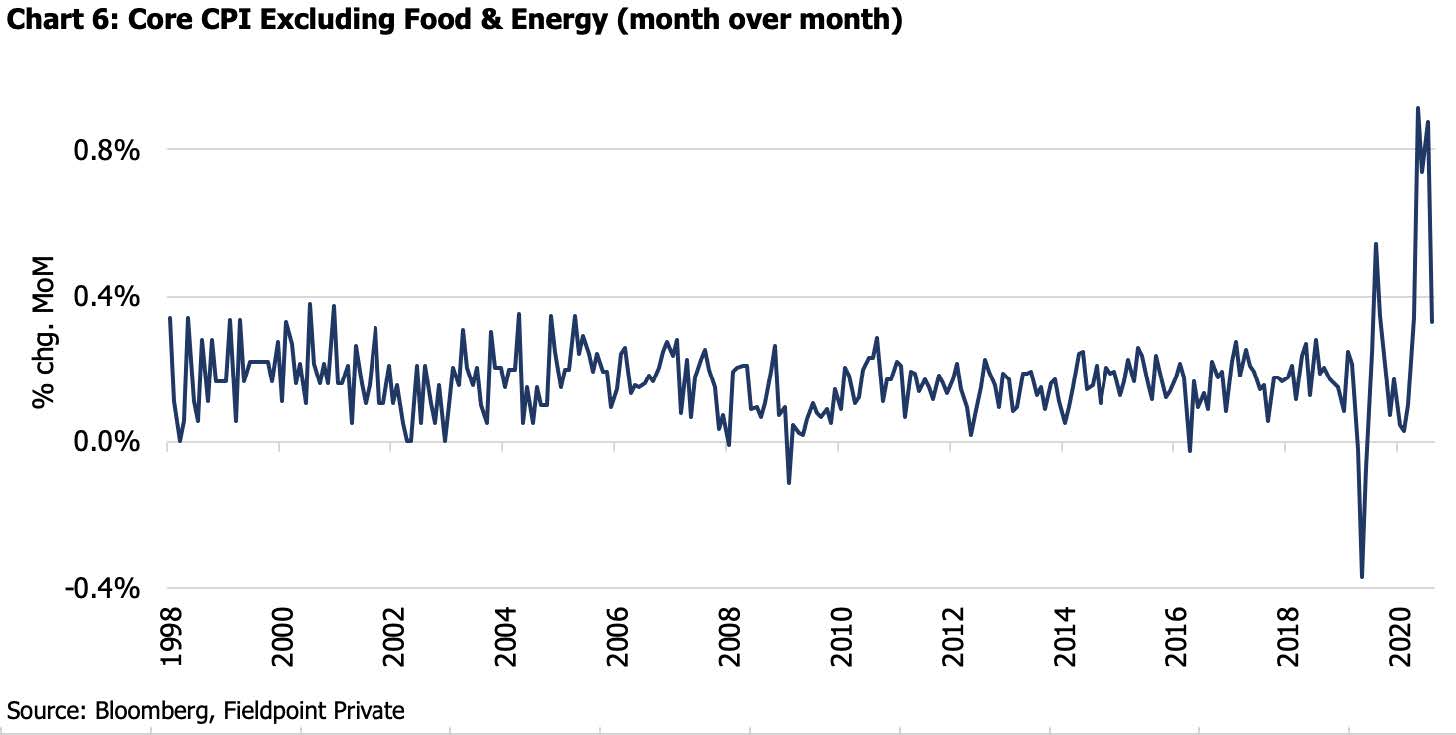 On the other hand, the July report also saw that housing related components (Owner's Equivalent and Primary Rent) were the largest contributor (30%) to the upside in inflation, a component we have written about as having potential to drive stickier elevated inflation readings.
So even if the Fed finds validation for its transitory assertions in the July CPI report, wonky proclamations about second derivatives do little to console consumers who are currently experiencing an erosion in their purchasing power.
This gets us back to the delicate political balance that policymakers will have to confront in the coming months.
Inflation is turning into a hot button issue for consumers/voters. Inflation concerns are popping up in the debates about monetary policy, fiscal policy, and even foreign policy.
Even though the Fed and Congress are not directly culpable for the part of recent inflation caused by the unique global supply chain disruptions during the pandemic, voters still lay the responsibility of controlling inflation at their feet (this is not to say that cash stimulus and things like low mortgage rates have played no role in stoking demand that has contributed to rising prices, these factors likely have).
So the result is that the Fed sits in-between a rock and a hard place as it decides when to taper its $120B/month of quantitative easing asset purchases. Don't taper and risk being the scapegoat for continued high inflation and loss of purchasing power. Or taper just as growth is clearly slowing. This latter option also risks a deeper plunge in consumer confidence if "wealth effect"-generating asset prices take a hit. A similar quandary exists for fiscal policy.
To say this another way, trimming asset purchases, raising rates, or choosing not to rebuild that bridge/road/school will likely not do anything to stall the inflation caused by things like semiconductor shortages or shipping bottlenecks, however consumers will still look to policy makers as they are filled with troubling thoughts about how their dollars do not go as far as they used to.
We expect inflation to continue to moderate off of its highest levels from this spring, but to remain elevated above pre-pandemic levels likely until we reach the tough comparisons from 2021 next year. We think stickier drivers like housing/rents and wages will also keep inflation readings elevated, while elevated supply chain costs likely need until at least early 2022 to resolve. This means that the inflation issue will likely remain top of mind for consumers/voters.
Change is hard and the memory of what you used to be able to do often makes it harder, whether it was enjoying a picnic at the North Brooklyn Farms or being able to afford to buy a house, car, or washing machine. Policy makers forget this at their own peril.
Disclosures
IMPORTANT LEGAL INFORMATION
This material is for informational purposes only and is not intended to be an offer or solicitation to purchase or sell any security or to employ a specific investment strategy. It is intended solely for the information of those to whom it is distributed by Fieldpoint Private. No part of this material may be reproduced or retransmitted in any manner without prior written permission of Fieldpoint Private. Fieldpoint Private does not represent, warrant or guarantee that this material is accurate, complete or suitable for any purpose and it should not be used as the sole basis for investment decisions. The information used in preparing these materials may have been obtained from public sources. Fieldpoint Private assumes no responsibility for independent verification of such information and has relied on such information being complete and accurate in all material respects. Fieldpoint Private assumes no obligation to update or otherwise revise these materials. This material does not contain all of the information that a prospective investor may wish to consider and is not to be relied upon or used in substitution for the exercise of independent judgment. To the extent such information includes estimates and forecasts of future financial performance it may have been obtained from public or third-party sources. We have assumed that such estimates and forecasts have been reasonably prepared on bases reflecting the best currently available estimates and judgments of such sources or represent reasonable estimates. Any pricing or valuation of securities or other assets contained in this material is as of the date provided, as prices fluctuate on a daily basis. Past performance is not a guarantee of future results. Fieldpoint Private does not provide legal or tax advice. Nothing contained herein should be construed as tax, accounting or legal advice. Prior to investing you should consult your accounting, tax, and legal advisors to understand the implications of such an investment.
Fieldpoint Private Securities, LLC is a wholly-owned subsidiary of Fieldpoint Private Bank & Trust (the "Bank"). Wealth management, securities brokerage and investment advisory services offered by Fieldpoint Private Securities, LLC and/or any non-deposit investment products that ultimately may be acquired as a result of the Bank's investment advisory services:
Such services are not deposits or other obligations of the Bank:

− Are not insured or guaranteed by the FDIC, any agency of the US or the Bank
− Are not a condition to the provision or term of any banking service or activity
− May be purchased from any agent or company and the member's choice will not affect current or future credit decisions, and
− Involve investment risk, including possible loss of principal or loss of value.
© 2021 Fieldpoint Private
Banking Services: Fieldpoint Private Bank & Trust. Member FDIC.
Registered Investment Advisor: Fieldpoint Private Securities, LLC is an SEC Registered Investment Advisor and Broker Dealer. Member FINRA, MSRB and SIPC.