Weekly Perspective: Revealing True Colors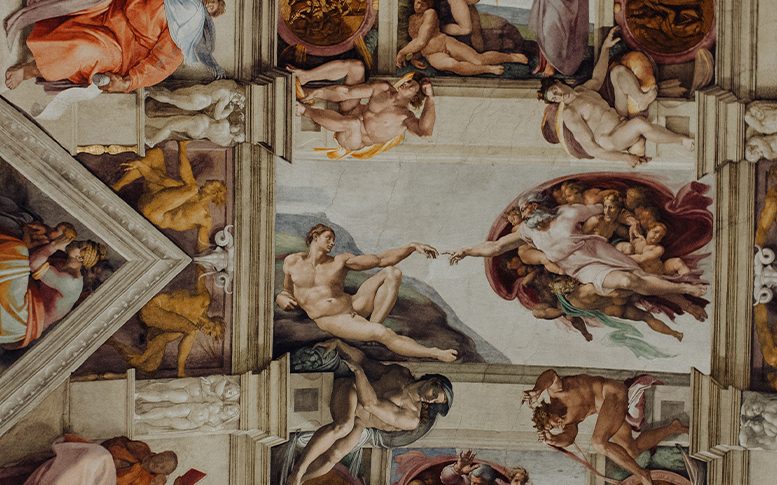 Cameron Dawson, CFA
Chief Market Strategist
Sometimes things are not always how they appear on the surface (and no, this is not Cyndi Lauper themed, but good guess).
Most of us are familiar with the splendor of Michelangelo's fresco on the ceiling of the Sistine Chapel in Vatican City, whether in pictures or person.
But for much of modern time, the true magnificence of Michelangelo's whole work was hidden from view.  500 years of residue from oil lamps and candles, as well as layers of glue and oils from poor restoration work, left portions of the fresco murkily shrouded.
The segments most affected were the spandrels and lunettes (the architectural elements on the perimeter of the vault).  These elements became so clouded in grime, that by the 1940s a leading Michelangelo scholar of the time referred to them as "The Sphere of Shadow and Death".
It wasn't until restoration work in the 1980's that the true colors of these segments were revealed.  Instead of being dark and gloomy, the spandrels and lunettes turned out to be where Michelangelo used his most lurid, vibrant colors.  With fiery orange hair and gleaming ultramarine and ruby robes glistening like silk, the Renaissance master's major achievement in frescoing such intense colors was finally revealed.
It is in this spirit of looking beneath the surface and stripping off obfuscating layers that we approach today's analysis of markets, in an attempt to reveal its true colors.
Spoiler alert: the market picture that is revealed is not as splendid as the Sistine fresco.
Resilient Surface, but Murky Underneath
The S&P 500 Index has been resilient this summer, and frankly all of this year.  The 50-day moving average has appeared to be an impenetrable brick wall this year, with eager dip-buyers stepping in at the first sign of weakness (see Chart 1).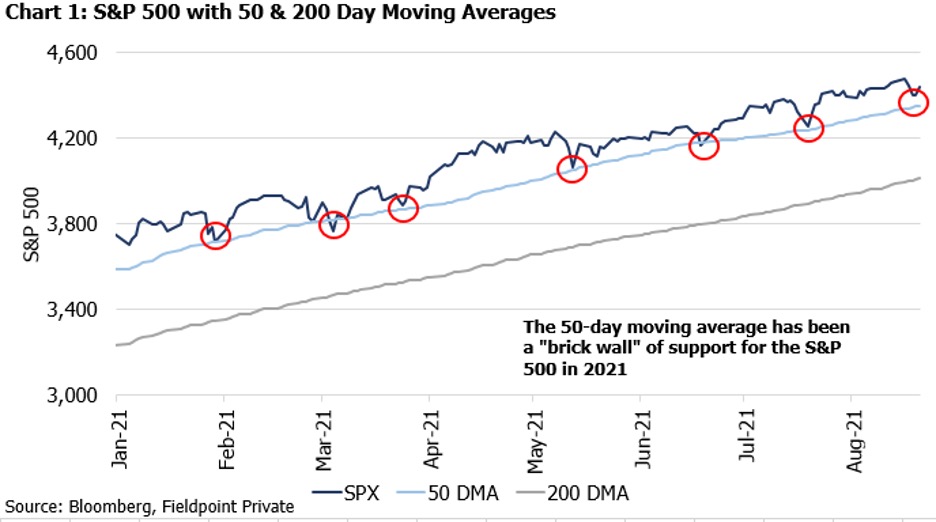 This has led to a dearth of large swings in the market, with 2021 not having a single 5% correction.  Smaller volatility has remained, though.  There have been 34 movements of +/- 1% YTD, about on track with the 39 +/- 1% days that we have historically seen through the first 3Q's of the year (average since 1958).
The S&P 500 remains less than 1% from its closing high, but the resilience of the index is not being shared with individual names.  According to Bloomberg's great macro strategist, Cameron Crise, nearly 50% of S&P 500 stocks are down over 10% from their all-time closing high and nearly 30% of S&P 500 stocks are down over 20% from their all-time closing high.  In good news, he notes that these figures are about in line with historical averages and that the predictive power of these readings on forward returns is mixed.  Phew.
But there are clearer signs of caution about the underlying picture of the market.
We are seeing signs of fading risk appetite in the market.  We can capture this by looking at things like the performance of cyclical vs. defensives, the performance of smaller companies vs. larger companies, the trading of risk-on currencies vs. safe-haven currencies, and finally for today, the change in margin lending.
We wrap up today's update with a "so what" at the end of the piece.
Cyclicals vs. Defensives
When we see defensive areas start to outperform (cyclical areas underperform), it can be a sign that investors are becoming more cautious at the margin.  Early signs of defensive outperformance can be a harbinger of broader weakness to come.  These are not meant to be timing tools for the market, but instead, a way to gauge underlying risk appetite.
We are going to show a few relative performance charts to illustrate this.  In these charts, when the line is going up cyclicals are outperforming defensives, when the line is going down defensives are outperforming cyclicals.
Chart 2 shows semiconductors (cyclical) vs. software (defensive).  Despite all the talk that supply shortages and more intensive semi usage in consumer products would combine to drive a multi-year upcycle for semis, cyclical semis have been underperforming defensive software since the beginning of this year.  This underperformance was right on cue with peak data readings in things like global manufacturing PMIs and car sales.  The market has a way of sniffing out when things are as good as they can get.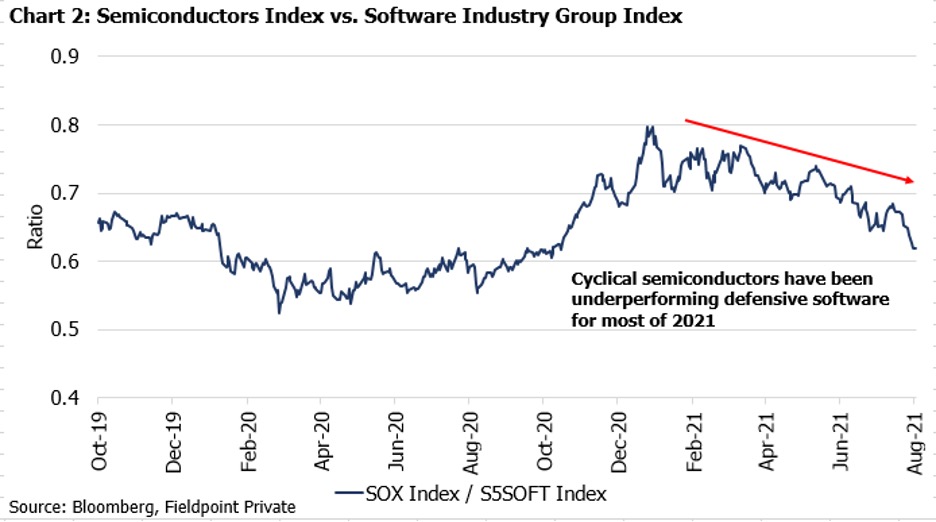 All of our cyclical vs. defensive pairings are flashing similar signals of weaker cyclical appetite.  These are shown in Charts 3, 4, 5, and 6 with annotations.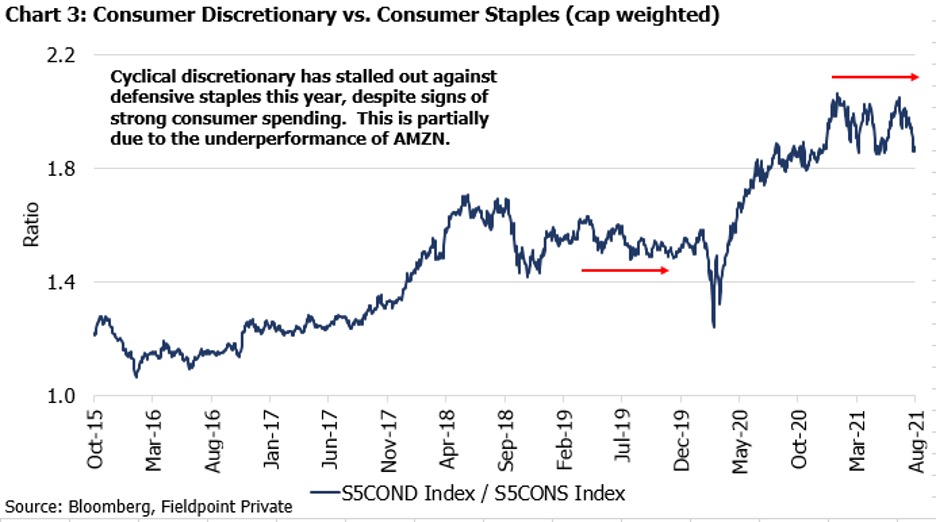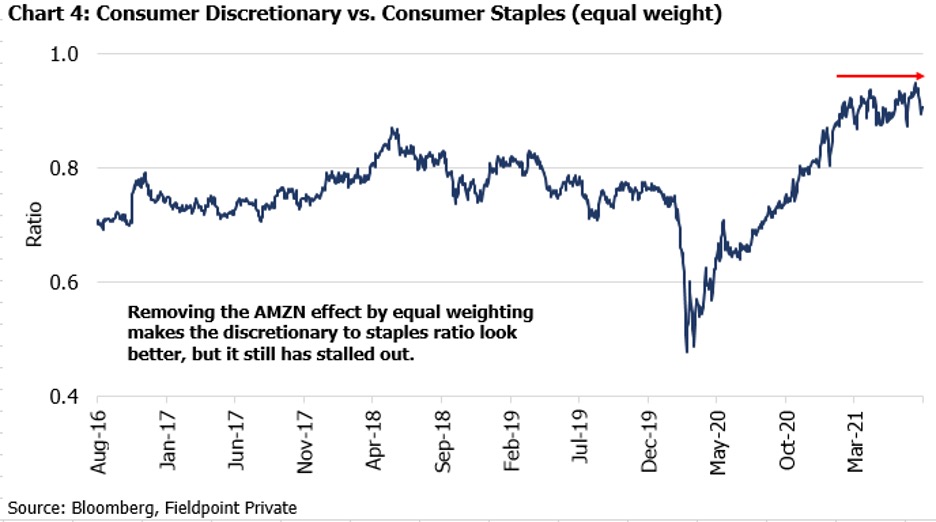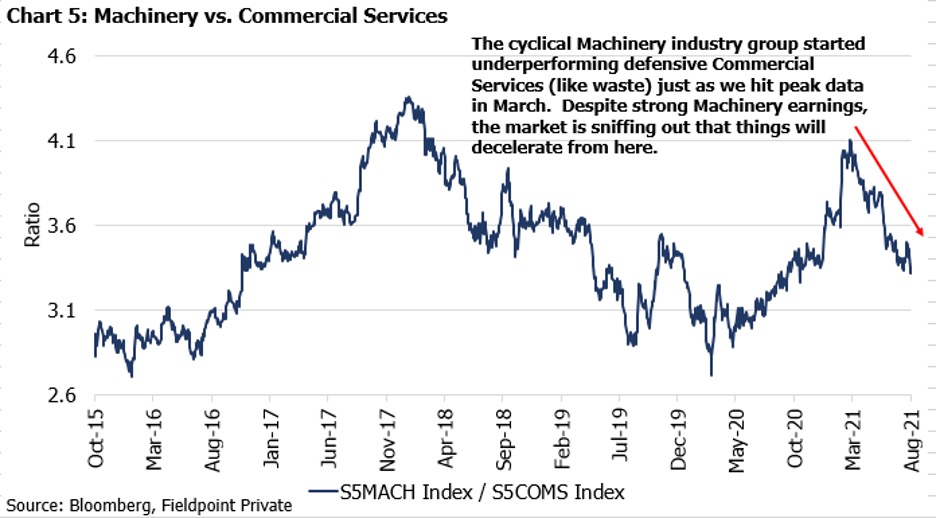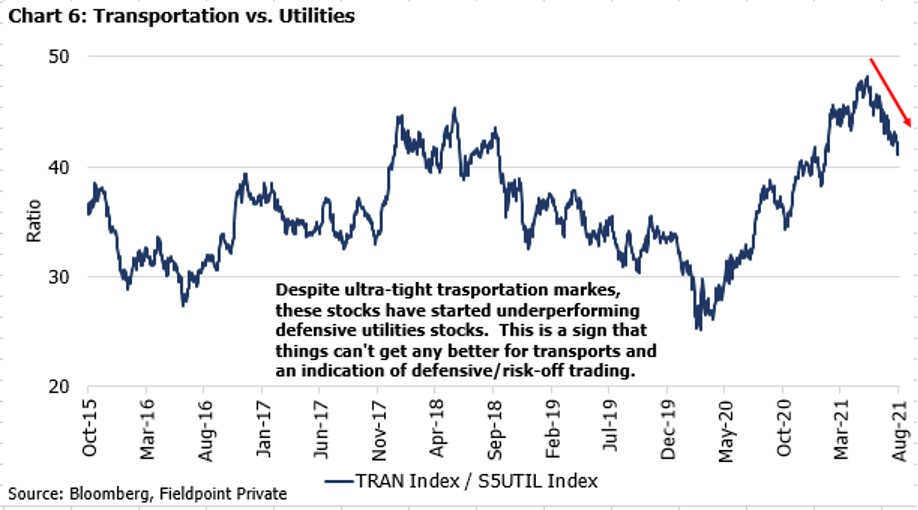 We can also look at the performance of sectors versus the market to get a sign of risk appetite.  As shown in Chart 7, over the past 3 months, we have seen defensive sectors (utilities, healthcare, tech) outperform cyclical sectors (energy, industrials).  As Chart 8 shows, the performance of very defensive areas like utilities are still in downtrends vs. the overall market, but this is something to watch closely.
The message is that risk-off, defensive appetite appears to be rising at the margin.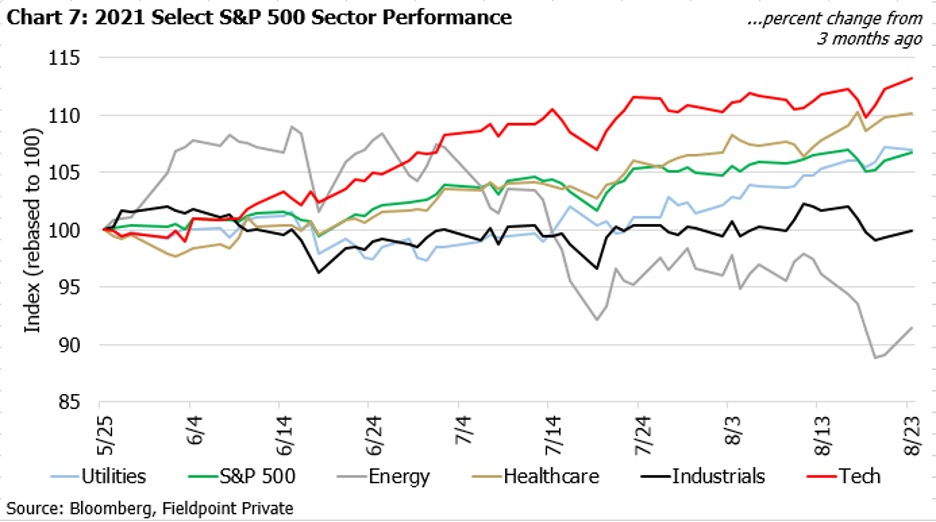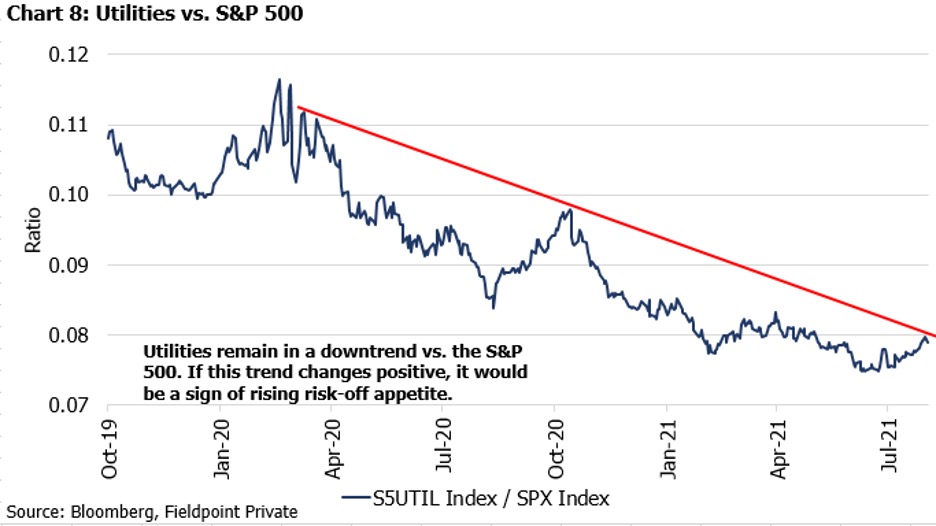 Small vs. Large
The underperformance of small-cap stocks has been notable in recent months.
Since a peak of 14% of outperformance in March, the Russell 2000 small-cap index has given up all of its outperformance and now trails the S&P 500 by 8%.
Chart 9 shows this on a relative performance chart, with the line going down illustrating how small caps have lagged large caps.
We can tell a lot of narratives about this (unwind of the meme stocks, weaker balance sheet names lagging, more struggles passing on inflation, etc.), but all of these come back to fading appetite for risk as the outlook for growth becomes murkier.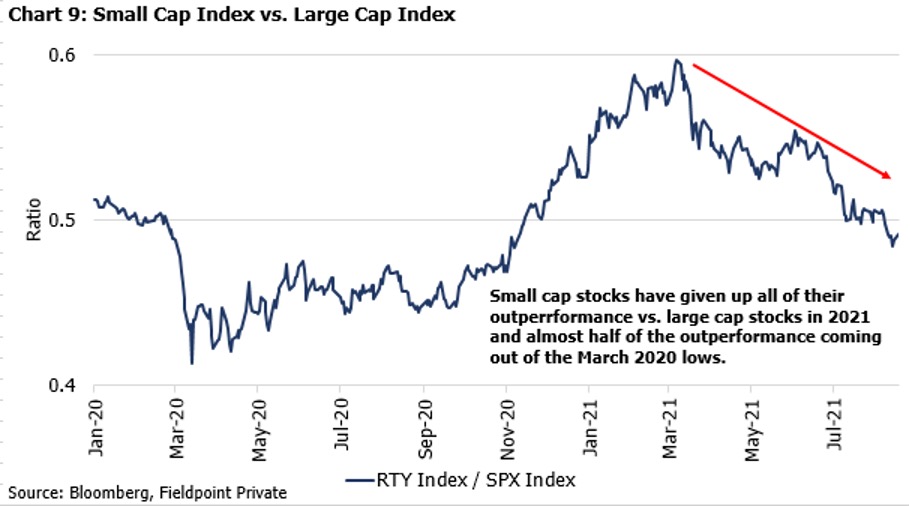 Currency Pairs
The performance of currency pairs can also tell us about where global risk appetite stands.
One of the best examples is the Australian Dollar and Japanese Yen cross-currency pair.  Chart 10 shows how the more cyclical Australian Dollar tends to weaken against the defensive Japanese Yen leading up to and during risk-off periods in broader markets.  Weakness in this currency pair starting in June coincides with peak data momentum, the underperformance of other cyclical areas (industrial commodities, stock groups listed above), raising concerns about the future path of growth, and a sharp drop in long-term interest rates in developed countries.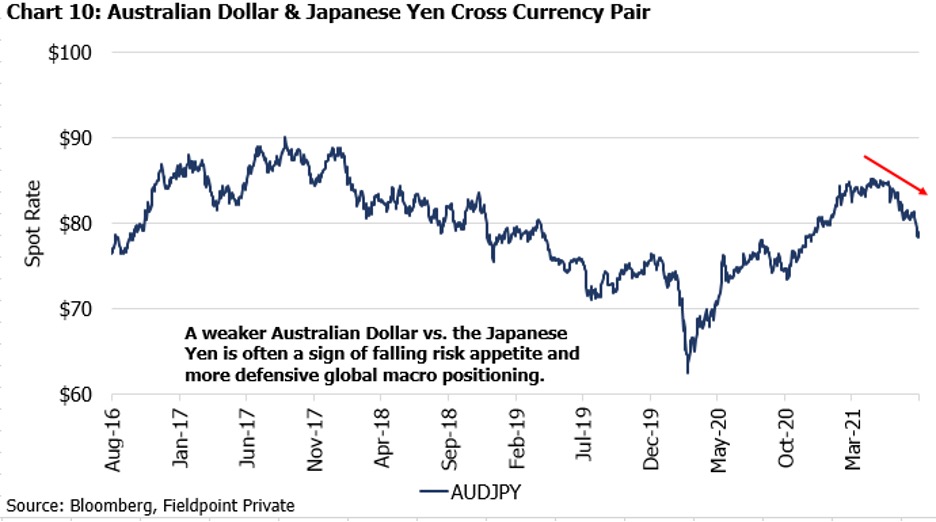 Demand for Margin Loans
A surge in retail trading leverage has been a key underlying driver of the rally that has doubled the value of the S&P 500 off of its March 2020 lows in record time.  This has amplified the amount of exposure that retail traders can achieve, boosting their share of overall market trading to 30%.  The constant increase in margin loan balances reflected retail traders' confidence and eagerness to participate in the expected upside in markets.
But for the first time since March of 2020, margin loan balances declined in July of 2021 (Chart 11).  This could reflect fading enthusiasm from what has become a key cohort of buyers that have been holding stocks up at elevated valuations.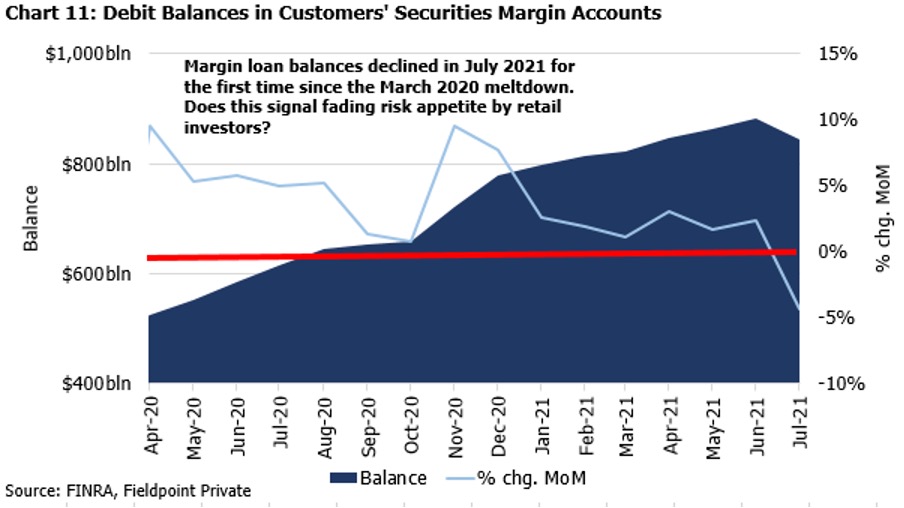 So What?
What should we make of this underlying picture?
First, we don't think we are out of the woods for some equity volatility and a correction in the magnitude of ~10%.  If the retail buying wind does start to fade, as possibly indicated by the margin data above, then this could be the crack that finally allows the S&P 500 to break below its 50-day moving average.
We think the conclusion is to focus on quality.  As the bull market ages (and does so more rapidly than in prior cycles), we think the quality is the place to be as we eventually transition from mid-cycle to late-cycle.  This means focusing on companies and business models that have strong dividends, robust free-cash-flow generation, and healthy balance sheets.
The times for deep value "dumpster diving" as well as highly speculative moonshots are likely behind us.  This is not to say that there won't be idiosyncratic opportunities in these areas that can be identified, but the rising tide is likely done lifting all of the boats.
The underlying U.S. economic picture remains solid, though with fading momentum of growth and less policy support.  This should put a ceiling and possibly downward pressure on elevated multiples, thus with upside in stock prices dependent on the ability for earnings to surprise to the upside.
Disclosures
IMPORTANT LEGAL INFORMATION
This material is for informational purposes only and is not intended to be an offer or solicitation to purchase or sell any security or to employ a specific investment strategy. It is intended solely for the information of those to whom it is distributed by Fieldpoint Private. No part of this material may be reproduced or retransmitted in any manner without prior written permission of Fieldpoint Private. Fieldpoint Private does not represent, warrant or guarantee that this material is accurate, complete or suitable for any purpose and it should not be used as the sole basis for investment decisions. The information used in preparing these materials may have been obtained from public sources. Fieldpoint Private assumes no responsibility for independent verification of such information and has relied on such information being complete and accurate in all material respects. Fieldpoint Private assumes no obligation to update or otherwise revise these materials. This material does not contain all of the information that a prospective investor may wish to consider and is not to be relied upon or used in substitution for the exercise of independent judgment. To the extent such information includes estimates and forecasts of future financial performance it may have been obtained from public or third-party sources. We have assumed that such estimates and forecasts have been reasonably prepared on bases reflecting the best currently available estimates and judgments of such sources or represent reasonable estimates. Any pricing or valuation of securities or other assets contained in this material is as of the date provided, as prices fluctuate on a daily basis. Past performance is not a guarantee of future results. Fieldpoint Private does not provide legal or tax advice. Nothing contained herein should be construed as tax, accounting or legal advice. Prior to investing you should consult your accounting, tax, and legal advisors to understand the implications of such an investment.
Fieldpoint Private Securities, LLC is a wholly-owned subsidiary of Fieldpoint Private Bank & Trust (the "Bank"). Wealth management, securities brokerage and investment advisory services offered by Fieldpoint Private Securities, LLC and/or any non-deposit investment products that ultimately may be acquired as a result of the Bank's investment advisory services:
Such services are not deposits or other obligations of the Bank:

− Are not insured or guaranteed by the FDIC, any agency of the US or the Bank
− Are not a condition to the provision or term of any banking service or activity
− May be purchased from any agent or company and the member's choice will not affect current or future credit decisions, and
− Involve investment risk, including possible loss of principal or loss of value.
© 2021 Fieldpoint Private
Banking Services: Fieldpoint Private Bank & Trust. Member FDIC.
Registered Investment Advisor: Fieldpoint Private Securities, LLC is an SEC Registered Investment Advisor and Broker Dealer. Member FINRA, MSRB and SIPC.