We're Not In Oz Anymore: Three Points on the Road Forward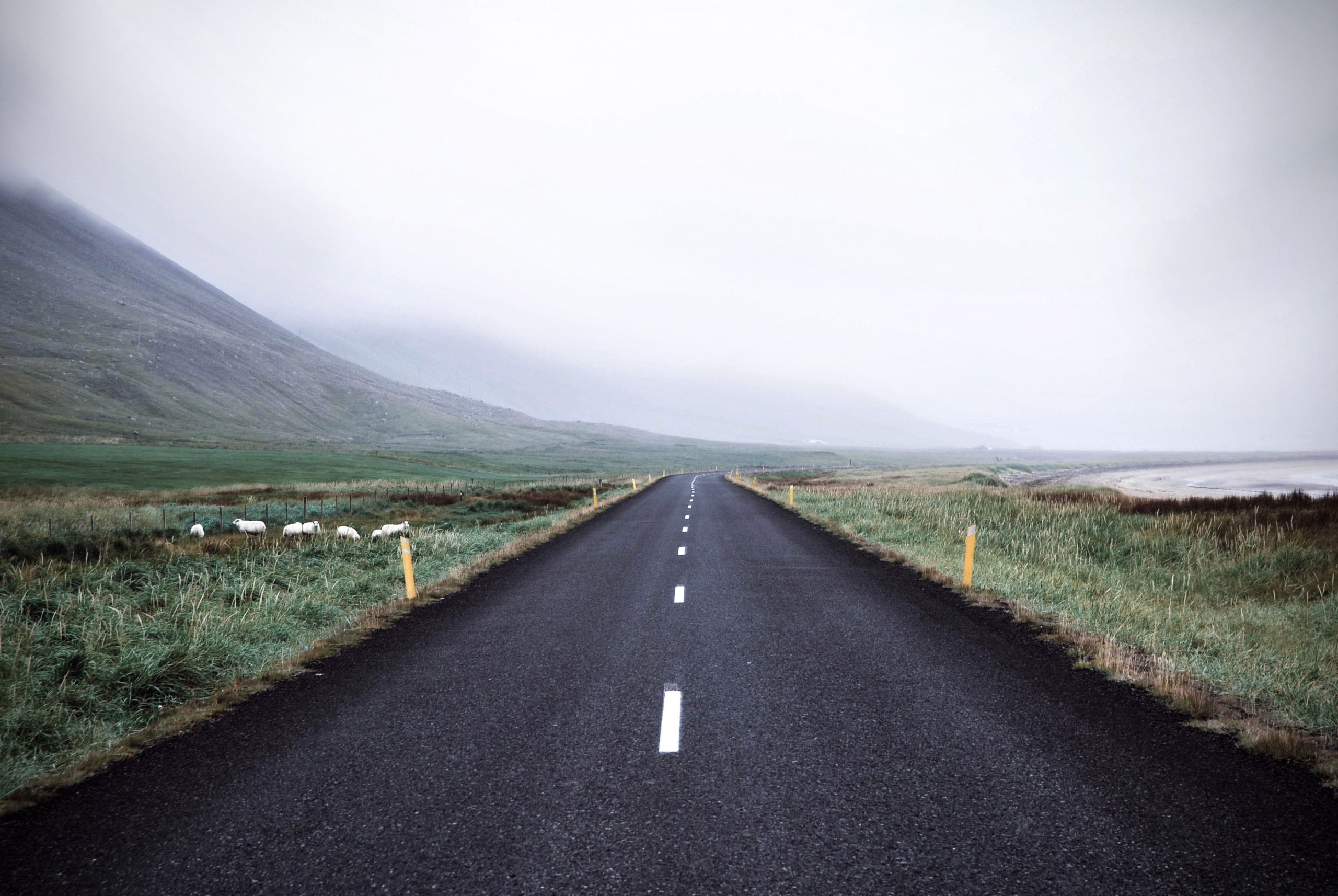 In one of the most iconic cinema transitions of all time, Dorothy emerges from the rubble of her cyclone-thrown Kansas house and steps into the lurid and lush landscape of Oz. The film dazzles viewers with the sharp contrast between Kansas, so austere and constrained, and Oz, so verdant and full of possibility.
We think a similar transition is happening in markets today, except in reverse.
For the past three years we have been in an Oz-like market and economic environment, full of technicolor returns and seemingly infinite possibilities (and multiples!). Since 2019, the Fed has been in a posture of accommodation for markets and the economy. The Fed's actions allowed real interest rates to collapse, financial conditions to ease to all time low levels and valuations for liquidity sensitive/speculative assets to soar.
But now, after a month of volatile trading, equity market losses and a Fed committing to be much less accommodative, we find ourselves muttering: Toto, I have a feeling we're not in Oz anymore….
This new Kansas-like environment, meaning tighter liquidity and lower growth that results in both lower returns and higher volatility, has been the dominant theme in our writing and speaking for the past few months (we've employed a wide range of analogies to communicate this point including: ballet, surfing, Led Zeppelin, Chicken Little, Versailles, invisible gorillas, and junk; all culminating in our 2022 Outlook).
Instead of rehashing the argument for this new phase (volatile markets in January and last week's hawkish Fed press conference confirm we are in the new phase), we want to make three incremental points that we expect characterize the road ahead for markets:
Markets have moved very quickly in the past month, so some stabilization/reversion in recent trading can be expected (oversold conditions support a bounce).
We do not see signs that market weakness is signaling acute economic weakness (yet), which should make this correction shorter and shallower than if it were associated with a recession.
However, we do not expect a return to the dominant trends and leadership of the past three years (yet), meaning investors should expect this choppy, low-return environment to continue, along with having a new cohort of leadership.
There is one last point that is important for investors to remember: this new phase of tighter liquidity is just beginning. 
Market trends are not at all bad enough yet to spark the Fed to pivot to be more accommodative (like they did after the 2011, 2015-2016, and 2018 periods of weaker markets). Further, as we discussed in the outlook, high inflation puts the Fed in a pickle between having to decide between stabilizing markets and the appearance of fighting inflation.
Markets can still bounce and even reach new highs in this new environment (this depends on the strength of earnings growth), but to see a full return to the "off to the races," unflinching bull markets seen in the past three years, it is likely things have to get worse before they get better.
So, let's discuss those three points for the road ahead using some charts.
For brevity, we will only include a handful of charts in this piece, but will have an in depth slide deck available for those that would like to see more!
Point 1: A Breather After Extreme Moves
Many indices and constituents are flashing signs of being "oversold," supporting a near term bounce.
The pace, size and volume of the bounce will tell us a lot about the next steps for the market. If the bounce is rapid, large and with a surge of buying volume, we would interpret this as a possible sign that investors are eager and able to step in, supporting a move back to prior highs. However, if the bounce is tepid and with low volume, this could be a sign that investors lack urgency to increase their exposure and could even be more inclined to sell into coming rallies.
We'll judge the bounce when we see it, but let's look at the signs.
Here we can see oversold conditions using the percentage of members trading above their own 50 day moving averages. These readings are nearing the 99th percentile for the NASDAQ and small caps, but are not extreme for the S&P 500. These lows in the percentage of constituents above their trend lines can persist in the near term, mainly during deep bear markets, but indices typically have positive returns following these readings.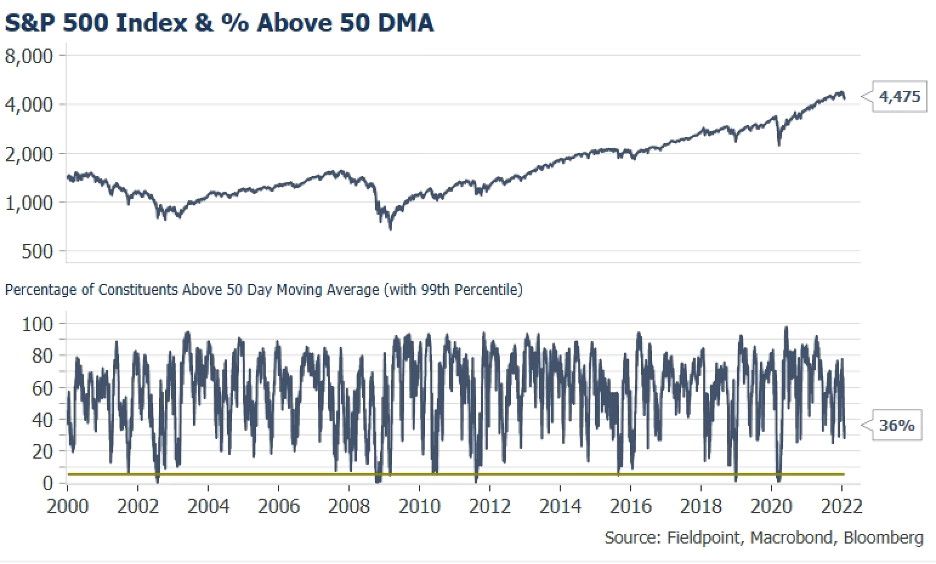 We can see a similar, but not as pronounced, story with the percentage of members above their own 200 day moving average. These readings are not as extreme as what has been reached during major, cyclical lows in markets (2009, 2011, 2016, 2018, 2020).
This contrast between very low readings below short term trends (50 day moving average) and more middling readings below long term trends (200 day moving average), supports our notion that a near terms stabilization/bounce could be had, but that this is likely not one of those "back up the truck," generational buying opportunities yet (these levels can still be used for rebalancing, though).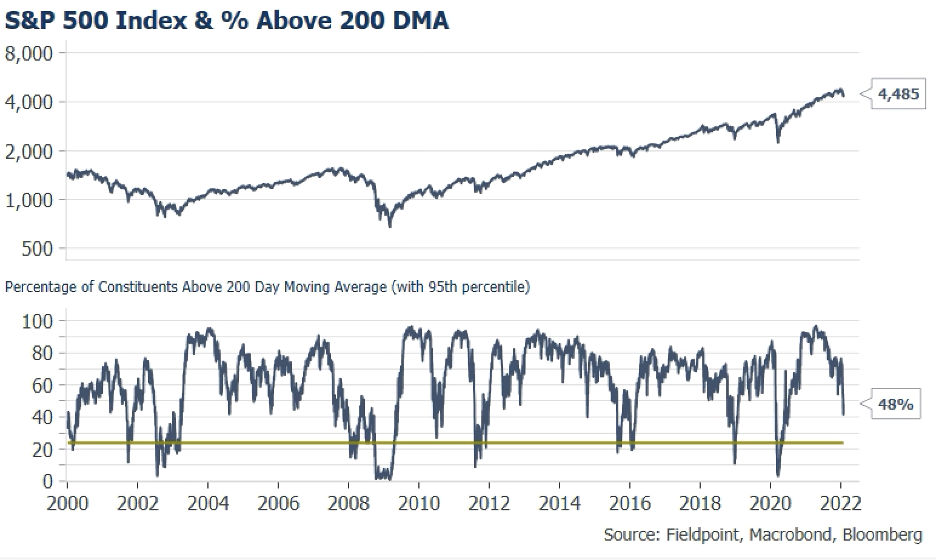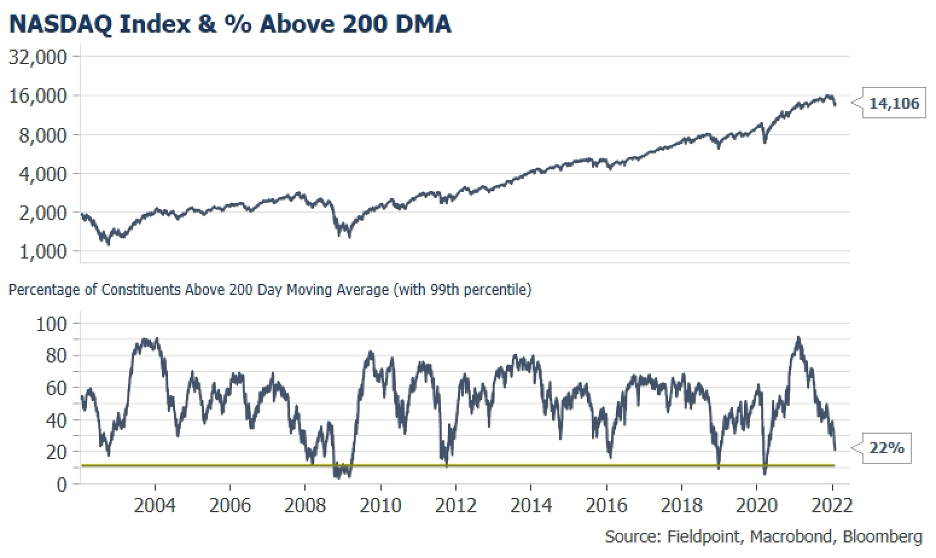 Here we can see that sentiment, using the spread between AAII Bull and Bear readings, has deteriorated significantly enough to support a near term bounce.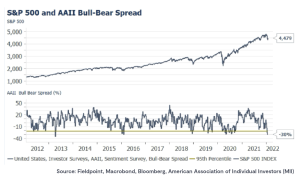 We can also see a surge in demand for downside protection using put options has risen from 2020's and 2021's ravenous risk-on levels. Spikes in demand for downside protection often coincide with peak fear and are followed by a stabilization/bounce. Though it has moved up significantly, his put/call reading has not reached levels seen in prior major lows.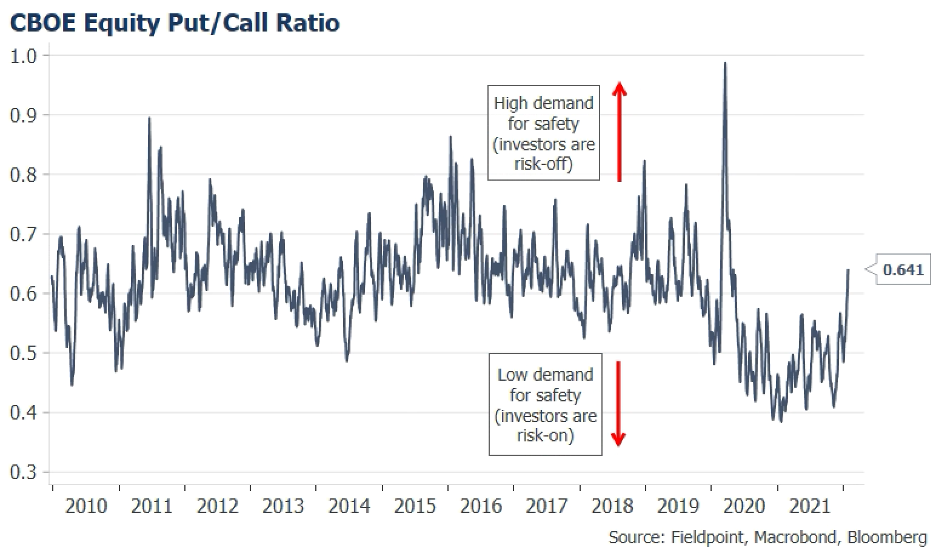 We can also see demand for safety sectors like Utilities and Staples starting to pick up (Staples have surged to an extreme), showing that investors are beginning to clamor for protection. Once these flows reach extremes, we often see the opposite assets, cyclicals and risk-on, stabilize and even perform better. We do think that demand for safety will persist in the coming months, given we are early in this tightening process and flows were muted for an extended period of time.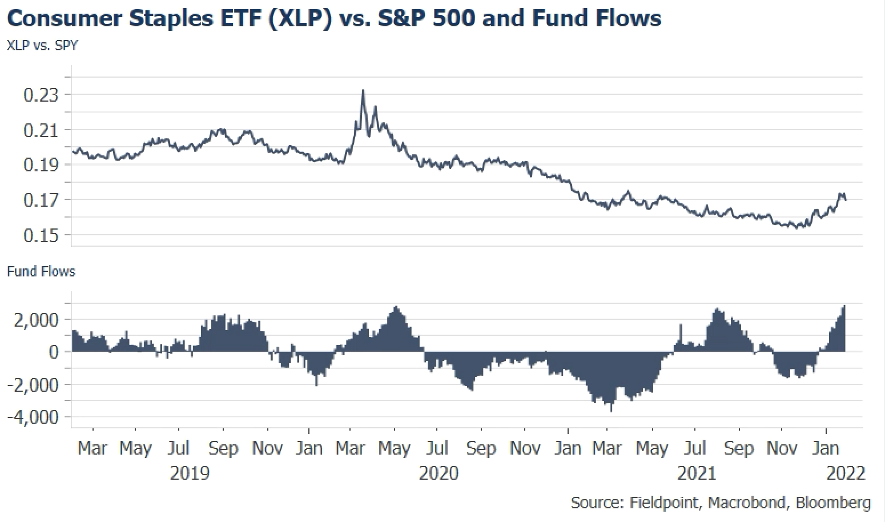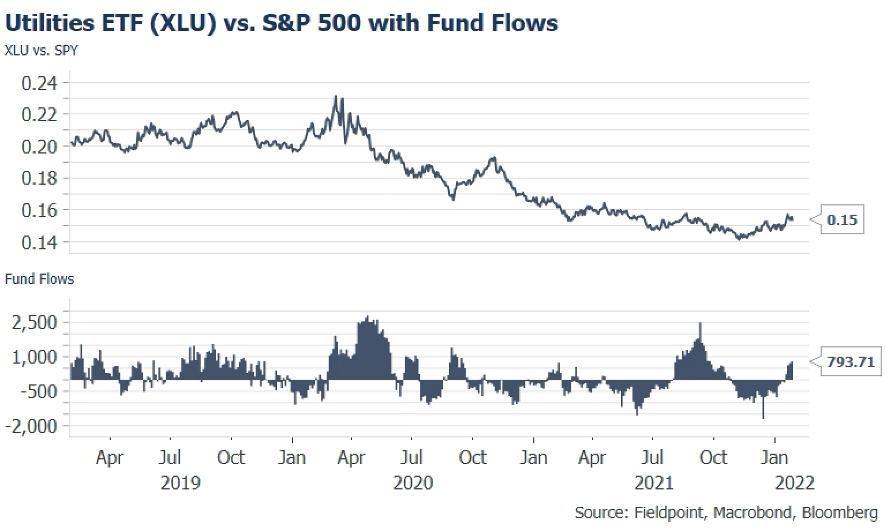 Point 2: No Signs of Acute Economic Weakness (Yet)
As we described in the 2022 Outlook, market corrections that are associated with economic recessions typically last longer and are deeper than corrections that do not have a recession or credit crisis associated with them.
For now we do not see signs of an imminent recession, though we are always attuned to signs of emerging structural weakness.
An aside: just because it is not as bad as 2000 and 2008 from an economic weakness and credit conditions backdrop does not mean that we can write off a weaker backdrop as a non-event. We will be on the lookout for big risks, as well as smaller risks that can challenge markets and catch investors off-sides.
Some of the signs that this recent correction is about liquidity and valuation resetting, and not about an imminent fall in economic activity include:
The resilience in both copper and crude. If global growth was truly faltering and we were going headfirst into a period of economic contraction, we would expect both crude and copper (important inputs for global consumption) to be weaker.
This comes back to one of our main assertions from the 2022 Outlook: global growth is slowing, but not contracting; while even with the slower growth, the U.S. economy is still "running hot" (labor market, inflation), which supports tighter Fed policy for now.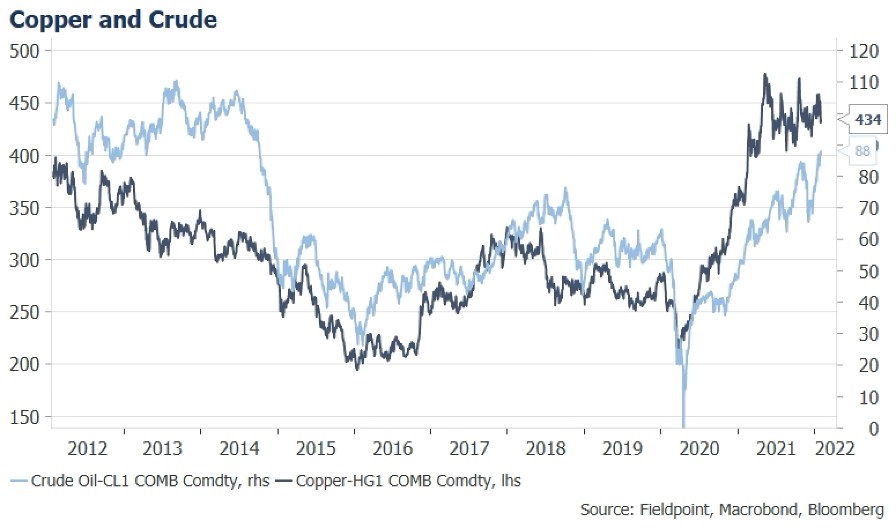 Credit is not showing signs of stress. We are not seeing signs that credit spreads are widening significantly with the equity market weakness. Credit remaining contained typically supports the notion that equity weakness will be shorter and shallower.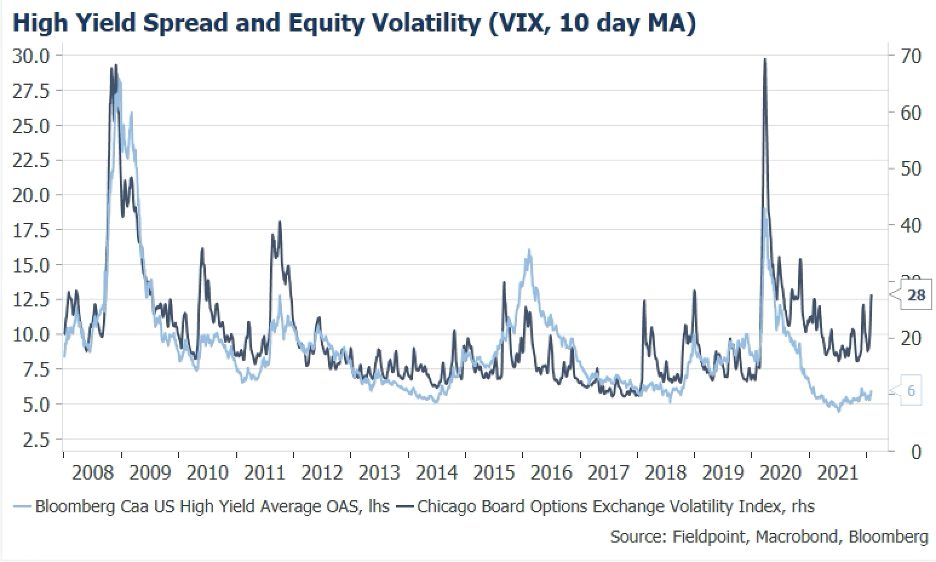 We do note on the credit front, that High Yield's performance (as captured by the HYG ETF) peaked in September of 2021, long before the late December peak in equities.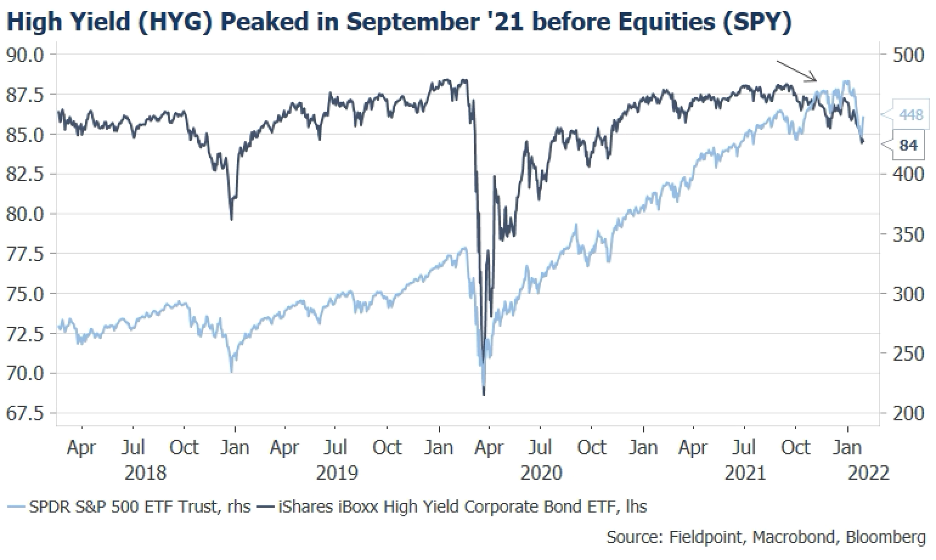 There is one caveat to this, which is that we do expect credit spreads to widen over the coming months, as credit spreads have typically widened during periods of tighter Fed policy. As the Fed removes support for the economy and markets, pockets of excess and instability have revealed themselves, causing a repricing in credit risks. This doesn't have to be systemic like it was in 2000 and 2008, but it certainly can cause significant disruption in portions of the economy (think of EM debt in 2013 and the O&G bubble popping in 2014-2016). What will be next? For now it is the speculative/innovation economy bearing the brunt of Fed tightening, but more areas of weakness can reveal themselves as the Fed progresses with its tightening.
Point 3: We Do Not Expect a Return to Prior Trends and Leadership
Our last point is that we do not expect markets to return to their prior trends of unflinching and "up and to the right" rallies, while we also do not expect the leadership of the prior three years to resume.
The simple way to put it is: what "worked" in an increasingly loose and accommodative liquidity environment over the last three years is unlikely to work as well in an increasingly tight and restrictive liquidity environment going forward.
We continue to encourage investors to lower their expectations for returns and raise their expectations for volatility in this new phase of the cycle.
We continue to emphasize the importance of quality in this phase of the cycle. As liquidity gets tighter, investors will flock to companies that can self-fund with strong free cash flow generation (they do not need to access capital markets to run their day to day businesses), have solid balance sheets and are able to return capital to shareholders.
Next, we look for areas that had weak trends going into this painful January of trading, as they are likely to struggle on the rebound and in this new phase of tighter liquidity.
We have been noting for months that the relative performance of the post-pandemic darlings has been weak, with the relative performance of innovation, biotech, IPOs and crypto all peaking with the peak in liquidity (M2 Money Supply Growth) all the way back in March of 2021.
Bounces in these areas are certainly possible in the near term, given recent acute weakness and oversold conditions, however with the Fed set to tighten liquidity, we would be inclined to "sell rallies," recognizing that a return to the heady days of 2020 and early 2021 are unlikely to return in the near future.
We can see this parallel with the NASDAQ in the early 2000's. Though the total drawdown in the index was 78%, over the course of that three year correction, there were multiple powerful rallies that sucked investors into thinking the worst was over, but proved to be great opportunities to continue to reduce positions in the prior leadership.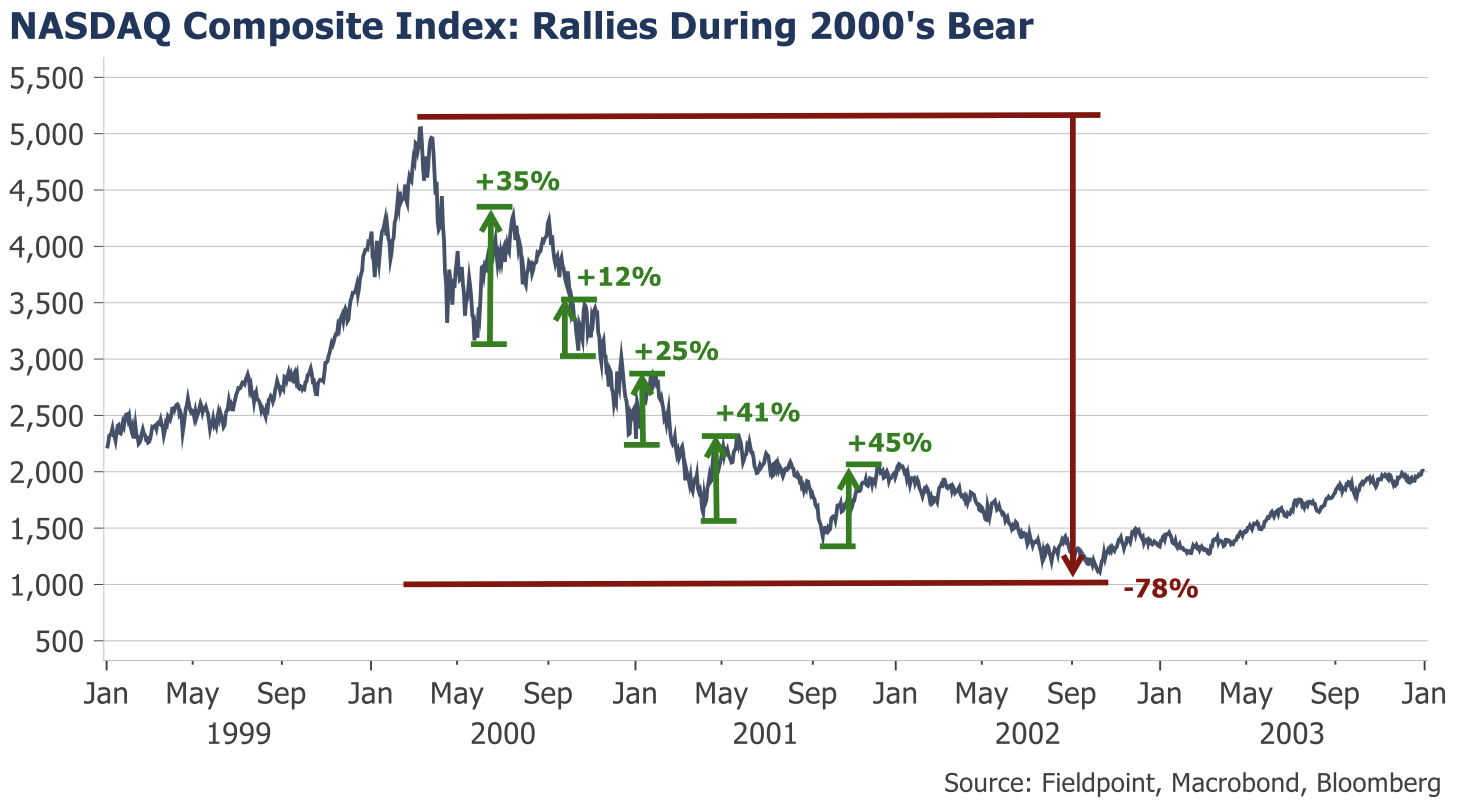 Conclusion
We are going to leave it there for today. There are certainly many other market signals we consider, many of which are included in that slide expansion pack, so keep an eye (or a brain, or a heart) out for that!
IMPORTANT LEGAL INFORMATION
This material is for informational purposes only and is not intended to be an offer or solicitation to purchase or sell any security or to employ a specific investment strategy. It is intended solely for the information of those to whom it is distributed by Fieldpoint Private. No part of this material may be reproduced or retransmitted in any manner without prior written permission of Fieldpoint Private. Fieldpoint Private does not represent, warrant or guarantee that this material is accurate, complete or suitable for any purpose and it should not be used as the sole basis for investment decisions. The information used in preparing these materials may have been obtained from public sources. Fieldpoint Private assumes no responsibility for independent verification of such information and has relied on such information being complete and accurate in all material respects. Fieldpoint Private assumes no obligation to update or otherwise revise these materials. This material does not contain all of the information that a prospective investor may wish to consider and is not to be relied upon or used in substitution for the exercise of independent judgment. To the extent such information includes estimates and forecasts of future financial performance it may have been obtained from public or third-party sources. We have assumed that such estimates and forecasts have been reasonably prepared on bases reflecting the best currently available estimates and judgments of such sources or represent reasonable estimates. Any pricing or valuation of securities or other assets contained in this material is as of the date provided, as prices fluctuate on a daily basis. Past performance is not a guarantee of future results. Fieldpoint Private does not provide legal or tax advice. Nothing contained herein should be construed as tax, accounting or legal advice. Prior to investing you should consult your accounting, tax, and legal advisors to understand the implications of such an investment.
Fieldpoint Private Securities, LLC is a wholly-owned subsidiary of Fieldpoint Private Bank & Trust (the "Bank"). Wealth management, securities brokerage and investment advisory services offered by Fieldpoint Private Securities, LLC and/or any non-deposit investment products that ultimately may be acquired as a result of the Bank's investment advisory services:
Such services are not deposits or other obligations of the Bank:

− Are not insured or guaranteed by the FDIC, any agency of the US or the Bank
− Are not a condition to the provision or term of any banking service or activity
− May be purchased from any agent or company and the member's choice will not affect current or future credit decisions, and
− Involve investment risk, including possible loss of principal or loss of value.
© 2022 Fieldpoint Private
Banking Services: Fieldpoint Private Bank & Trust. Member FDIC.
Registered Investment Advisor: Fieldpoint Private Securities, LLC is an SEC Registered Investment Advisor and Broker Dealer. Member FINRA, MSRB and SIPC.