Supersonic Market Moves: Jobs, Policy Pivots, Yields and Tech in a Chaotic Week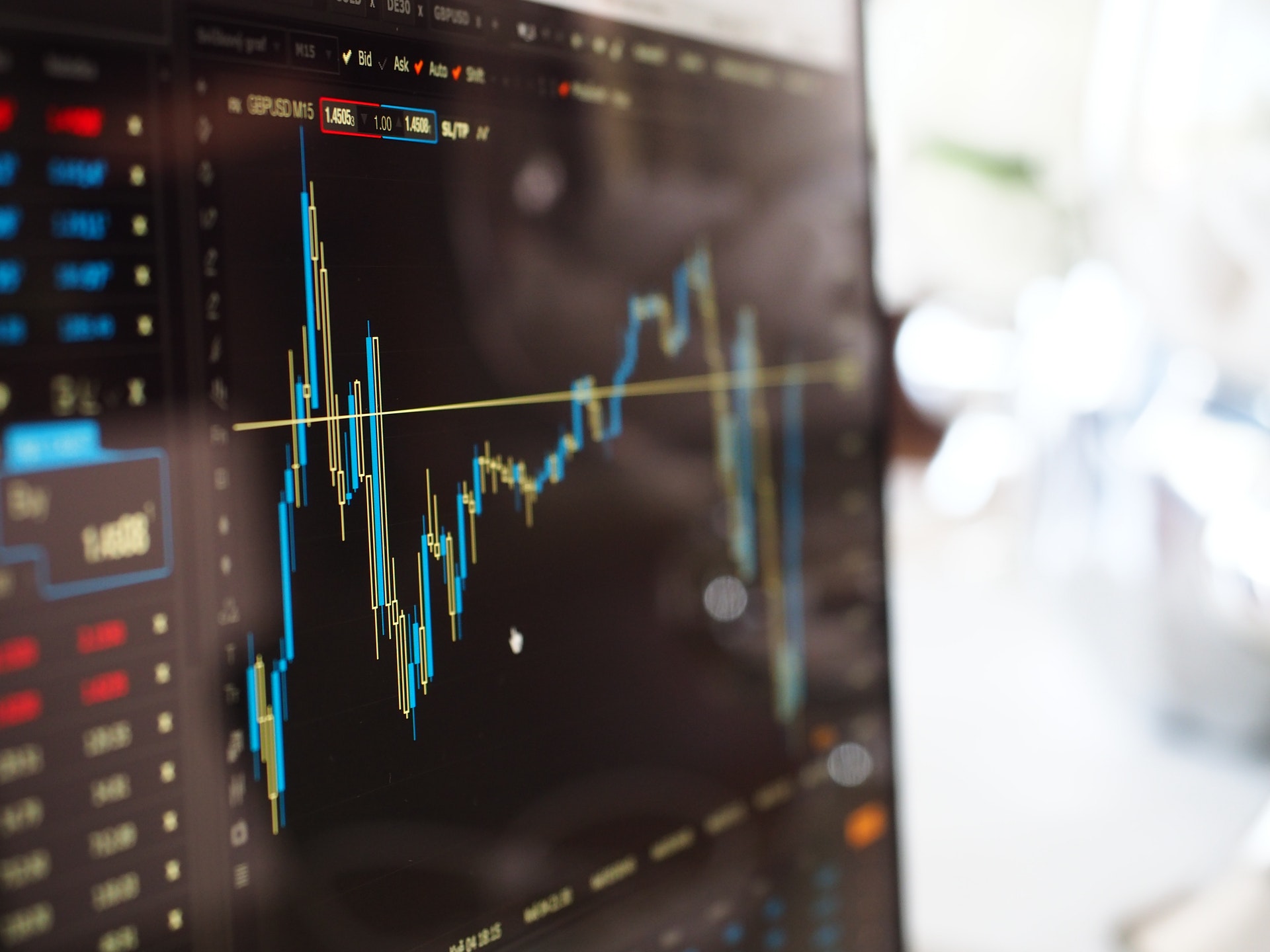 We're going to spend some time with the Gallaghers today. 
No, not that Gallagher (nice guy, though; my dad worked with him in the 80s and still can't look at a watermelon without reflexively reaching for a poncho).
I'm talking about Liam and Noel Gallagher. The epic, dueling duo of brothers that fronted Oasis, the most commercially successful band to emerge from the prolific Britpop era of the mid-90s (if anyone wants to discuss the relative merits of Pulp, I'm game).
Under the surface of fame and platinum hits, Oasis was chaotic.  
And under the surface of the positive equity returns, last week's market was chaotic. Jobs data shocked to the upside, the ECB and BOE surprised markets by pivoting hawkish, global bond yields surged and tech earnings caused eye popping swings in large company market values.
So, let's embrace this chaos and take a closer look at what happened in jobs data, policy pivots, surging yields and tech earnings.
The Champagne Supernova of Jobs Reports
The lyrics of "Champagne Supernova" and last week's jobs data have a lot in common: they are a bit surprising, no one knows what they mean and everyone has their own interpretation.
Friday's jobs data release was a big upside-surprise (467k jobs added vs. 125k cons, despite the Omicron surge), but also a mess of statistical revisions. Instead of rehashing the data, let's address the question on everybody's mind: how did and will this strong jobs data influence Fed policy and markets?
Put simply: the strong jobs data all but guarantees a Fed rate hike in March, raising the probability of a 50 bps hike in March, and overall emboldening the Fed to continue to pursue a tightening of liquidity and financial conditions in order to combat inflation.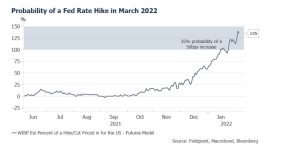 This has all of the market ramifications of shifting into a new phase that we have been discussing at length for the past few months: lower equity valuations, lower equity returns, different equity leadership (high quality and reasonable valuations outperform low quality and stretched valuations), wider credit spreads, higher yields (both real and nominal) and overall higher volatility.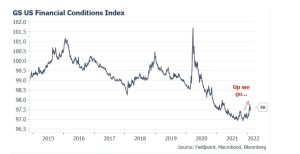 There are two key points from Friday's data that support these assertions.
The first is that Friday's release also included upward revisions to 2021's jobs numbers, meaning the job market has been even stronger and tighter than previously thought and the Fed is even more "behind the curve" than previously thought.  There were an additional 217k jobs added for the full year for a total of 6.67m jobs added in 2021, with the majority of the upside surprise coming in the final months of 2021.
The second is that wage gains were robust at +5.7%. This is nearly double the +3% average pace of wage gains during the pre-pandemic expansion, a signal of just how tight this labor market is compared to the prior expansion. Powell acknowledged this in his January press conference, saying we have a "different economy than existed during the last tightening cycle," and that he thinks "there's quite a bit of room to raise interest rates without threatening the labor market."
Overall, it was a strong report that supports the move to tighten monetary policy in the coming months (now to figure out how you can both slowly walk down the hall and be faster than a cannonball at the same time…).
All Around the World: Policy Pivots by the BOE and ECB
Following the Fed's decidedly hawkish pivot in late 2021, both the Bank of England (BOE) and European Central Bank (ECB) surprised markets by shifting their policy outlook in a more hawkish direction last week.
All around the developed world, monetary policy is getting tighter.
Bank of England
For the BOE, the central bank raised rates 25 bps as expected, but revealed that four of its nine voting members wanted to raise rates 50 bps instead over concerns about inflation.  
Now, the UK has an even more prickly problem in trying to tamp down inflation than the US. The majority of the UK inflation challenge is due to the acute surge in energy prices. This means UK inflation is more exogenous (they call it "imported") and likely even more outside of the BOE's immediate control than US inflation is outside of the Fed's immediate control.
As BOE governor Andrew Bailey said in a press conference, "We have not raised rates today because the economy is roaring away… We face the risk that some of the higher imported inflation could become entrained within the domestic economy, leading to a longer period of high inflation."
Raising rates is essentially an attempt to bolster the Pound by drawing capital flows into the UK, with a stronger currency helping to keep the cost of imports under control.  
Raising rates can also be an effort to slow the economy, essentially destroying demand so prices do not spiral. This will likely have the pyrrhic effect of increasing joblessness, just as the cost of living is expected to surge (the UK has a planned 54% increase in home energy prices coming in April).
The UK's set up smells a lot more of stagflation risk (meaning increasing joblessness and contracting growth, all the while inflation remains elevated) compared to the US, which continues to have robust demand for goods and labor.
European Central Bank
In its own attempt to address elevated inflation, the ECB also pivoted hawkish last week. The central bank pulled forward its plans to end bond-buying stimulus to March, while President Lagarde also refused to repeat the December guidance that an interest rate increase in 2022 was "very unlikely".  
Like the BOE, there was similar dissent within the ECB, with some members explicitly calling for rate hikes in 2022 and an earlier end to QE (bond buying stimulus).
This caused forecasters and the market to quickly increase expectations for the ECB's policy rate in 2022, and sparked a rapid repricing in European sovereign debt and credit markets, which is the topic of our next section. 
Half the World (of Negative Yielding Debt) Away
Bond markets reacted sharply to the hawkish pivots out of the BOE and ECB.
Sovereign yields surged higher across maturities, with the sharpest moves in the short end of the curve. Greater increases in the short end of the curve caused yield curves to flatten.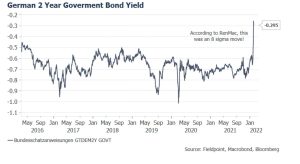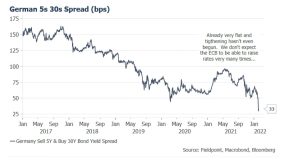 It was not just EU and UK yields that surged. Though the BOJ did not update its monetary policy guidance, last week Japanese 5 year bonds rose above 0% for the first time since 2016.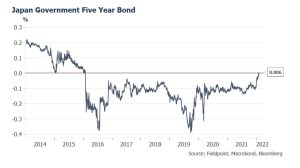 Rapidly rising yields caused the amount of negative yielding debt to fall by half in just one week!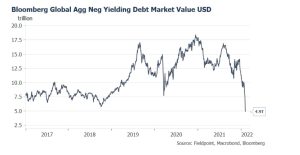 (For all of this talk of higher yields, we do note that The Economist's title story for last week was: How High Will Interest Rates Go?. Magazine cover stories have proven to be great contrarian indicators and perennial "top tickers" of trades, so we'll see if last week's story precedes a pause in this yield surge. Time will tell.)
Yields for sovereign debt in European countries that have had economic and debt trouble (Greece, Italy, Spain) rose as well. With the ECB pulling back on bond purchases, these debt markets lose a "non-economic" buyer, meaning sovereign credit risks will have to be fully "assessed" by investors. These yields are still far below peaks reached during the 2011 sovereign debt crisis.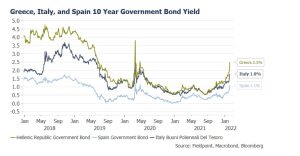 Corporate credit spreads also widened, along with an increase in demand and prices for "insurance" against negative credit events, meaning Credit Default Swaps (CDS). Rising corporate spreads reflect the future shrinking demand from ECB purchases and the potential for rising economic risk as growth slows.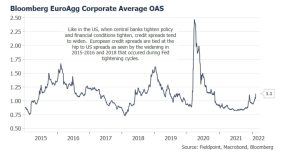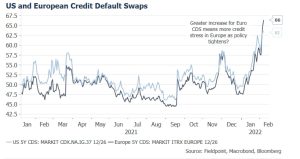 All of this further exemplifies that we are in a brave new world for liquidity. The days of increasingly easy and cheap money are behind us (for now). The days of being able to look through risks because of an incredible wall of liquidity are behind us (for now). And thus, what "worked" in the prior regime of extremely loose financial conditions is unlikely to "work" in the current, be it ever temporary, regime of tighter financial conditions.
That brings us to our last chaotic chapter from the prior week: Tech.
Don't Look Back in Anger: Big Tech Earnings Volatility
The Technology and Communications sectors' earnings reports from last week drove eye-popping and record-breaking swings in market caps for the involved companies. FB lost $250B in market cap in one day. AMZN gained $190B in market cap in one day. The degree of one day moves for such large companies is unprecedented. 
There are a few points to make here:
Clearly the broader tech cohort of stocks is not the complete safe haven of consistent earnings machines that many investors have perceived it to be. As we move later and later cycle, with slower growth and tighter liquidity, there will be much larger bifurcation between winners and losers.

 
The Technology and Communications sectors had double the earnings growth of the S&P 500 over the past two years (2019-2021 EPS Growth Tech +45%, Comms +41%, S&P +24%). These sectors have also seen double the multiple expansion of the S&P 500 since the last period of tighter policy (premium over mid-2018 PE multiple Tech +47%, Comms +45%, S&P +20%).
We expect earnings growth for Tech/Comms to slow towards the pace of the broader market (tough comps and over earning/pull forward from 2020/2021).
We expect Tech/Comms multiples to have further to compress than the broader market given rising real yields.
The end result is that we expect more tepid relative performance from Tech/Comms compared to the past three years of very loose liquidity and extraordinary returns.
Many Tech/Comms names have been weak for some time and are in weak trends. Despite large one-day percentage bounces, many of these names remain in weak trends. We want to

sell rallies

in these areas where trends are weak, given our expectation that liquidity continues to move tighter in the near term, weighing on long duration, high multiple, low quality, speculative and "innovative" parts of the market. When oversold, big percentage rallies are possible, but these rallies are typically great opportunities to reduce exposure to parts of the market that we expect to continue to struggle with tighter liquidity. Don't get drawn into a bull trap!

This doesn't mean all Tech/Comms are unattractive.
We prefer to buy dips in high quality, reasonably priced Tech/Comms where absolute and relative trends are stronger. Interestingly, we observe the best trends in the Value, or "old school" portions of the tech sector (ex. Technology Hardware and Communications Equipment), which have less valuation risk and continue to benefit from the strong underlying US economy.
There are great, high quality companies that are getting much more reasonably priced. For example, Software multiples have fallen from 38x to 31x in the recent rout. These valuations are still expensive and likely have further to fall as liquidity continues to tighten (these multiples fell to the low 20x's in 2018's tightening). Eventually, this creates opportunity for long term investors.
Just like the 2016 documentary about Oasis, Supersonic, there's a lot to unpack here!  
Overall, it is clear we are in a new regime. How long this regime lasts—meaning, how long can central banks get increasingly hawkish—is uncertain. For now, we have no choice but to embrace the chaos of this new regime.  
Eventually things will calm and the market can sound like Liam Gallagher being asked about his post-Oasis life: "I've mellowed, but not in the sense of liking Radiohead or Coldplay."  
Have a great week!
IMPORTANT LEGAL INFORMATION
This material is for informational purposes only and is not intended to be an offer or solicitation to purchase or sell any security or to employ a specific investment strategy. It is intended solely for the information of those to whom it is distributed by Fieldpoint Private. No part of this material may be reproduced or retransmitted in any manner without prior written permission of Fieldpoint Private. Fieldpoint Private does not represent, warrant or guarantee that this material is accurate, complete or suitable for any purpose and it should not be used as the sole basis for investment decisions. The information used in preparing these materials may have been obtained from public sources. Fieldpoint Private assumes no responsibility for independent verification of such information and has relied on such information being complete and accurate in all material respects. Fieldpoint Private assumes no obligation to update or otherwise revise these materials. This material does not contain all of the information that a prospective investor may wish to consider and is not to be relied upon or used in substitution for the exercise of independent judgment. To the extent such information includes estimates and forecasts of future financial performance it may have been obtained from public or third-party sources. We have assumed that such estimates and forecasts have been reasonably prepared on bases reflecting the best currently available estimates and judgments of such sources or represent reasonable estimates. Any pricing or valuation of securities or other assets contained in this material is as of the date provided, as prices fluctuate on a daily basis. Past performance is not a guarantee of future results. Fieldpoint Private does not provide legal or tax advice. Nothing contained herein should be construed as tax, accounting or legal advice. Prior to investing you should consult your accounting, tax, and legal advisors to understand the implications of such an investment.
Fieldpoint Private Securities, LLC is a wholly-owned subsidiary of Fieldpoint Private Bank & Trust (the "Bank"). Wealth management, securities brokerage and investment advisory services offered by Fieldpoint Private Securities, LLC and/or any non-deposit investment products that ultimately may be acquired as a result of the Bank's investment advisory services:
Such services are not deposits or other obligations of the Bank:

− Are not insured or guaranteed by the FDIC, any agency of the US or the Bank
− Are not a condition to the provision or term of any banking service or activity
− May be purchased from any agent or company and the member's choice will not affect current or future credit decisions, and
− Involve investment risk, including possible loss of principal or loss of value.
© 2022 Fieldpoint Private
Banking Services: Fieldpoint Private Bank & Trust. Member FDIC.
Registered Investment Advisor: Fieldpoint Private Securities, LLC is an SEC Registered Investment Advisor and Broker Dealer. Member FINRA, MSRB and SIPC.