Weekly Perspective: Break the Chain: Thoughts on the "Dovish Taper" and the Nuances of Inflation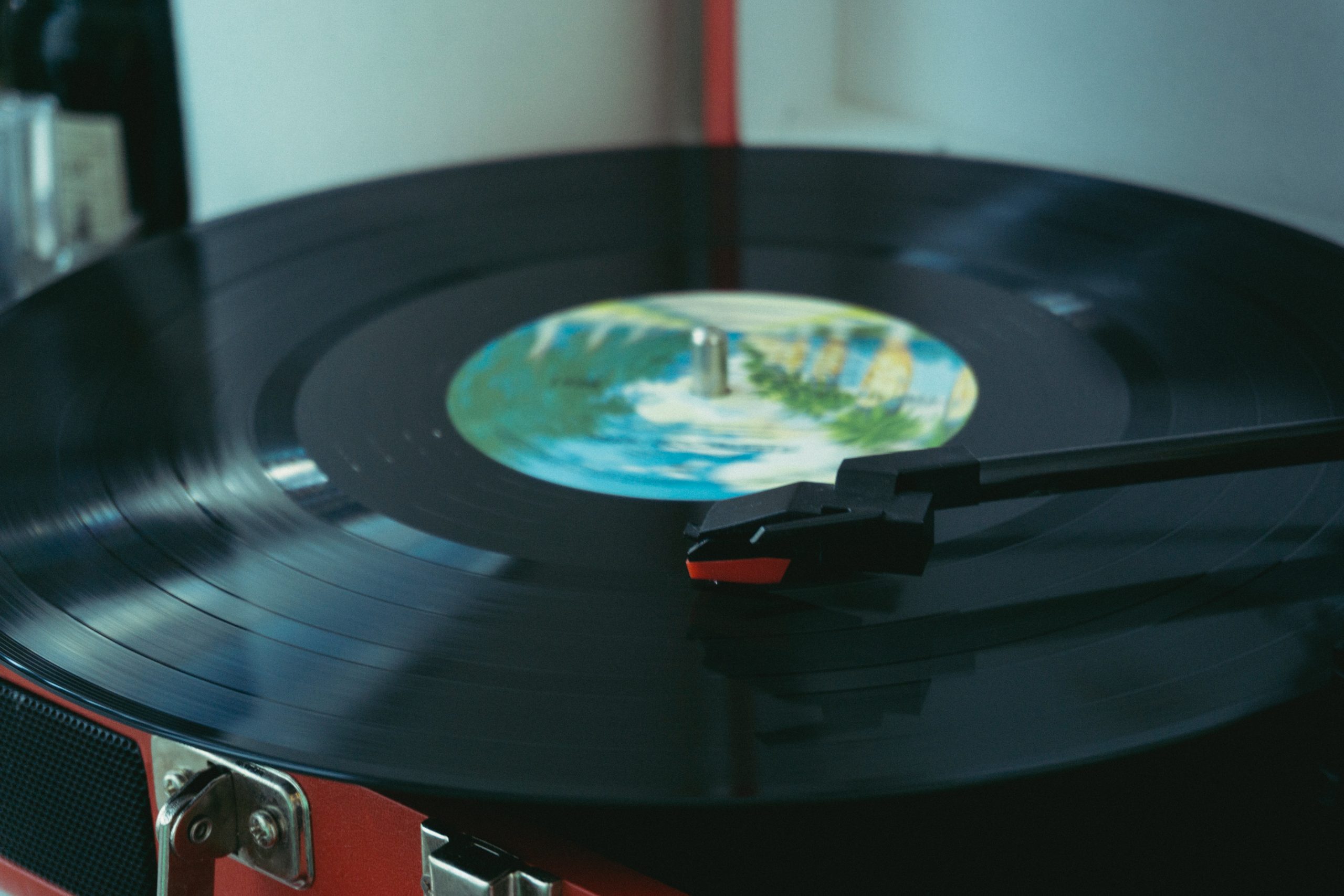 Cameron Dawson, CFA
Chief Market Strategist
Fleetwood Mac's 1977 Rumors is arguably one of the greatest pop/rock albums of all time.
In a way, the album is a study in compromise. The band members each wrote songs separately (legend has it that Stevie Nicks wrote "Dreams" in ten minutes on an electric piano, with her crocheting nearby), somehow bringing together dissenting views and approaches into a cohesive whole.
The only song that is credited to the whole band is "The Chain". It is the ultimate middle ground as a kind of Frankenstein monster, patchwork of sections brought by each member.
Powell's market-celebrated, "dovish taper" speech from Friday's Jackson Hole Symposium was another study in compromise and contained its own "chain".
Powell struck a middle ground between the hawks that think policy is too loose and inflationary, and the doves that think the economy is still far away from being resilient enough to handle tighter policy.
The market rejoiced in this middle ground by sending risk-on, cyclical assets soaring on Friday, as it implied continued policy support.
Powell said that the conditions have been met to start tapering the current $120B/month of quantitative easing bond purchases, which he defined as reaching "substantial further progress" on the inflation front, but kept the timing of liftoff vague.
Most importantly, the Fed intends to "break the chain" between tapering bond purchases and raising interest rates. This means that the Fed does not want market participants to assume that interest rate hikes will inevitably follow right on the heels of the completion of tapering:
"The timing and pace of the coming reduction in asset purchases will not be intended to carry a direct signal regarding the timing of interest rate liftoff, for which we have articulated a different and substantially more stringent test" – Fed Chair Jerome Powell, 8/27/21 (full speech here)

(If you're interested in the intricacies, this is essentially the Fed trying to break down the negative side "signaling theory", or the market's penchant for preemptively pricing in that a slight reduction in QE will soon equal full-fledged tightening with higher short term rates).
This breaking of the chain is important as the Fed tries to walk the fine line between appearing too lackadaisical towards inflation and the inverse of tightening policy too quickly in a decelerating growth environment.
Is it Labor or Inflation?
The Fed's "substantially more stringent test" for interest rate hikes rests in the labor market.
Powell pointed to the 5.7 million people who are still out of work compared to before the pandemic. Further, he noted the 5.4% unemployment rate is both "still much too high" and understating the amount of slack still in the labor force.
However, Powell did not spend much time trying to square why this labor slack exists, despite record levels of job openings (Chart 1). There are now more job openings in the U.S. labor market than there are unemployed workers (Chart 2), while small businesses continue to report near-record high difficulty filling open positions (Chart 3).
Nor did he square that, despite the higher unemployment, total wage income in the U.S. is now 5.4% above its pre-pandemic highs (Chart 4).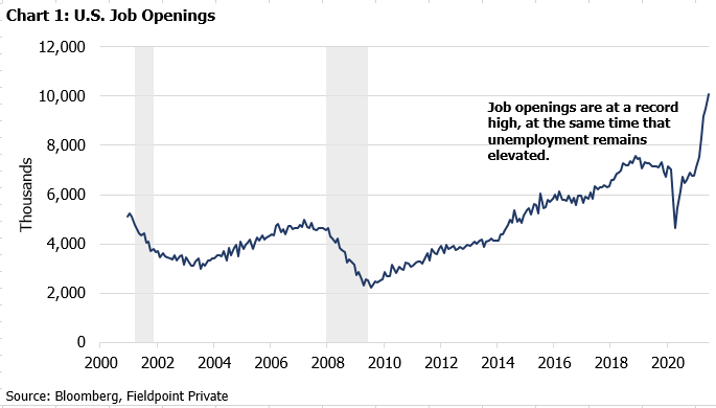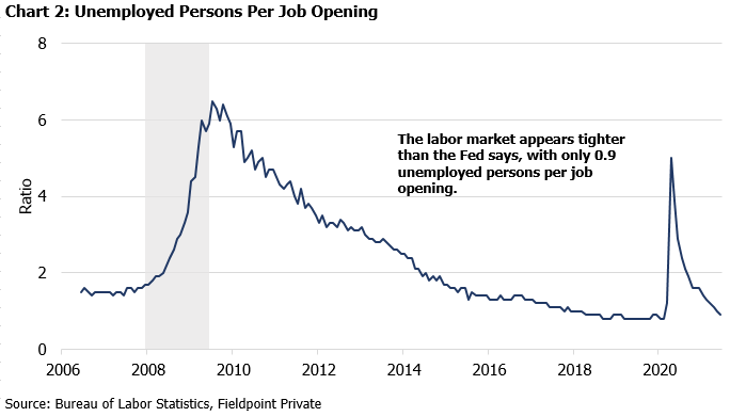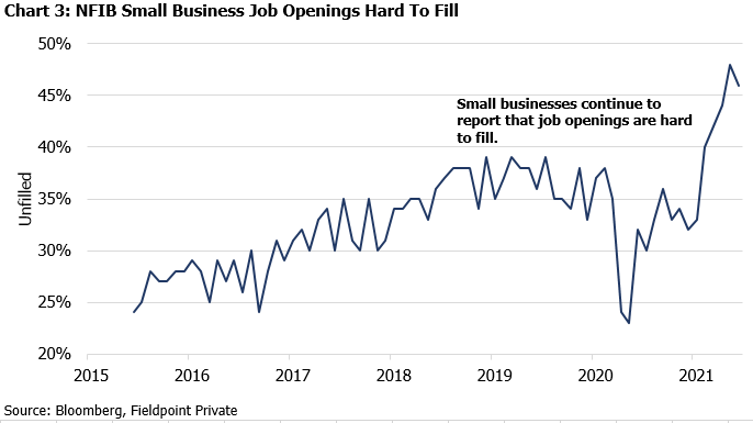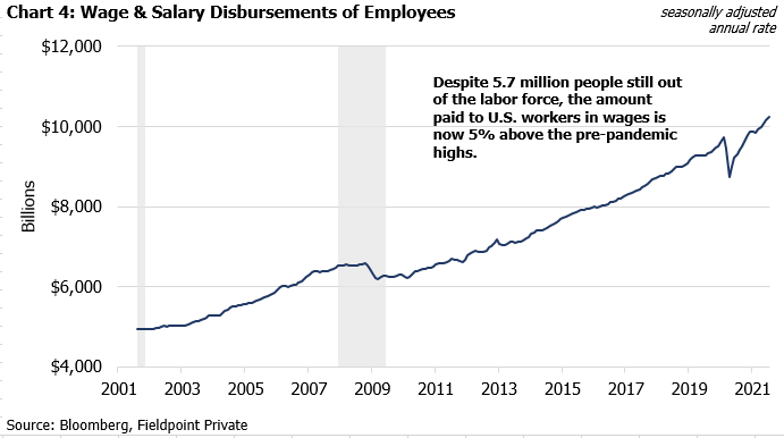 But for all of this talk that the labor market is the key driver for future policy decisions, Powell spent A LOT more time talking about inflation.  Bloomberg's Cameron Crise pointed out that the labor market got three paragraphs and inflation got four and a half pages!   As Queen Gertrude in Hamlet says: "The lady doth protest too much, methinks."
Powell continued to hammer in the point that inflation remains "transitory" or "temporary", pointing to the deceleration in the rate of inflation off of its spring peaks and the moderation of price growth in the most reopening-sensitive areas.
But this language has the potential to be a problem for the Fed moving forward.
As we showed two weeks ago, inflation is starting to wear on consumer confidence. This is because the inflation is causing a loss of purchasing power, meaning consumers' money is not going as far as it used to.
Even as the pace of inflation slows, people's purchasing power likely won't be restored by a future fall in prices, making the consumer (read voter) pain from the pinch of inflation hardly transitory or temporary.
Of course higher wages, which we are seeing, can help restore purchasing power (as long as it doesn't kick off a wage price spiral), but Chart 5 paints a stark picture of where we stand. The ratio of the median home price to the median wage in the U.S. is about 7x, higher than at any point during the housing bubble.
We are not saying the expensiveness of homes is on due to Fed policy, or that the answer to housing affordability is raising rates (there is a supply issue), but instead we caution that all of the blame for higher prices will likely fall back to monetary policy being "too easy". This blame game is a risk to markets if the inflation experience of consumers puts pressure on the Fed and politicians to push for less policy support.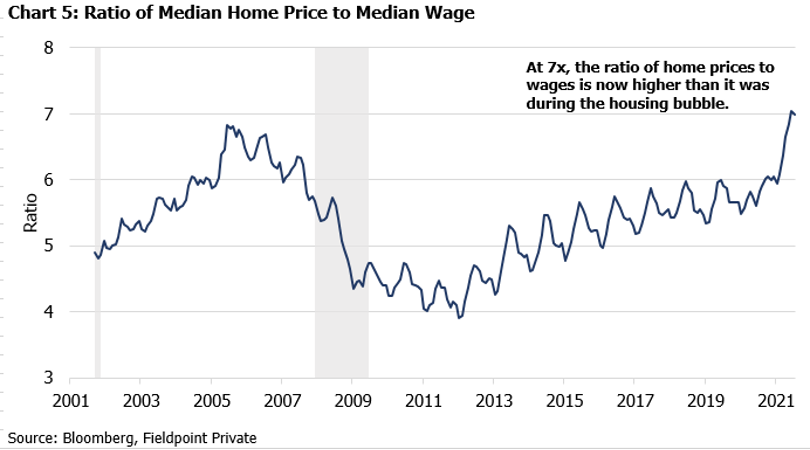 Necessary Nuance in Inflation
We continue to have a nuanced view on inflation.
We disagree with the inflationista hawks that argue inflation is going to get out of control due to too loose policy. We don't see a repeat of the 1970's in the near term, with one big reason being that Fed policy is very different today.
In the 1970's the Fed did not have an explicit inflation target like it has today at 2%. Explicit inflation targets have proven successful at keeping a lid on inflation expectations and realized inflation (we wrote about their origin story and impact here).
The Fed didn't formally adopt its 2% target until 2012 (when deflation was a greater risk, which defies logic, but was likely to appease that era's inflationista crowd that fundamentally misunderstood how QE would impact the economy). We expect the explicit inflation target can continue to keep longer term inflation in check, as it is doing now. Market based long term inflation expectations remain in check, despite high current inflation readings (Chart 6).
At the same time we do not think it is wise to completely write off inflation as temporary and thus not a potential problem for the economy.
First, we see inflation remaining elevated through the first half of 2022 (partially due to the rise in home prices), likely longer than the Fed expects.
Second, we do not think we should focus solely on market based long term inflation expectations remaining subdued . These market implied expectations remain bounded thanks to the slowing rate of change of inflation, with an added ceiling from the Fed's explicit inflation target. Only focusing on this measure misses the risk that the loss of purchasing power poses for an economy that is driven by 70% consumer spending.
This reveals our conclusion: inflation is a bigger issue for consumers than it is for markets at the present moment. Maybe this is one reason why we can have inflation readings near 40 year highs at the same time that bond yields are near 40 year lows.
Overall, it behooves the Fed to acknowledge the pinch from the loss of consumer purchasing power in its messaging in order to avoid rising pressure to tighten policy at an inopportune time.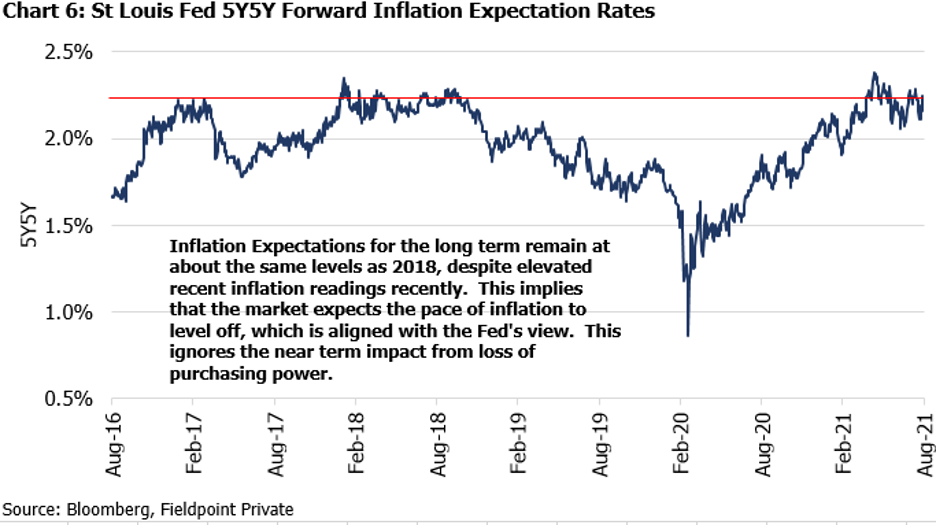 Disclosures
IMPORTANT LEGAL INFORMATION
This material is for informational purposes only and is not intended to be an offer or solicitation to purchase or sell any security or to employ a specific investment strategy. It is intended solely for the information of those to whom it is distributed by Fieldpoint Private. No part of this material may be reproduced or retransmitted in any manner without prior written permission of Fieldpoint Private. Fieldpoint Private does not represent, warrant or guarantee that this material is accurate, complete or suitable for any purpose and it should not be used as the sole basis for investment decisions. The information used in preparing these materials may have been obtained from public sources. Fieldpoint Private assumes no responsibility for independent verification of such information and has relied on such information being complete and accurate in all material respects. Fieldpoint Private assumes no obligation to update or otherwise revise these materials. This material does not contain all of the information that a prospective investor may wish to consider and is not to be relied upon or used in substitution for the exercise of independent judgment. To the extent such information includes estimates and forecasts of future financial performance it may have been obtained from public or third-party sources.  We have assumed that such estimates and forecasts have been reasonably prepared on bases reflecting the best currently available estimates and judgments of such sources or represent reasonable estimates. Any pricing or valuation of securities or other assets contained in this material is as of the date provided, as prices fluctuate on a daily basis. Past performance is not a guarantee of future results. Fieldpoint Private does not provide legal or tax advice. Nothing contained herein should be construed as tax, accounting or legal advice. Prior to investing you should consult your accounting, tax, and legal advisors to understand the implications of such an investment.
Fieldpoint Private Securities, LLC is a wholly owned subsidiary of Fieldpoint Private Bank & Trust (the "Bank"). Wealth management, securities brokerage and investment advisory services offered by Fieldpoint Private Securities, LLC and/or any non-deposit investment products that ultimately may be acquired as a result of the Bank's investment advisory services:
| | | |
| --- | --- | --- |
| Are Not FDIC Insured | Are Not Bank Guaranteed | May Lose Value |
Such services are not deposits or other obligations of the Bank:
Are not insured or guaranteed by the FDIC, any agency of the US or the Bank
Are not a condition to the provision or term of any banking service or activity
May be purchased from any agent or company and the member's choice will not affect current or future credit decisions, and
Involve investment risk, including possible loss of principal or loss of value.
© 2021 Fieldpoint Private
Banking Services: Fieldpoint Private Bank & Trust. Member FDIC.
Registered Investment Advisor: Fieldpoint Private Securities, LLC is an SEC Registered Investment Advisor and Broker Dealer. Member FINRA, MSRB and SIPC.