White Paper: Painting a Picture of Philanthropy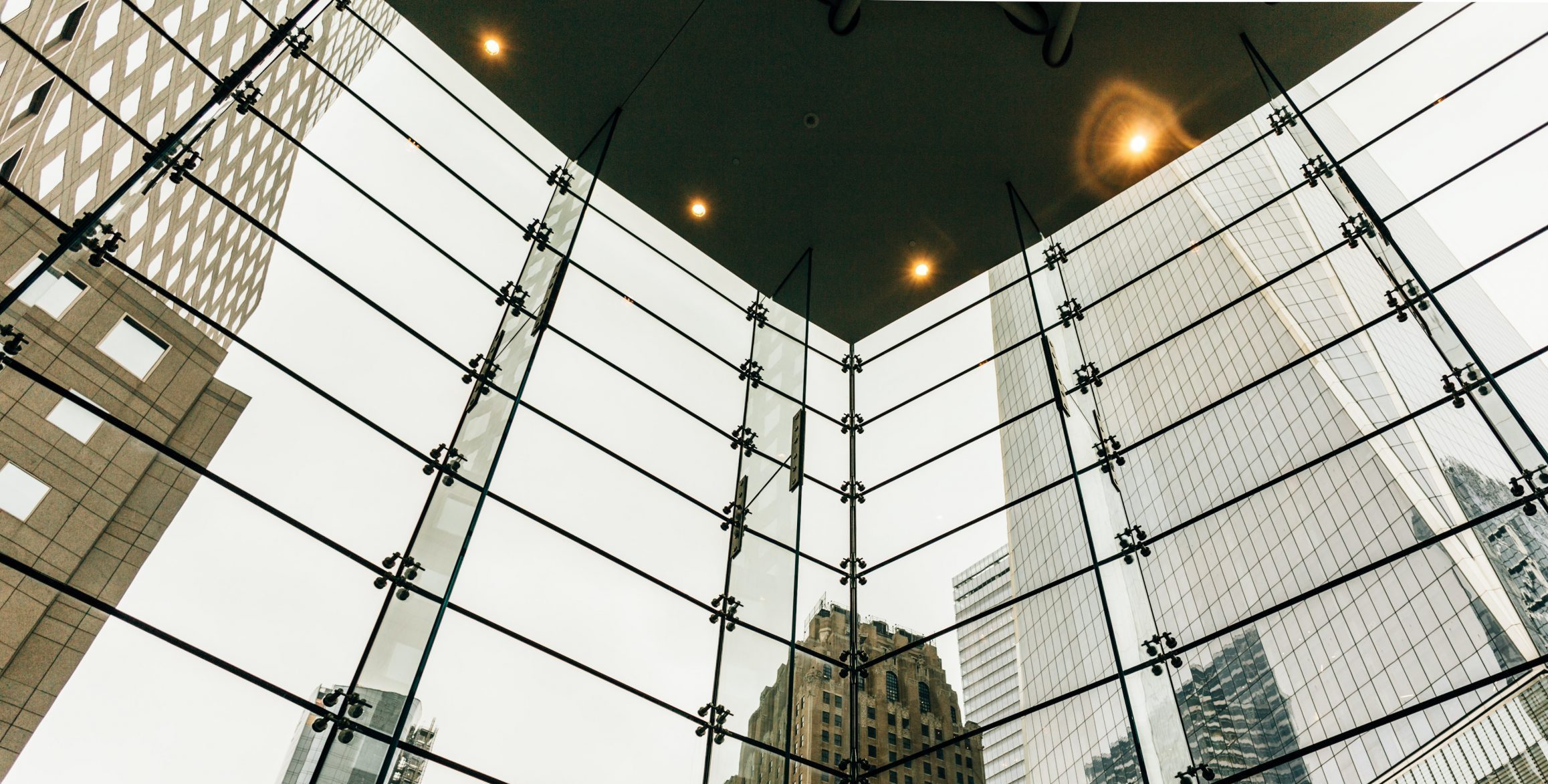 The State of Philanthropy in the United States 2021
A change of seasons can be a compelling time to take stock of the present by placing it in context with a receding past, and thus setting the stage for a future that continually heads our way. It is nearly impossible to find anybody who has not been affected to some degree by the circumstance and events of the current year. Yet in philanthropic spaces, despite strife, tragedy and privation, there continues to be progress, innovation and hints of transformation. In this article, we will discuss the state of philanthropy in the U.S. where it stands, its scope and its most important trends.
Many people act as philanthropists on a regular basis, but they don't necessarily recognize or articulate it as such. According to Fidelity Charitable, one of the largest charitable entities in the U.S., if you are "a person who donates time, money, experience, skills or talent to help create a better world," you are a philanthropist. Given this, just about anyone can be a philanthropist – regardless of status or net worth.
So what is the role of charity and philanthropy in society? This is a question explored in a 2016 article published in Thought Economics. In a series of interviews with a dozen individuals from a cross-section of backgrounds, a wide range of perspectives, wishes and aspirations come alive. Answers such as, "There is no single reason why philanthropy exists, but the main one is surely the wish of many to help," remain relevant today.
The Vast Scope and Scale of Philanthropy
According to data published by the Urban Institute's National Center for Charitable Statistics, the nonprofit sector contributed an estimated $10.5 trillion to the U.S. economy in 2016, composing 5.6 % of the country's gross domestic product. There were roughly 1.5 million nonprofit organizations registered with the IRS, funded by a mix of government grant programs and private giving from individuals, foundations and businesses, as well as an estimated 8.8 billion hours of volunteer service from a quarter of the U.S. population.
The Corporation for National and Community Service (CNCS) reports that 77 million adults (roughly 30%) volunteered through an organization in 2017. Millions more supported friends and family (about 43%) or did favors for their neighbors (nearly 51%), suggesting that many are engaged in acts of informal volunteering.
The CNCS research also found that Americans are generous with more than just their time. Overall, half of all citizens typically donate to charity, with volunteers donating at twice the rate as non-volunteers. Nonprofit leaders take note – it is vital to keep your volunteers informed and engaged!
Giving by individuals dwarfs that from foundations and corporations, according to data gathered by Giving USA. In 2018 total private giving (excluding government funding) accounted for nearly 77% of the $428 billion in total gifts.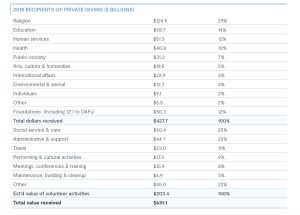 Annually, the Independent Sector, a consortium of philanthropic individuals and organizations, estimates and publishes an aggregate valuation of volunteerism. In the 2018 estimate, about 63 million Americans volunteered around eight billion hours of their time, talent and effort worth approximately $203 billion to improve and strengthen their communities through nonprofit organizations of all types. When the value of volunteerism is added to the value of cash and goods donated, total private giving in 2018 total $631 billion.
Who Are the Beneficiaries of This Generosity?
Of the $428 billion in private financial contributions received by the nation's one million-plus charities in 2018, the 100 largest charities attracted 12%, according to the Forbes Top Charities list.
Religious giving topped the list. With nearly 77% of Americans affiliated with a religious group, according to the Pew Research Center, it isn't surprising that congregations and religious organizations are the most commonly funded causes, accounting for 29% of all giving.
Next is education, most prominently colleagues and universities. One-fifth – $12 billion universities, according to the Council for Advancement and Support of Education. Foundations account for another $14 billion of college and university funding (including the family foundations of alumni) – with some of that funding occurring because of trustee connections.
Closely following education is a wide-ranging group classified as human services. These include services that promote volunteerism to address the needs of the disadvantaged, disabled and underemployed. Volunteers are a vital resource for charitable nonprofits, and without them, many charitable nonprofits would not be able to conduct programs, raise funds or serve clients.
Health care charities claim the fourth spot, encompassing missions like curing diseases, treating and supporting the sick and disabled, and seeking improvements in medical treatments, diseases and disabilities. They also promote public understanding and awareness of particular health risks.
The fifth largest recipient is public policy. These organizations educate the public and work to influence policy regarding healthcare, employment rights, taxation, climate, justice; also other civic ventures like voter education, civil liberties and consumer rights. Arts, culture and humanities charities follow. These provide funding to promote and preserve artistic and cultural heritage through support of libraries, historical societies, landmark preservation, museums, performing arts, media/communications and public broadcasting.
The $50 billion that was contributed to foundations and donor-advised funds (DAFs) in 2018 represents future funding for charitable causes based on the intentions of the foundation or DAF account holder. The magnitude of this future funding is aggregated by the National Philanthropic Trust in their annual Donor-Advised Fund report:
Independent foundations had assets of $872 billion and paid out $54 billion in grants for a payout ratio of 6.2% (vs. a statutory minimum rate of 5%).
Donor-advised funds had total assets of $121 billion and paid out more than $23 billion in grants for a payout ratio of 19.3%.
The Rise of DAFs
While Donor Advised Funds (DAFs) have been around since the 1930s, they are now a material force in the charity world and are attracting increasing attention.
DAFs have been called "the thing that ate philanthropy" and "the most noteworthy story affecting charity in 25 years," according to an August 2018 article in Forbes: There's A Target On Charity's Booming Donor Advised Funds.
Some detractors allege that DAFs are "warehousing wealth," but a review of six years of data shows that there is a much more balanced story: DAF payout rates exceed those of foundations and have been rising. The ratio of grants paid to contributions received is also up over the last six years:
An average DAF account is just $237,000 vs. the average foundation, $10 million.
DAFs can only pay out to public charities – no direct benefit can accrue to the DAF account holder.
Foundations, on the other hand, can hire staff (including founders' relatives), pay for office space, etc.

Despite having the option to give anonymously, DAF account holders are by and large quite transparent. According to the 2020 Fidelity Charitable Giving Report, just three percent of grants are anonymous – 88% of funding arrives with the donor name and address included.
A large part of the current appeal of DAFs is their open architecture:
They provide a relatively passive but helpful intermediation vehicle for holding money and facilitating the grants process in an efficient manner.
Individual donors find and research their own recipients on their own time, and set their own priorities (dedicated support services are made available to the largest accounts).
DAFs efficiently process non-cash contributions (60% of the total) such as real estate, securities, even bitcoin.
Research Is an Enabler
The age of the internet and ubiquity of big data have brought the rise of the individual donor class, and a new ease with which nonprofits can be researched. The result appears to be donor confidence, as can be seen in data from the BB Wise Giving Alliance (aka Give.org):
In 2001, a minority of adults (3 of 10) said it was easy to know if a charity was legitimate.
In 2018, a majority of adults (6 of 10) felt it was easy to know if a charity was legitimate.
Charities are the most trusted institutions in the United States. But there is ample space to build more trust in the sector – just 19% of respondents, say they trust charities highly.
Nearly 70% of survey respondents rated the importance of trusting a charity before giving as "essential."
The top factors for signaling that a charity is trustworthy include:
Accomplishments (54%) shared by the organization via their website and other means.
Third-party evaluations (33%) by an independent organization such as GuideStar, Charity Navigator, (including ImpactMatters), Give.org, etc.
Financial ratios (30%) such as the percentage of program expenditures to total. As charities get better at articulating their missions, and shift from a focus on activities to outcomes and even impact, the importance of ratios has been declining.
A Transformative Opportunity Awaits
The pandemic has been a catalyst for short-term change in the power dynamic between charities and the entities that fund them. The big question being asked again and again is, will the change stick – or go even further?
For the past two decades, according to McKinsey, the trend in funding relationships has been an ever more data-driven and rigorous approach, making the process of seeking and managing grants quite cumbersome – especially for small, community-based organizations.
Nearly 80% of lean funders have changed their approach to funding as a result of COVID-19, according to Exponent Philanthropy. And, of those who have not, nearly 20% plan to change their approach in the next year.
Changes include emergency response grants outside the foundation's normal grant cycle, converting project grants to more flexible general operating support, and delaying or postponing reporting deadlines.
Calls for a common application in philanthropy have been made over the past 20 years or more – and various platforms have been attempted but have not taken off, due to a lack of uniformity in processes and requirements.
According to surveys recently conducted by Exponent Philanthropy and PEAK grantmaking, 64% and 57% respectively of respondents replied that they had converted grants to general operating keep grants. Shifts in sentiment such as this, coupled with the significant evolution of big-data applications such as GuideStar and Charity Navigator may well set the stage for lasting change.
Doing Good Boosts Well-Being
During trying times such as these, a body of research continues to suggest that gestures of assistance, often manifesting as simple, random acts of kindness can help assuage worry and concern on the part of the giver.
Helping others by performing good deeds provides a sense of feeling in control – even fostering a burst of euphoria called "the helper's high" that comes when dopamine and endorphins are released in the brain. No doubt this is partly why half of adults report that they engage in acts of informal volunteering (or doing favors for neighbors) on an ongoing basis.
Maybe the day will soon come for the adoption of a universal philanthropic creed. The following quote, often attributed to John Wesley, could be a contender:
"Do all the good you can, in all the ways you can, to all the souls you can, in every place you can, at all the times you can, with all the zeal you can, as long as ever you can."
Disclosures
IMPORTANT LEGAL INFORMATION
This material is for informational purposes only and is not intended to be an offer or solicitation to purchase or sell any security or to employ a specific investment strategy. It is intended solely for the information of those to whom it is distributed by Fieldpoint Private. No part of this material may be reproduced or retransmitted in any manner without prior written permission of Fieldpoint Private. Fieldpoint Private does not represent, warrant or guarantee that this material is accurate, complete or suitable for any purpose and it should not be used as the sole basis for investment decisions. The information used in preparing these materials may have been obtained from public sources. Fieldpoint Private assumes no responsibility for independent verification of such information and has relied on such information being complete and accurate in all material respects. Fieldpoint Private assumes no obligation to update or otherwise revise these materials. This material does not contain all of the information that a prospective investor may wish to consider and is not to be relied upon or used in substitution for the exercise of independent judgment. To the extent such information includes estimates and forecasts of future financial performance it may have been obtained from public or third-party sources. We have assumed that such estimates and forecasts have been reasonably prepared on bases reflecting the best currently available estimates and judgments of such sources or represent reasonable estimates. Any pricing or valuation of securities or other assets contained in this material is as of the date provided, as prices fluctuate on a daily basis. Past performance is not a guarantee of future results. Fieldpoint Private does not provide legal or tax advice. Nothing contained herein should be construed as tax, accounting or legal advice. Prior to investing you should consult your accounting, tax, and legal advisors to understand the implications of such an investment.
Fieldpoint Private Securities, LLC is a wholly owned subsidiary of Fieldpoint Private Bank & Trust (the "Bank"). Wealth management, securities brokerage and investment advisory services offered by Fieldpoint Private Securities, LLC and/or any non-deposit investment products that ultimately may be acquired as a result of the Bank's investment advisory services:

Such services are not deposits or other obligations of the Bank:
Are not insured or guaranteed by the FDIC, any agency of the US or the Bank
Are not a condition to the provision or term of any banking service or activity
May be purchased from any agent or company and the member's choice will not affect current or future credit decisions, and
Involve investment risk, including possible loss of principal or loss of value.
© 2021 Fieldpoint Private
Banking Services: Fieldpoint Private Bank & Trust. Member FDIC.
Registered Investment Advisor: Fieldpoint Private Securities, LLC is an SEC Registered Investment Advisor and Broker Dealer. Member FINRA, MSRB and SIPC.