Treasury Management offers the flexibility, stability and speed you would expect from the largest commercial banks, including the consolidation of e-statements, remote deposit capture, billpay, and Positive Pay in a single, unified platform.
More responsive:
• Faster page-loads
• Faster, more intuitive navigation
• Faster initiation, release and Fed-reference confirmation of wired funds
• Faster queries of transactions, and more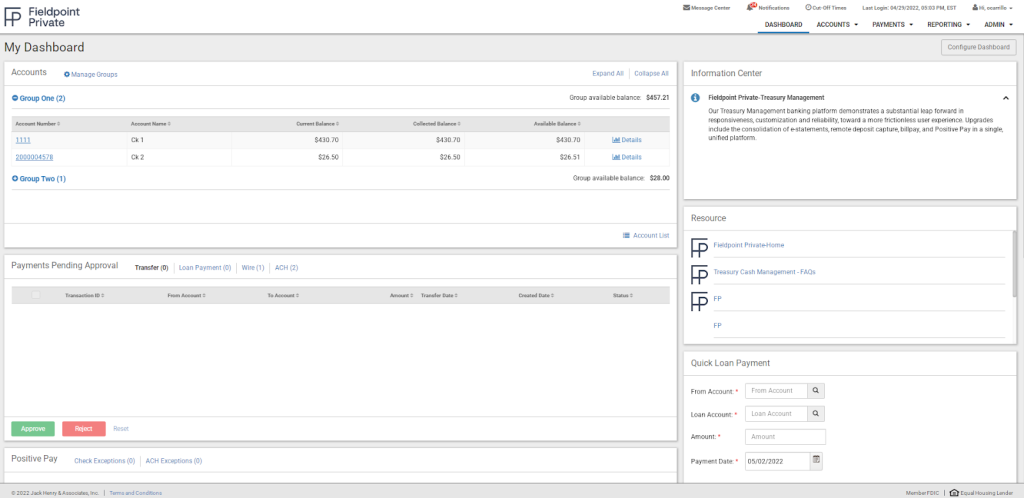 More customizable:
• Customize and save queries; find transaction data more easily
• Individualize profiles by-user, enabling nicknaming and grouping of accounts for more convenient and intuitive viewing
Ready for Business on Day 1:
• After you are taken through a set of brief, intuitive registration steps, the site will be ready for you and your users when you arrive. User settings, permissions, account nicknames, billpay data, transaction history; ACH and wire payees and templates will all transfer to the new system, with no intervention on your part.
• If a transition element may require your involvement, we will reach out to you directly and help make it easy.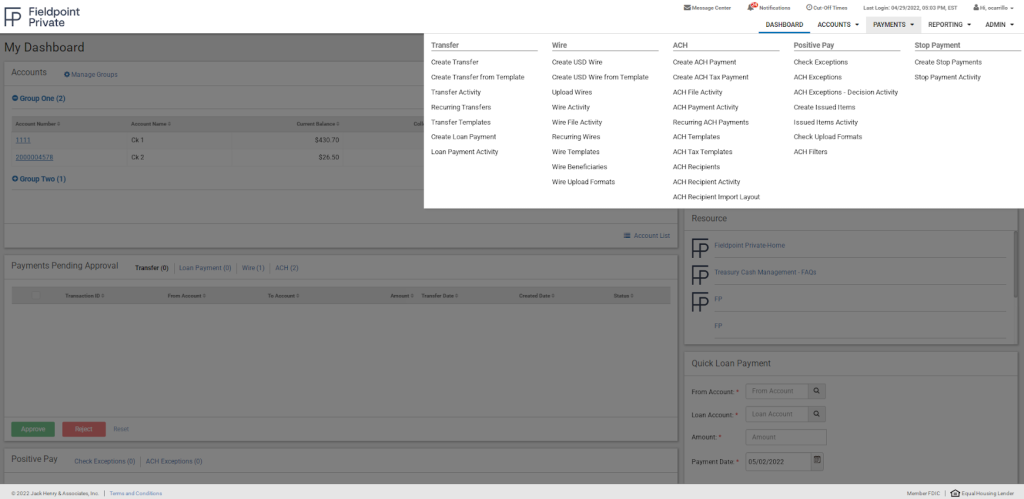 During the transition period, here is what administrators will need to know: Site and app unavailable, Fri., 5/13 5pm – Mon., 5/16 8am. Transactions in process will execute on 5/16.
User IDs and Passwords
Administrator Log-in: You will receive from tmsupport@fieldpointprivate.com an email with a link to enroll and register with your credentials. After your first log-in, you will be prompted to set a permanent password. For most, your Company and User IDs remain the same as you use today. If any updates are needed, the banking team will reach out to you directly.
Permissions and Limits
We have carried into the new system all administrators' and users' permissions and limits, based on settings in the legacy system. You may, of course, change them as you wish.
Bill Pay, ACH, Wire Transfers
All data already in the legacy platform will map over to the new system – all payees, all scheduled payments, all history. You need take no action.
Positive Pay
This anti-fraud technology for checks and ACHs is a key feature and will continue to be deployed in the new system. You need take no action.
Bill Pay
Billpay is unavailable on Friday 5/13; any transactions in process will be executed Monday, 5/16.
Mobile App
Our mobile app is updating and will be temporarily unavailable. The new app will be available in June. If you use the app and have the automatic update feature turned on in the iTunes App Store or Google Play, there are no further steps required.
Mobile Deposits
The desktop site will no longer accept phone-pic check deposits.  Mobile deposits will resume in June upon the availability of the new mobile app.
QuickBooks, Quicken, Mint
This upgrade will require that you take certain steps on Friday, May 13 and Monday, May 16, to ensure that your data will transition smoothly. Please follow the conversion instructions here: Intuit Conversion Instructions
Other Elements with No Change or Action Required
Account Numbers
Account nicknames
Transaction history
Business Debit Card
Checks
Wiring instructions (view)
Your Fieldpoint Private banking team, advisor and associate stand ready to answer your questions and provide any guidance needed during this transition. Alternatively, please feel free to email Banking_Team@fieldpointprivate.com with any questions.