Weekly Perspective: Economy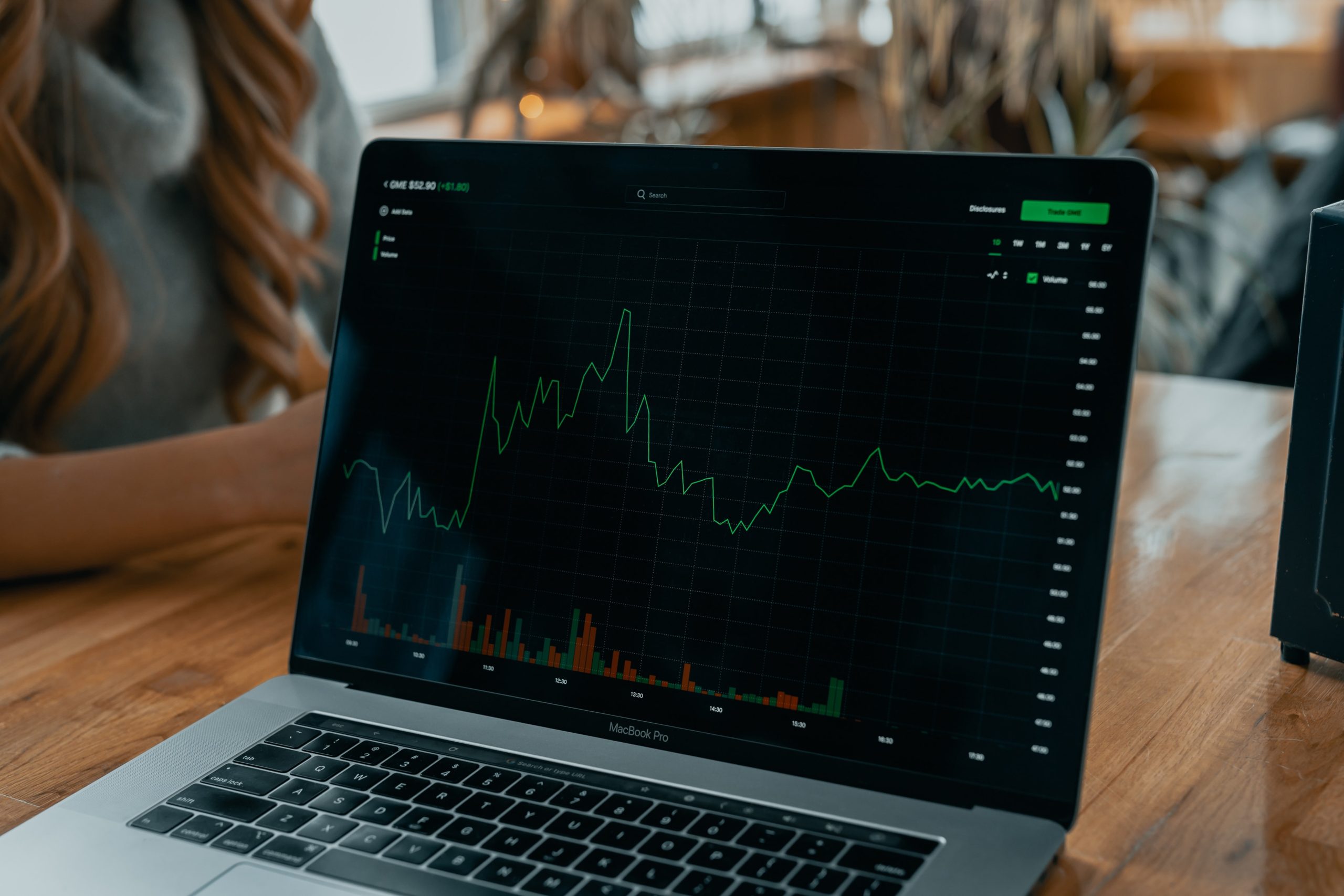 Hi all,
Today we are going to take a different approach to the Monday update by going briefly through a series of today's most top-of-mind topics in the economy and markets. Arguably, each topic is worthy of a deep-dive analysis, but here we target brevity over robustness.
Also, as a reminder, last week we hosted a webcast conversation with Professor Jeremy Siegel. Here are the links:
Here is a summary of our key expectations:
Growth will be robust in 2021, possibly coming in above the Fed's 40-year high expectation of 6.5%
Inflation will be high in the near term; a judgment of how sticky price increases will prove to be will have to be made after the coming period of distorted data from last year's shut downs
The fiscal and monetary policy regime has clearly changed and may cause a change in trend in inflation expectations, but it is too soon to tell
Equity valuations remain near highs, even on robust earnings expectations for 2021 and beyond; this could weigh on 5+ year returns, but should not be used for market timing
In a world of lower expected index returns, we continue to expect leadership rotations and dividends to be the key sources of returns for equity investors in 2021
We expect a continued outperformance of Value over Growth over time, but do expect the rotation to be choppy, providing opportunities to investors who may remain underweight Value
Cyclical vs. Defensive still looks healthy but a peak in the PMI could weigh on this performance in the near term
Small caps may continue to trade sideways/underperform in the near term, after they work off February's very overbought signal
Upward movement in long term interest rates may take a pause after a rapid ascent, but we expect rates to continue to push higher thanks to higher growth expectations (shows up in real rates) and higher inflation expectations; the 10-year could reach as high as 2.5% and still remain in a long term down trend
The U.S. dollar is at a critical juncture, yet the future path remains ambiguous; a stronger dollar could come from U.S. outgrowing the rest of world, upward pressure on real interest rates, and closing out of heavily short positions to start 2021; a weaker dollar could come from surging twin deficits, potentially higher inflation, and a weak long-term trading trend
Commodity price rallies have been the result of tight supply chains and recovering demand; some of the supply bottlenecks will eventually clear and ease upward price pressure, while U.S. dollar weakness may be the necessary condition for a next leg higher in prices; we are dubious of the broad "supercycle" call due to persistent oversupply in energy sources, though some commodities may have more persistent supply/demand shortfalls
Answering Key Market Questions
U.S. GDP: Best in Four Decades
As of March 2021, the Fed is forecasting real U.S. GDP growth of 6.5% in 2021, which would be the highest growth rate in 40 years. This is up from the December forecast of 4.2%. thanks to stronger than expected data from a more rapid vaccine roll out and normalization of economic activity. There is also the added boost of substantial incremental fiscal stimulus passed in 2021, which had not been included in December projections.
The Street is forecasting real GDP growth of 6.2% for 2021 as of April, up from 5.5% in March. Multiple forecasters are expecting 2021 GDP to exceed the Fed's forecast, possibly reaching as high as 7-7.5%. Chart 1 shows the breakdown of Street and Fed forecasts.
Monetary Policy: Not Budging
The Fed is committed to keeping policy ultra-accommodative (interest rates near zero and $120B a month of asset purchases), even as data is expected to improve materially in coming months. Powell said that the outlook had recently "brightened substantially" (see 60 Minutes interview here), but has said that the Fed will not raise rates in 2021. Currently the Fed's dot plot (a visual representation of rate expectations) does not have the Fed raising rates until 2023.
The Fed's justification for keeping policy ultra-accommodative, despite signs of a rapidly improving economy (see our article from last week discussing the divergence of PMI's and Fed policy) is centered on two arguments:
the upcoming spike in inflation will be transitory, with longer term inflation not expected to be significantly above the 2% average target
the improvement in the headline unemployment rate masks continued pain in some cohorts of the labor market, with the recovery "uneven and incomplete"
Inflation: The Great Debate
Inflation will move materially higher in the next few months thanks to base effects, or easy comparisons from max-lockdowns in 2020, when prices for some goods collapsed. The path of inflation beyond this summer is where there is a vigorous debate.
The Fed does not think this near term higher inflation will persist, but instead will be more like "one-time" increases in prices, with supply bottlenecks proving to cause only "transitory" increases in prices. This is leading the Fed to commit to not tightening policy in the near term, even if inflation readings are well above its 2% average target. The Fed still sees the "underlying inflation dynamics" that have kept inflation low over the last 25 years as remaining (see IMF debate here). Chart 2 shows how the Street is expecting inflation to remain at our below the Fed's 2% target through 2023.
Other economists and forecasters disagree. They see the explosion higher in deficit fueled fiscal stimulus as being a policy sea change that will be far more inflationary than the policy response coming out of the Great Financial Crisis. On this note, in our recent webcast and podcast with Professor Jeremy Siegel, the Professor discussed how money supply growth got stuck in bank balance sheets after the GFC, but now is going direct to consumers and the real economy- a far more inflationary dynamic. We detail these arguments in this article about inflation and bond prices, this article about large new fiscal stimulus, and this article about the new policy regime.
We think the policy regime change is material, but it may be too soon to judge the ultimate impact. Near term price inflation will be skewed by 2020's distortions, so extrapolating could be misleading. While at the same time, ignoring the major shift in policy that has occurred could also prove misleading. Key crosscurrent considerations for the inflation outlook include:
Path of further fiscal stimulus; will there be a fiscal drag in 2022?
How quickly will individuals and companies spend down high savings/cash balances?
How quickly will supply chain bottlenecks clear, allowing for goods inflation to moderate?
Will manufacturing/producer inflation be passed on into higher consumer price inflation (will also be an important consideration for company margins)?
What is the future path of the U.S. dollar? Continued strength in the dollar will keep inflation in check, while renewed weakness likely causes inflation to exceed expectations (puts upward pressure on import and input/commodity prices).
Will wage inflation return? Are supplemental unemployment benefits putting upward pressure on wages and hours worked, with job openings now above 2019 highs, all making filling positions more difficult/expensive?

Equities
Earnings and Valuation: Rebound Expectations Robust While Valuations Still Near Highs
As can be seen in Table 1, investors are expecting a sharp rebound in earnings from 2020's depressed levels.
Table 1: EPS Estimates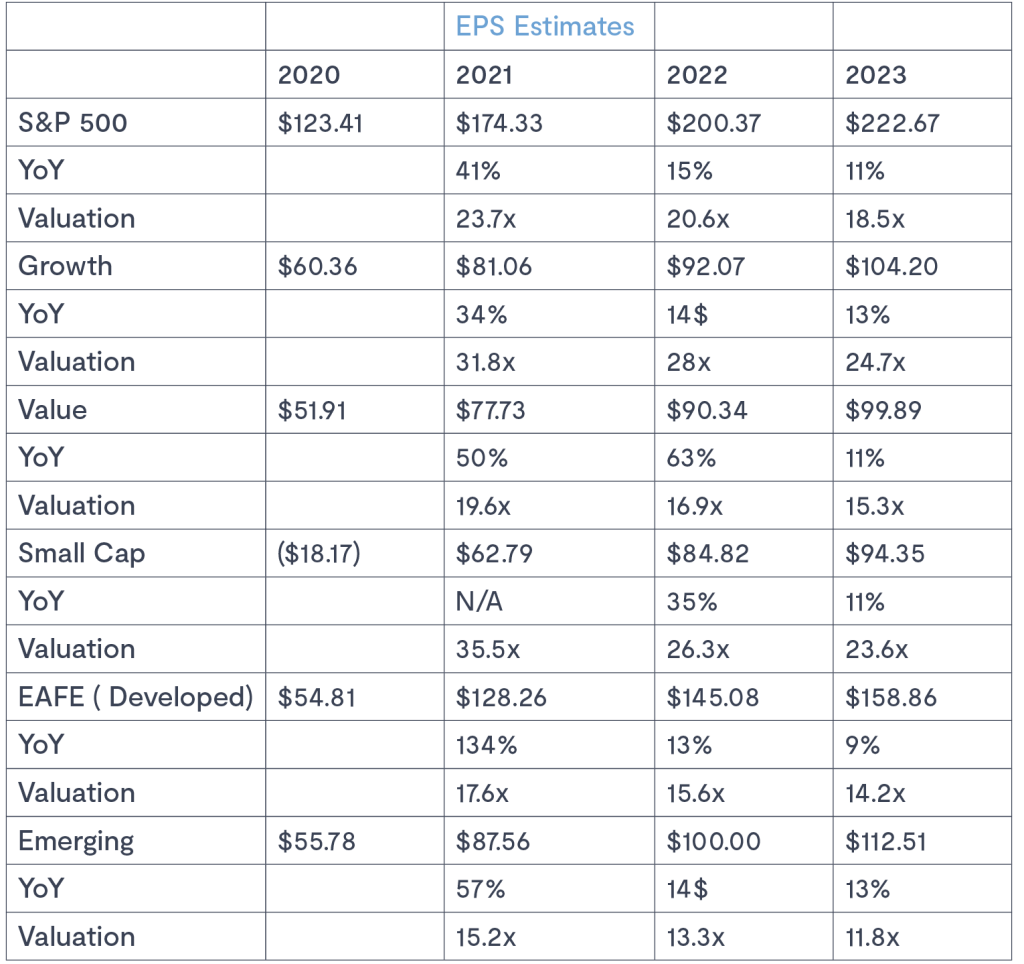 Source: Bloomberg, Russell Indices, MSCI 
Focusing on valuation, Chart 3 shows the forward next-twelve-months PE multiple for the S&P 500. What is apparent is that valuation remains elevated, even as we look beyond the depressed level of earnings from 2020. We continue to see valuation weighing on forward returns in the medium term (both 5 and 10 year returns), but note that elevated valuations can persist for some time, meaning elevated valuations are not a useful market timing tool.
One key observation from Table 1 is the larger percentage growth expected for Value vs. Growth names in both 2021 and 2022, while the Value index continues to trade at more than a ten multiple turn discount to Growth. Chart 4 shows the difference in valuation over time between Value and Growth. Both cohorts are expensive versus their history, but the surge in multiples higher in 2020 was much more pronounced for Growth names.

Value vs. Growth: Continued Rotation with Pauses and Chops
We continue to expect Value to broadly outperform Growth at least through the end of 2021. This could continue to be a choppy process, meaning there will be periods of Growth outperformance that can be used as opportunities to rotate out of areas that had super-normal returns in 2020 and have especially elevated, bubbly valuations. We see the performance of Value vs. Growth having "overshot" in March, and see potential for Growth to stage a very near term comeback vs. Value. This does not change the overall drivers for a rotation out of Growth into Value:
Valuation and earnings differentials supporting Value (described above)
Growth is no longer scarce given aggressive stimulus, so Growth should trade at less of a premium
Upward pressure on real interest rates (put pressure on Growth valuations)
Potential for supportive dynamics in key macro drivers for sectors with high weightings in the Value index (higher commodity prices, steeper yield curve)
Cyclical vs. Defensive: Watch PMI for a Pause
The market continues to show signs of cyclical strength, with defensive sectors/end markets continuing to underperform cyclical areas since the 2020 market lows. Table 3 shows the YTD sector performance across the S&P 500. Note that the most cyclical, GDP-sensitive, risk-on sectors (Energy, Financials, Industrials, Materials) have been key winners, while defensive areas (Staples and Utilities) are notable laggards.
Table 2: S&P 500 Sector Performance
| | | |
| --- | --- | --- |
| Index Name | | YTD |
| Consumer Discretionary | | 8.4% |
| Consumer Staples | | 1.7% |
| Communication Services | | 13.5% |
| Energy | | 27.3% |
| Financials | | 19.1% |
| Health Care | | 3.9% |
| Industrials | | 13.4% |
| Materials | | 10.3% |
| Tech | | 8.7% |
| Utilities | | 3.3% |
| Real Estate | | 10.6% |
| S&P 500 | | 9.9% |
Source: Bloomberg, as of 4/12/21
Other ways to see Cyclicals remaining resilient vs. Defensives are through the relative performance of key cyclical/defensive pairs, such as with Chart 5 showing Transportation (cyclical) vs. Utilities (defensive).
Last week we noted that a peak in the PMI is usually coincident with Cyclicals underperforming Defensives, so with the PMI at 64.7, a 30-year high, it will be imperative to watch how Cyclicals digest a potential moderating in the pace of manufacturing expansion. A roll over in some of the key ratios we follow (Transports vs. Utilities, Banks vs. Utilities, Discretionary vs. Staples, Machinery vs. Services) may indicate coming market volatility/digestion of recent gains. This may also translate to a pause in the Value vs. Growth rotation in the near term as well.
Small Caps
Small Caps (using the Russell 2000 index) have stalled on an absolute and relative basis. Chart 6 shows that since mid-March, Small Caps have unperformed the market sharply. We think this is the result of Small Caps getting too extended versus their long term trend earlier this year. Chart 7 shows how the Russell 2000 traded to 40% above its 200-day moving average, a record, back in February.
We see potential for Small Caps to continue to lag large cap indices as this overbought condition is worked off, while earnings and valuations are already calibrated for a stronger growth environment.
Fixed Income
Long-dated Treasury yields may pause their upward ascent in the very near term, but we expect continued upward movement higher in long yields thanks to higher U.S. growth and inflation expectations. We note that the 10-year could rise as high as 2.5% and still remain in its long-term downtrend (we detail this consideration in this piece about the bond bull market). The dollar may play a critical role in how high interest rates can reach in the near term.
We expect short rates to remain muted thanks to both Fed action (asset purchases) and communication (not raising rates for the foreseeable future). This should support the cyclical trade, as the Treasury curve continues to steepen. We do expect, though, that given the degree of suppression on the short end, there is risk that it will not take a great deal of hawkish commentary to cause a fairly rapid repricing in yields and related sensitive assets.
Currencies and Commodities
Dollar
The U.S. dollar remains at a critical trading juncture but the near-term path remains unclear. Supporting continued dollar strength is the U.S. outgrowing the rest of the world, upward pressure on real interest rates, and the closing out of large short positions that were in place to start 2021. Downward pressure on the dollar could come from surging twin deficits (fiscal deficit and current account/trade deficit), potential inflation, and a weak long term trend in dollar trading.
Commodities
Precious metal prices, mainly gold, will continue to be correlated to real interest rates, with the movement higher in real interest rates putting downward pressure on gold prices. Recall gold is a non-yielding asset. Further, the pro-cyclical/risk-on dynamic in the market reduces demand for gold's safe-haven characteristics.
On other commodities, we are still dubious of the call that we are entering into a supercycle. We note continued oversupply in oil that feeds into the cost dynamics of other commodities (in both production and transportation). For now, tight supply chains, recovering demand, restocking, and some apparent hoarding have been the driver of higher commodity prices YTD, not dollar weakness. Some of these supply chain constraints will likely ease as we move later into 2021, so further upside may rely on renewed dollar weakness.
Disclosures
IMPORTANT LEGAL INFORMATION
This material is for informational purposes only and is not intended to be an offer or solicitation to purchase or sell any security or to employ a specific investment strategy. It is intended solely for the information of those to whom it is distributed by Fieldpoint Private. No part of this material may be reproduced or retransmitted in any manner without prior written permission of Fieldpoint Private. Fieldpoint Private does not represent, warrant or guarantee that this material is accurate, complete or suitable for any purpose and it should not be used as the sole basis for investment decisions. The information used in preparing these materials may have been obtained from public sources. Fieldpoint Private assumes no responsibility for independent verification of such information and has relied on such information being complete and accurate in all material respects. Fieldpoint Private assumes no obligation to update or otherwise revise these materials. This material does not contain all of the information that a prospective investor may wish to consider and is not to be relied upon or used in substitution for the exercise of independent judgment. To the extent such information includes estimates and forecasts of future financial performance it may have been obtained from public or third-party sources. We have assumed that such estimates and forecasts have been reasonably prepared on bases reflecting the best currently available estimates and judgments of such sources or represent reasonable estimates. Any pricing or valuation of securities or other assets contained in this material is as of the date provided, as prices fluctuate on a daily basis. Past performance is not a guarantee of future results. Fieldpoint Private does not provide legal or tax advice. Nothing contained herein should be construed as tax, accounting or legal advice. Prior to investing you should consult your accounting, tax, and legal advisors to understand the implications of such an investment.
Fieldpoint Private Securities, LLC is a wholly-owned subsidiary of Fieldpoint Private Bank & Trust (the "Bank"). Wealth management, securities brokerage and investment advisory services offered by Fieldpoint Private Securities, LLC and/or any non-deposit investment products that ultimately may be acquired as a result of the Bank's investment advisory services:
Such services are not deposits or other obligations of the Bank:

− Are not insured or guaranteed by the FDIC, any agency of the US or the Bank
− Are not a condition to the provision or term of any banking service or activity
− May be purchased from any agent or company and the member's choice will not affect current or future credit decisions, and
− Involve investment risk, including possible loss of principal or loss of value.
© 2021 Fieldpoint Private
Banking Services: Fieldpoint Private Bank & Trust. Member FDIC.
Registered Investment Advisor: Fieldpoint Private Securities, LLC is an SEC Registered Investment Advisor and Broker Dealer. Member FINRA, MSRB and SIPC.