Weekly Perspective: Nothing Compares 2 U: Thoughts on 2Q21 Earnings Season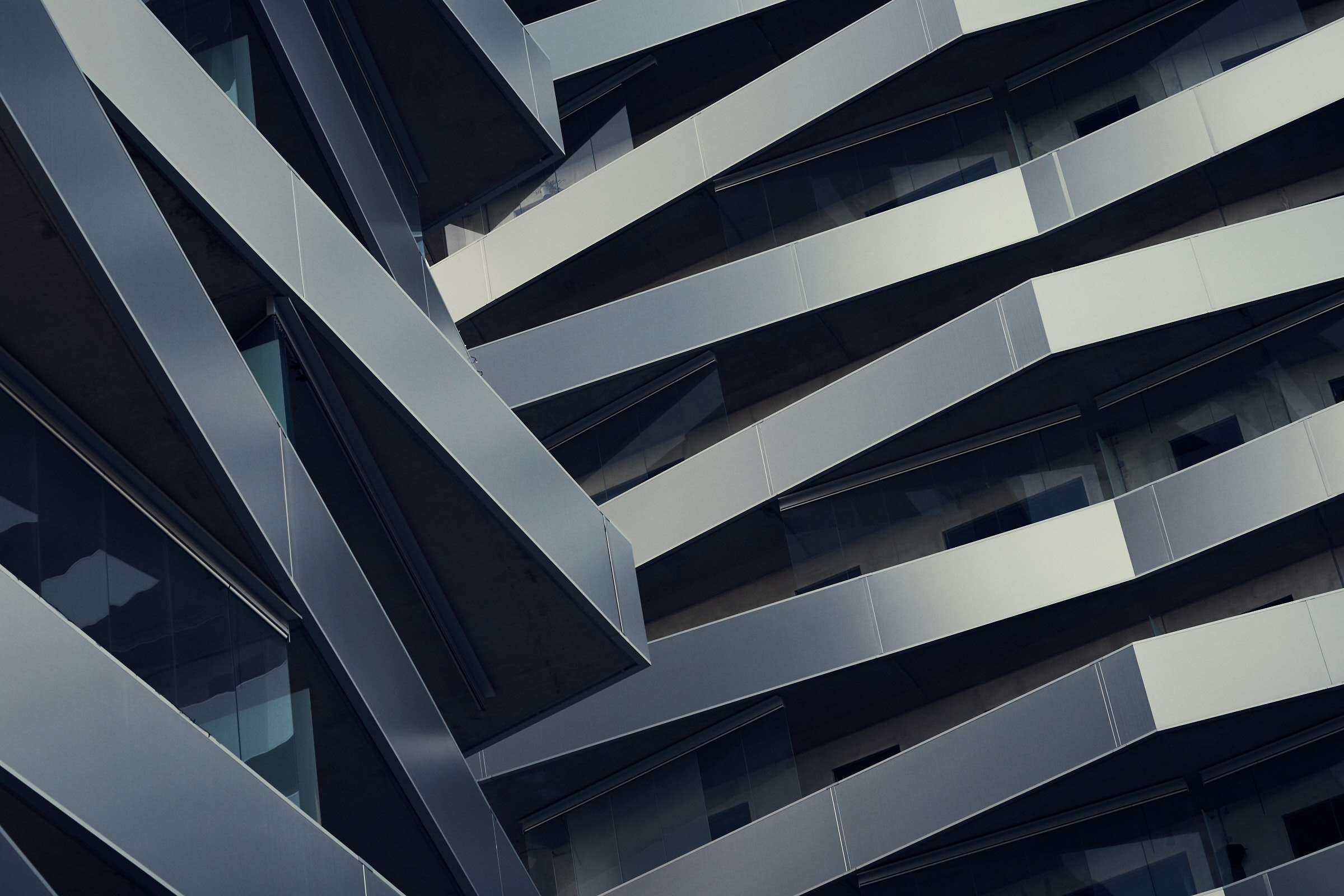 Don't worry, there is nothing as morose as a tight closeup of Sinead O'Connor in today's update.
We are almost two-thirds of the way through earnings season (60% of S&P 500 companies have reported) and there are a few important takeaways. First, earnings are coming in better than expectations. 88% of companies are beating Street estimates, with an average beat of 17%, using FactSet data. This is above the 5-year average for these measures of 75% and 7.8%, respectively.
This means that aggregate earnings are up 85% on a year-over-year basis, compared to estimates of 63% growth before the earnings season began.
Great news, right?
Well, reactions to earnings have actually been muted this quarter, with the S&P 500 only up 1% in the past month of reporting despite the 17% beat. The one day price reaction on earnings days has been an average of +0.35% for the S&P 500 names.
In reality, earnings beats actually have a weaker correlation to forward equity returns than one might expect. According to Renaissance Macro, even when earnings beats are in the 95th percentile of strong readings, forward returns are only slightly above average.
This makes sense because the market is a forward discounting mechanism, meaning it sniffs out these beats long before the sell-side analysts have the gumption to ratchet up their estimates.
Sell-side analyst might also be behind the expectations of the actual owners of the stocks, lumped into the term buy-side analysts. These investors can often have higher expectations for earnings versus what is captured in the Wall Street consensus.
Also, if valuations are already high, as they were at 23.7x 2021 earnings at their YTD peak in April, big earnings beats provide an opportunity to "grow into" these elevated multiples. The current multiple on 2021 earnings for the S&P 500 has now fallen to 22.2x, offsetting some of the benefit from earnings growth (see Chart 1).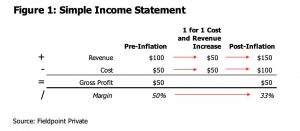 We do expect to see continued multiple compression as we move through the rest of 2021 and into 2022 for various reasons. These include a slowing tailwind and even an incremental headwind from monetary policy/liquidity growth, as well as peak data. This is why we often say that the combination of high valuations and peak data momentum creates a less supportive backdrop for near term forward returns. You can't get better than best.
Similarly, the market is aware that this year's big beats become next year's tough comparisons.
We see that playing out in this quarter's earnings for those companies that benefitted the most from 2020's pandemic disruptions and lockdowns.
Companies in the e-commerce retailing, shipping, tech, and other lockdown beneficiary areas have been experiencing slowing growth rates as consumer spending patterns start to normalize. The reported growth rates can still be impressive, but the slowing momentum puts pressure on the multiples and likely limits near-term upside in the stocks.
Another theme from this earnings season has been price/cost pressures and what it means for the optics of margins. This is worth a quick and simple accounting example to illustrate this dynamic, so bear with me.
Even if a company has perfect pricing power, meaning that it can immediately and fully offset a rise in costs with a matched increase in revenue from pricing, margins will decline.
Figure 1 shows this in a very simplified manner. A company that is able to fully offset an increase in cost with an increase in revenues will still see its margins fall.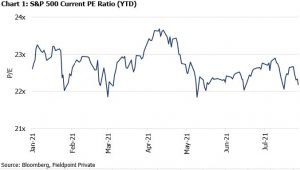 You might shrug at this and say that the optics of percentage calculation should not matter, but the market does care.
An analysis done by Bloomberg's Chief Equity Strategist, Gina Martin Adams, shows that companies that experience the biggest cuts to margin estimates trail those with the best margin performance by over 4% over a three-month period.
Note, the above scenario in Figure 1 is a great case scenario. Many companies do not have perfect pricing power, likely experiencing delays in passing on costs, as well as an inability to pass on the full cost increase. This FT article details this challenge for many manufacturing companies that produce consumer and industrial products.
This margin pressure helps to explain why companies can beat earnings expectations but experience weaker stocks. Margins matter for markets and maintaining those margins in a rising cost environment can be a challenge.
It is interesting to note that 1Q21 was an all-time high for margins in the S&P 500, as many companies were still enjoying the befits of internal cost cutting and revenue rebounds from 2020, while the input cost inflation had not quite started to hit yet.
We do see this high cost environment persisting in the near term. Lead times in manufacturing have reached all-time highs, indicating tight supply chains (see Chart 2). Shipping costs remain elevated and shipping delays are widespread. Raw materials and components costs remain elevated.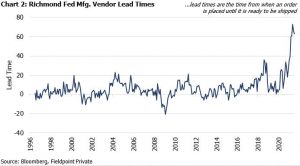 Further, inventories are at record lows. Despite strong goods demand in the 2Q21 GDP report, inventories saw their largest drawdown since 2020 and 2009 (both periods of rapidly contracting demand). This means that producers simply have not been able to keep up with demand. Low inventories means strong pricing power for the seller but higher costs for the buyer.
The good news on inventories is that they will have to be replenished, providing a tailwind to goods production even if end demand moderates. Rarely do production cycles end when inventories are this low (they usually end when businesses already have too much of everything).
Overall, the big beats this earnings season have been positive for the fundamental backdrop of the market, but given the high valuations, high buyside expectations, tough comparisons, slowing momentum, and margin pressures, it is no surprise that the reaction to earnings has been muted.